climbing tools
During glacier travel and on difficult ski routes, the worlds of skiing and alpine climbing begin to merge, and a new category of tools is called for. Lightweight but absolutely dependable tools that may be carried in one's pack for the majority of a trip, but called for in crevassed terrain or to negotiate an unskiable section require a different level of skill and commitment, as well as a willingness to pack more weight.
I'm no expert, and I urge anyone contemplating the use of these items to seek out qualified instruction before attempting their use. As with any technical endeavor, judgment and experience are key to the safe implementation of alpine mountaineering techniques.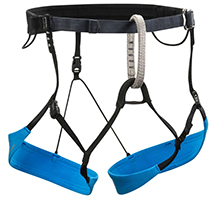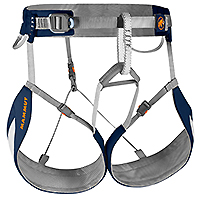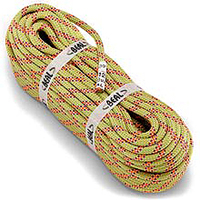 Some skiers carry a length (around 100 ft.) of 6mm or 7mm static line (non-stretching) for emergency situations, which can be used to rappel a cliff or belay a partner. Slightly heavier but more versatile is a lightweight harness like the Black Diamond Alpine Bod harness and a narrow, short dynamic rope specifically designed for ski travel (the Beal Rando rope pictured above is a popular choice for skiing, but is not intended to protect against the forces generated in leader falls on rock or ice).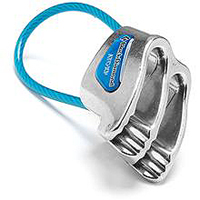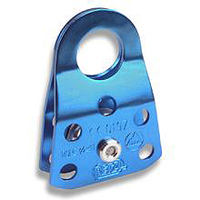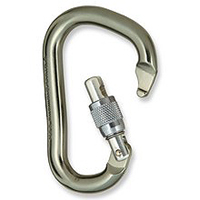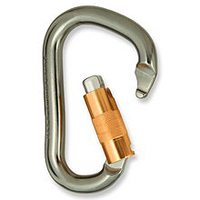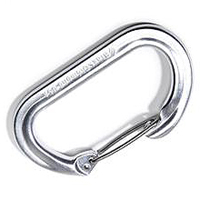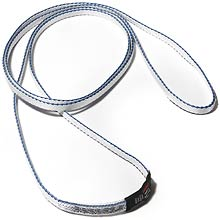 Along with your rope and harness, you will also need to carry some climbing hardware - one each of the above items, plus extra locking and non-locking carabiners, is considered a bare minimum for glacier travel. Several extra slings or runners and two or three (more for glacier travel) pre-tied prusik loops should be carried as well.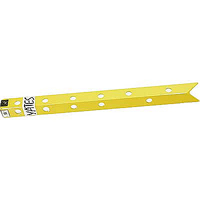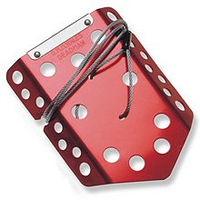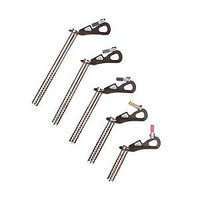 For the above items to be useful in many situations, you will also need some form of snow or ice protection - it is common for each member of a party to carry at least one picket and one ice screw. If you can't find a solid rock or tree to use as an anchor, you may end up leaving a couple of these items on the mountain. Solid anchors can also be built using your ice axe, skis, and pack.
For situations demanding an emergency snow anchor, a solid self-belay point, or leverage while booting up a steep section, there is often no substitute for a traditional ice axe. Most skiers tend to choose from among the new breed of super-light alpine axes, since they spend much of their time carrying the axe on their packs.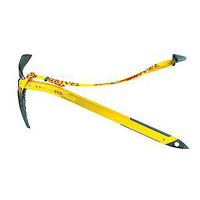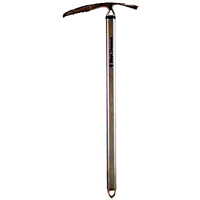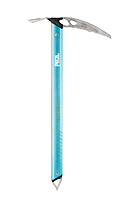 When conditions are very steep and icy, crampons are a better choice than ski boot soles for ascending, both in terms of speed and safety. There are a vast number of crampon options, offering a choice between hinged and rigid, 10 and 12 point, aluminum or steel, and strap-on or step-in. Your choice will depend on how much you use the crampons, what boot you plan on using them with, and naturally what sort of terrain you plan to climb.
For average ski touring purposes, where lightness is a virtue and the crampon is not exposed to a great deal of rock, a flexible aluminum 10-point crampon will often be adequate. Specialized ski touring crampons, with steel front points and aluminum rear, are a great idea for most skiers. Hard-core ski mountaineers who habitually deal with very icy conditions, encounter quite a bit of rock, and spend relatively more time with crampons on, a steel 12-point model may be a better choice. Either type may need to have the points sharpened periodically with a flat file. Step-in crampons generally work well with randonnée boot soles, but make sure the bale fits your toe securely and that the crampon is sized and adjusted correctly before you take them into the field. Some boot toes may require a bit of bale-bending to achieve a secure fit, but each brand and model has a slightly different shape, so take along your ski boots when crampon shopping.