profile
Upper NW 65th Street in Seattle, tucked between the screeching tires of Ballard High School and the high rents of Phinney Ridge proper, is home to some funky bars, a Goodwill outlet, a tattoo parlor, and, in Jim Mates' Custom Boot Service, one of the premier ski boot fitters on the West Coast. His shop occupies the lower floor of his home on the corner of 65th and 4th NW, blending seamlessly into the residential neighborhood and recognizable only by the small "Custom Boot" and "Open" signs in the window.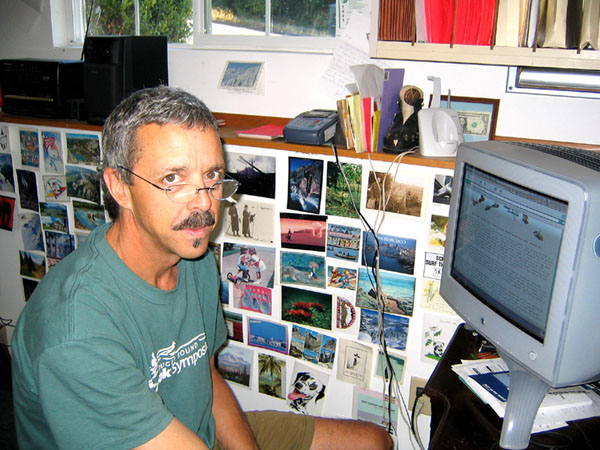 Mates, a longtime pro-patroller at Stevens Pass, has kept his hand in the ski game for over 32 years by quietly perfecting the art of fitting and making footwear, building a loyal following among hard-core freeskiers and racers, and developing a unique philosophy of relaxed-stance performance skiing in the process.
Jim remains an avid masters class alpine racer and telemarker, and while years of post-holing through NW fresh to plant charges and string bamboo fencing have done a number on his knees, he continues to ski tour (he's a fan of his friend Armond Dubuque's Ultimate Tele Binding), roller blade, and white water kayak with the fervor of a youngster. His real passion, however, remains skiing and all that entails, and he's lucky enough to have made it his livelihood.
Shape, Motion & Leverage
A visit to Mates may be more than some skiers bargain for, especially those whose goal is a simple punch-and-run pain relief mission. For one thing, he loves to talk skiing and will pontificate endlessly on his favorite subject while molding your footbeds or marking your boots for grinding. For serious performance-seeking skiers, however, it can turn a necessary errand into a fascinating and thought-provoking hour or two.
A typical session at Custom Boot begins not only with an inspection of the customer's foot, but also his or her body structure, natural stance, and propensity for dynamic movement. Perhaps you have a fairly straight back of leg contour from your heel to your calf? Might call for a relaxing of the boot heel pocket to prevent a "hot spot" just above the heel. Relatively short tib-fib (lower leg) length? Less leverage to flex the boot, maybe some material should be ground away to make the boot a bit softer. Size and shape of the weighted vs. unweighted foot? Width relative to the foot centerpoint? Arch length long or short for your shoe size? All of these might play a part in determining Mates' approach to fitting you. The only real rule is that each individual is different, and body and foot type dictate the plan.
He's also keen on watching customers go through several dynamic exercises before deciding on an overall boot strategy - you may find yourself standing on a bongo board or jumping up and down repeatedly inside a small square taped to the carpet. He'll watch carefully to see if you are able to use your ankles and knees properly to achieve lift - even Mates grudgingly admits that those who can't deviate from using mostly their toes for this task or who heave their upper body skyward to levitate might not be candidates for his "just stand up and ski" approach. He'll also ask very detailed questions about what gear you'll be using the boots with, since ski size and shape and binding ramp angle affect everything else.
Mates has long advocated a departure from the classic bent over, tons-of-forward-lean racer position, which requires strength just to maintain in the lift line. His favorite recurring theme is a "balanced athletic stance," and getting there in ski boots calls for any number of measures. Custom footbeds are a common starting point, along with shell-straightening, flex modification, the usual pushing and grinding to relieve pressure points, liner work and sole canting. The assortment of machines in the basement is pretty impressive, and includes industrial-grade gadgets to repair or custom make hiking footwear. Need a custom pair of cowboy boots for aprés ski? Jim can do that too.
A full treatment at Custom Boot, with footbeds, shell contouring, and liner baking is not inexpensive, nor should it be. Mates' customers tend to be VERY experienced skiers from a variety of disciplines who are constantly searching for an edge in their sport, and find a wealth of knowledge and options in this Ballard basement.
Custom Boot Service, 6500 4th Ave NW, Seattle 98107 206.297.9298
http://www.custombootservice.com