backpacks
Ski tourists need a backpack that will comfortably carry their avalanche essentials, food and water, and extra clothing plus be able to carry skis securely. The number of available options boggles the mind, and this may be a good thing, since each individual's idea of what constitutes a comfortable and useful pack varies by body shape, load, and type of trip.
Many people find it makes sense to own two ski packs - one intended primarily for day trips, with around 25-30 liters of capacity, and one for overnight or longer, with a volume of 40-50 liters. A well-designed mid-sized pack that can be cinched down can work for both purposes. For European hut-type touring, where you only need to carry personal items, a bit of food and water, and a sleeping bag liner (no tent or pad), a pack with around 40 liters of capacity is perfect. If you need to carry a tent or bivy, pad, stove, and rope, 50-52 liters is about the minimum you can get by with.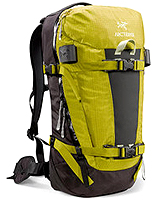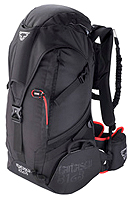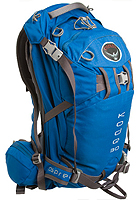 With both categories of pack, make sure it has double straps on both sides to affix skis, and some provision for carrying an ice axe. Easy access to the main compartment and auxiliary pockets while loaded, water-resistant design and the ability to carry skis diagonally as well as in the "A" frame configuration are pluses. Some new designs (see the Dynafit Manaslu pictured above) have incorporated a "quick carry" feature that allows you to sling your skis on the pack in a loose diagonal carry without taking the pack off - a very nice feature when your clinging to a steep crusty slope trying to transition to bootpacking without losing everything.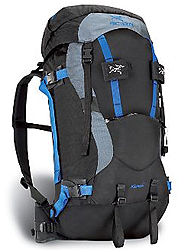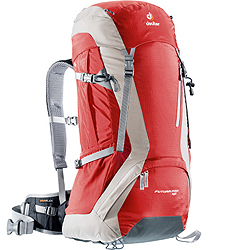 Avalanche packs are relatively new to the discussion, and basically come in two flavors: Black Diamond's Avalung packs, which feature a breathing apparatus built into the pack, and "Airbag" packs, made by a number of companies including ABS, BCA, Mystery Ranch, and Snowpulse with others in development.
The Avalung system works through a tube inserted in a buried victim's mouth, supplying air from a more oxygen-rich zone away from the victim's face (at a back rear corner of the pack), and avoiding carbon dioxide-rich air from directly in front of the victim. The downside is you need to get the tube in your mouth and keep it there while the slide is happening around you. Airbags work using compressed air/explosive systems to inflate a balloon-like bag above and/or around the victim, which works to float you to the surface of the slide while it's happening. Again, there is a catch - you have to have the presence of mind to pull the cord to actuate the bag. Re-filling/re-charging the systems after a deployment is also a bit of a chore and normally can't be accomplished in the field, though some designs allow user-serviceable recharging at scuba or paintball stores.
Both of these systems have been shown to be effective in saving avalanche victims' lives both in controlled tests and in the field, but both add weight, cost and complexity as well as taking up space in your pack. Whether you feel the negatives are outweighed by the life-saving potential is a very personal decision, but these devices are sure to become a bigger and bigger presence in the backcountry in years to come.