bindings
A randonnée or alpine touring binding's primary function is to hold your boot securely to your ski, but it must also allow the ski tourist to maintain a natural stride while skinning on the flat or uphill. To enable this, all randonnée bindings allow the skier's heel to lift when in touring mode but lock down for descending (telemark bindings also allow this upward movement of the heel, but all of the time). Most have adjustable climbing levels at the heel for varying degrees of slope steepness as well.
There are two basic classes of randonnée bindings - frame bindings, which place a toe and heelpiece on rails with a pivot at or near the toe, and "tech" bindings, which require a special boot but are much lighter and more efficient on the uphill. The tech system incorporates pins on both sides of the boot toe that hold the toe down but allow the heel to lift, and a separate pair of pins at the rear that engage a slotted plate in the boot heel when skiing.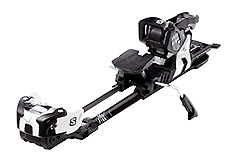 Frame randonnée bindings work with a touring-standard sole shape (known as ISO 9523), and generally will adjust to fit an alpine boot sole (ISO 5355) as well. You step into a frame system just like your alpine bindings and reliability is comparable, but since they also include a hinging frame they are heavy. Tech bindings lose the frame entirely, relying on the stiff sole of the boot and pins gripping the toe to skin. They are lighter and feature a more efficient pivot point while skinning.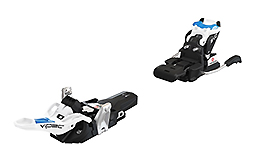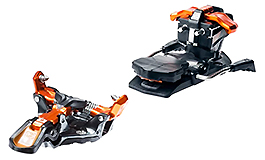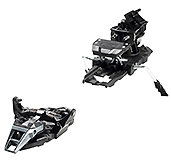 As with all touring gear, there is a trade-off between weight and performance with AT bindings. In this case, performance is defined by precision in transferring your energy to the ski and elasticity for absorbing shock and limiting unnecessary release. While most frame bindings will perform similarly to their alpine counterparts, bindings at the light end of the spectrum transmit more shock to the boot and have less "return to center" force. At the light end of the spectrum, tech heels usually offer a "U" spring design with limited release value adjustment, and often have only a single (or very limited) climbing level choices. Most manufacturers of touring bindings offer a wide range of products and it makes sense to define how you plan to use the setup when making your purchase.
With lighter setups, you'll also want to question whether to go with brakes or leashes. A brake system can add 20-25 percent to the weight of a light tech binding, and people bent on maximizing their uphill performance often choose to go brake-less. For a heavier, "quiver-of-one" setup or a binding that will see a lot of inbounds use, you'll most likely prefer a brake.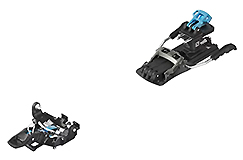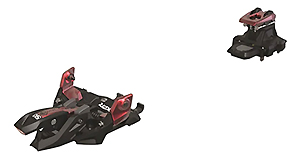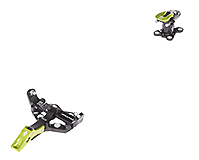 With the surge of interest in all things backcountry, there is a huge demand for bindings that tour well and can still withstand the rigors of everyday use at the ski area. Medium weight tech bindings by Marker, Fritschi and G3 are used successfully for a combination of lift-served and self-powered skiing, but don't have the durability of an alpine binding. "Convertible" bindings like the Salomon/Atomic/Armada Shift and Marker Duke PT (the toepieces convert mechanically from tech for touring to alpine for descending) are becoming very popular for those who only want one ski setup and want that setup to be touring-capable.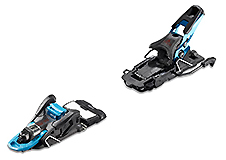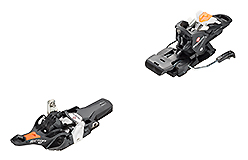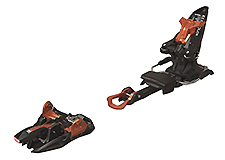 A Note on Sole Compatibility: In addition to the two longstanding ISO-defined alpine and touring standard sole shapes, there are two new shapes based on the ISO 9523 model. These are Walk to Ride (WTR) and GripWalk. Both feature lugged and rockered rubber for security, but have a smooth contact patch where the AFD (Anti-friction Device) contacts the bottom of the boot. Any frame AT binding will fit any type of sole, and any tech binding will work with all boots with tech inserts installed, but the compatibility of these new soles (or pure ISO 9523 soles) with alpine bindings is limited and very specific. If you plan to keep a pair (or more) of alpine skis in your quiver, but switch to a touring-capable boot, check with a shop to make sure the boot/binding combination will work. In the future, most heavier touring and "crossover" boots will come with GripWalk soles, while lighter touring boots will continue to have full ISO 9523 soles.