clothing
Clothing is a critical component of your backcountry arsenal. For starters, any sort of ski touring is extremely aerobic in nature, so you tend to perspire - a lot. In addition, you are out there by yourself, with a return to the car often not a convenient option, so you need to rely on what you bring with you.
With that in mind, there are basically two classes of clothing suited to backcountry adventures - hard shell (normally a laminated fabric like Gore-Tex® or eVent® which repels water extremely well and also breathes well, and soft shell (Schoeller DrySkin or the new Primaloft Neoshell are examples) which repels snow and water a little less well, but breathes extremely well. There are a few hybrid jackets on the market, like the Westcomb Revenant pictured below, which combine a softshell body with hard shell panels on exposed areas like the shoulders, back, chest and hood.
Hard shell pants are usually best saved for lift-served skiing, where your butt and knees are subject to heavy loads of water and melting snow. They are seldom necessary for day tours, but can be important to keep in your pack on a multi-day trip or when weather is a question mark.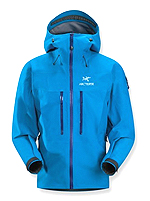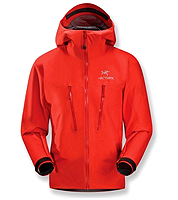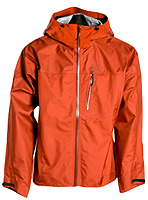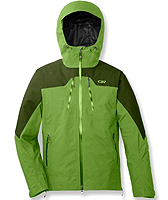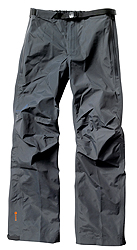 Weather watching will be your key to selecting the proper set of clothing, but wet or snowy weather near freezing will often be the time to opt for hard shell, while a nice high pressure window or spring/summer touring is the time to break out the soft shell garments for climbing comfort. Softshell fabrics have made huge advances in the past few years, making leaving the hard shell clothing at home increasingly practical for all but the wettest days.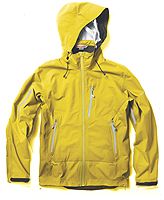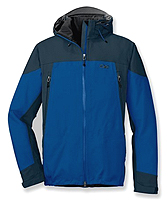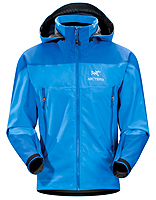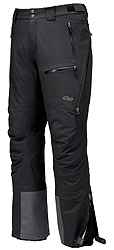 As with any performance sport, your underlayers should be some sort of wicking polypropylene fabric and not cotton - the ability to stay dry as you sweat in the mountains is crucial to comfort and safety. A light Windstopper® piece, either vest or coat, is nice as a middle layer and often good for skinning in cool weather, and a compressible warm insulating garment of down or Primaloft® is essential for all but the warmest trips. Learn to anticipate your body's heating and cooling rhythms - experienced ski tourists will often strip down to a single layer when leaving the car, leaving them quite cold - but only for about five minutes. As soon as they begin to climb, they warm up and are perfectly comfortable. Knowledgeable skiers usually reach for their puffy coats as soon as they stop as well, as you chill off quickly once you cease moving.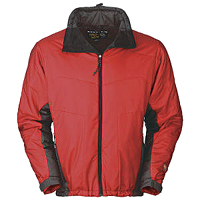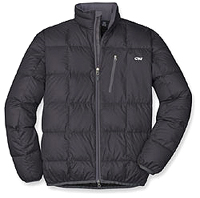 Don't forget a couple of ski hats, Powerstretch or Schoeller for going uphill, wool for downhill or cold weather, and a cap with a brim for sunny weather.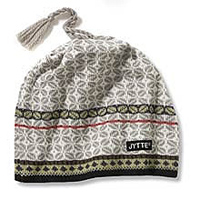 Gloves require attention as well; ones that work well for alpine skiing where you seldom sweat much are generally too warm for ski touring. There are a number of good options available in both Windstopper® and Schoeller fabrics - look for a leather palm for durability, and bring more than one pair. I normally bring a pair of alpine mittens or gloves along as well in case the weather gets really foul. In spring and summer, when the temperature goes over 45 degrees, Spandex-backed Nitrile garden gloves are just about perfect, and available 2 for $7.00 at Home Depot - just be careful when handling your skins, as the Nitrile sticks really well!
Eyewear is critical - you will be out on the snow for hours on end, if not days. Two pair of quality sunglasses with side protection (a pair to loan or replace the ones you lose when you yardsale), as well as a pair of good double-lens goggles in case it's snowing to beat the band come time to ski, and you're good to go.