incoming
February 12, 2006:
While most of the winter sports world tunes in to the 2006 Torino Olympics, another incredible athletic event has been going on - the 24 Hours of Sunlight held at Sunlight Ski Resort in Colorado. The object? To see how much vertical you can ski/skin in a 24 hour period.
The results? Simply astounding. Anyone who's felt worked after a 6,000 vertical foot day of backcountry skiing will be blown away by Greg Hill and Jimmy Faust's stomping out 50,520 vertical feet during this event. Third place went to rando circuit regular Steve Romeo, fourth to Dave Penney. Greg and Jimmy apparently made some sort of "Faustian Pact" and skied across the finish line arm in arm . . .
Lou Dawson, who participated in the Team Competition, blogged about the event at Wildsnow.com)
February 4, 2006:
Now that the mid-winter trade shows - SIA in Las Vegas, the Outdoor Retailer Show in Salt Lake City, and ISPO in München - are over, word is filtering back to the masses about things new and wonderful for next season. BTW, does anyone else think that the timing of these trade shows is terrible for the retailers? Taking the most experienced and knowledgeable staff out of the store in mid-January, just when most ski shops are guaranteed to be hit with the annual barrage of ski school problems, Christmas returns, and new equipment needs after-finding-out-your-old-stuff-doesn't-work-anymore seems downright stupid to me . . . it gives the manufacturers a bit more lead time, granted, but the old schedule (SIA was the last week of February back in the day) seemed to work OK . . . how about a compromise in early February?
New stuff that made the headlines started with the Volvo SportsDesign Award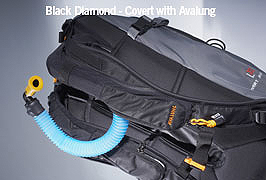 nominees in a couple of categories (these awards are getting to be a pretty big deal, at least in Europe). Black Diamond's Anarchist pack line, which includes an on-board Avalung built into the left pack shoulder strap, sounds like something almost every backcountry skier/rider I know will actually use. I'm the first to admit that I rarely wear the Avalung II I was given as a present, and the hassle factor is usually the deciding one. If the device were built into the pack and didn't require taking off/putting on one more thing each time you added or took off a layer, it would go out with me every time. Black Diamond has the Avalung option adding about $70 to the cost of an comparable BD pack. I'm waiting with credit card in hand . . .
Co-winners in the Safety & Security category were two new products by Mammut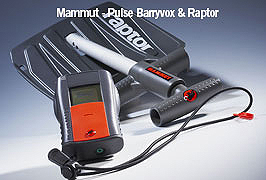 - the Pulse Barryvox transceiver, and the Raptor shovel. The Pulse is a new three-antenna beacon that not only gives a graphical view of multiple burial locations, but when used with other Pulse units will show whether each victim is moving and if they have a pulse. Sounds kind of grim, but when you're faced with the option of digging out several avalanche victims in a given amount of time, it makes sense to leave the one with no heartbeat for last. The Raptor shovel is a compact shovel with the handle staying attached during storage and features a cool industrial look.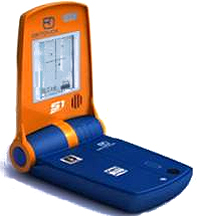 Ortovox also showed two new (or at least newly-working) transceiver models - the S1 and the D3. The S1 is the much talked-about blue and orange flip design model that has crosshairs marking the positions of both searcher and victim(s), while the D3 is an all-digital model in the shape of the venerable X1 and F1 Focus (different color, though). Several people have reported that the S1, which when seen last year, wasn't functional, seemed to work fine on the floor of the SIA show . . .
Dynafit showed a new "Freeride" binding apparently aimed at making alpine cross-over skiers feel visually more at home. The Vertical FT features a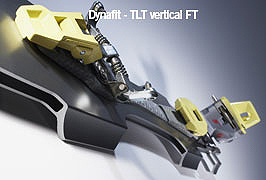 carbon fiber stringer running full-length underneath the toe and heel (doesn't this seem like adding useless weight?) and a truncated pyramid-like climbing post supplanting the Comfort's volcano. In Europe, they also showed a new "light" version of the TLT Speed (Classic in North America) called the TLT Speed Lite, which has no climbing post (like the Race Ti) but being made of steel is 50 grams heavier. Hey, if the price is in the neighborhood of the regular TLT, I'm in! (Should be cheaper, right, since it's less stuff)? As usual, pistehors.com does a thorough job of covering the Dynafit news beat; Dynafit is actually introducing 4 new models next season, though probably not all will make an appearance in the US.
Fritschi showed a re-worked version of the Freeride called the Freeride Plus, which reportedly has less lateral movement and more alpine-like performance . . . Sounds like just what I need, put me down for two pairs!
---
Previous Incoming Pages:
"Incoming" covers developments that have personal interest to me (ie. gear I covet, or events I feel may impact the sport of skiing) - it is by no means meant to be a comprehensive enumeration of gear or events in the ski world at large. Feel free to contact me via the randosaigai.com link below with news or images that may be of interest . . .