skis
They're the foundation of our sport, allowing randonnée skiers to travel over deep and light snow with remarkable efficiency while enjoying a unique form of descent when the climbing is done. For ski touring, a ski's desired attributes differ slightly from alpine skiing. Speeds are generally lower, snow conditions highly variable, and solid icy conditions are relatively rare. Though good alpine skis can and often are mounted for touring with randonnée and telemark bindings, ascending on skis and dealing with the vagueries of ungroomed snow puts a premium on characteristics that aren't always so important at the ski area. While many people start their touring careers by getting a pair of boots with a decent walk mode and mounting touring bindings on a pair of alpine skis, most soon find themselves craving characteristics particular to touring-specific models.
Light weight is foremost among these. Experienced ski tourists often forego some downhill performance in favor of light, short and relatively narrow skis that require less of an energy expenditure while skinning and climbing. Even resiliant twenty-somethings who can run a sub-3:00 marathon should pay heed, and usually do - it's often the super-fit crowd leading the way with the light-is-right gear, making it even harder for the rest of us to keep up with them. Lighter isn't always better, however. As skis become lighter, they invariably lose power and stability, making variable snow, crust, and higher speeds a challenge - or at least less comfortable. The ideal combination of weight and performance is a tricky choice, and varies according to the skier and the conditions.
Manufacturers reduce ski weight by using low profile designs, omitting layers of fiberglass and Titanal (an aluminum alloy used to dampen vibration), using lighter wood cores of Paulownia or Karuba wood instead of the traditional ash and poplar, and increasing the use of carbon fiber in place of fiberglass. Many companies build touring skis in the same molds as popular alpine skis using these lighter constructions, but touring specific designs are becoming more and more common.
Width is also a factor, and a ski's ability to excel in conditions seldom found in lift-served skiing, such breakable crusts, re-frozen avalanche debris, and moisture saturated mank can mean the difference between having the time of your life and being totally miserable or seriously injured. Often there is a fine line between choosing a ski that is wide enough to comfortably handle all the conditions you expect to encounter in the backcountry and light enough to tour on all day. Figuring out what you can get away with in terms of width requires finding a balance between float and weight, and even very experienced ski tourers are constantly trying to figure out the right combination. For general ski touring, most people settle on a width between 95 mm and 105 mm, which is a good place to start if you are putting together your first touring setup. Expect such a ski to weigh somewhere between 1200 and 1600 grams per side.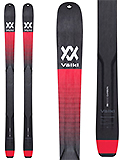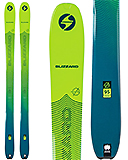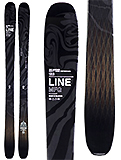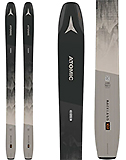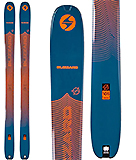 If a few more millimeters underfoot means the difference between enjoying that deep snow or floundering, touring skis with a wider platform and waists of 106mm to 112mm can be a good choice. Weights will typically be higher, in the 1400 to 1800 gram range, and drag while skinning in deep snow greater, but the extra surface area will make deep snow easier and more fun.
For spring and summer tours as well as strenuous ski mountaineering objectives, many people use much narrower and lighter skis, usually in a shorter length. Although you give up some performance in new and difficult snow, the energy saved by having less weight on your feet (or your pack, if carrying them) makes long trips much more enjoyable. Waist widths in the neighborhood of 85mm to 95mm and weights from 1000 to 1300 grams save a huge amount of energy going uphill, but may require adjusting your ski technique on the descent.
How to choose from the array of available choices? Be careful of recommendations unless you are confident in the source and have reason to believe their skiing style and ski level is similar to your own. Online reviews or posts on ski forums can help, especially if comparisons to skis you're familiar with are made - but again, consider the source. The best, of course, is to demo the model and length you're interested in over a reasonable period of time and in a variety of snow conditions, but finding a shop that offers demos of touring gear can be difficult.
Design elements that have become standard in performance alpine freeride skis are filtering down to touring skis. Rocker-camber profiles and Five-Point sidecuts work very well in backcountry variable conditions. Twin-tips or skis with a lot of tail rocker offer challenges for touring - they make securing skins at the tail difficult, add extra length at the tail when kickturning, and are a liability when booting with a ski in each hand or trying to use the skis as an anchor.
Some avid ski tourers have multiple touring "setups" and choose their weapon based on destination and anticipated snow conditions. Expensive? Excessive? Perhaps, but think of all the money you're saving by not buying lift tickets . . .