incoming
May 9, 2006: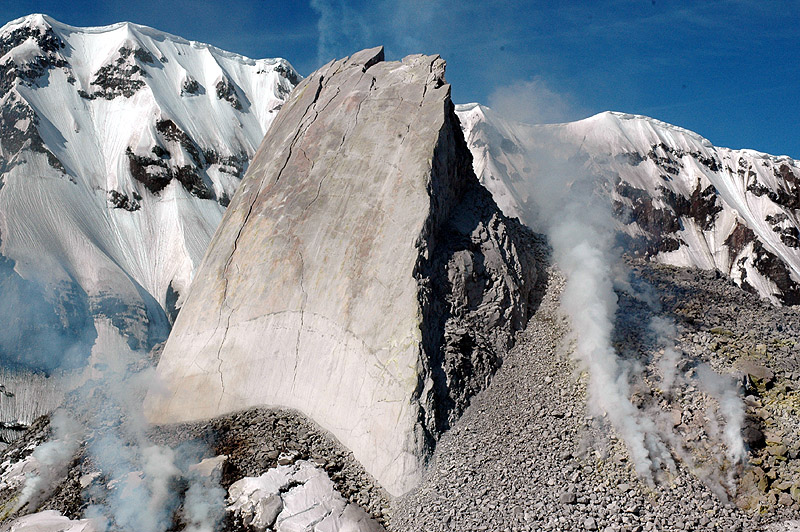 Thrusting skyward like a warning from God, the three-hundred-something-foot tall sharkfin forming in the crater of Mt. St. Helens could easily be the centerpiece from an episode of the Twilight Zone. Fully expecting to see cryptic characters appear on its smooth east face any moment, scientists and citizens have watched in awe the past few weeks as the bump grows at the rate of three to four feet per day.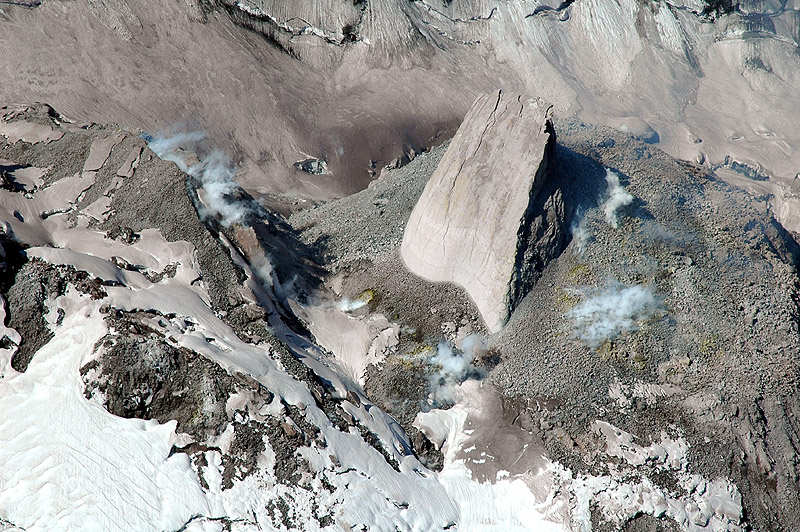 Perhaps in years to come, when St. Helens has regained its former stature, there will be those of us who can say "I remember when that wedge was just being born!" Is it premature to be thinking in terms of skiing the crater? There are probably people studying these pictures right now, looking for the best lines . . .
---
May 2, 2006:
I'm already excited.
About NEXT year's skis.
Even though it seems that the ski touring season is just getting going, the ski industry moves to the beat of SIA's clock, and first looks and long-term test drives of next year's gear are in full swing.
Ski Trab, the exclusive Italian manufacturer that counts about 90% of the elite rando race corps among their loyal customers, is breaking out of the race and XC mode and building some wide (for them) skis that should be of interest to us freerider types. The new Stelvio Freeride

is a case in point, with dimensions of 117/115-84-105 (as with other Trab skis, the tip continues to get slightly wider after it turns upward) and a unique woodgrain and carbon fiber topsheet that successfully juxtaposes traditional with high-tech. How Italian! Kind of like the MOMO steering wheel hand-stitched by someone's 63-year-old grandmother that they put in Michael Schumacher's Ferrari F1 car. Dimensions sound familiar? It's almost a dead ringer, profile-wise, for the Atomic R:EX/TM:X, my go-to ski for the past few years. As far as picking a tried-and-true pattern to emulate, they could certainly do worse, and if they soften up the flex a bit it might be just about perfect . . . Sidecut radius is 20m (this number sounds low, given the dimensions - I'm guessing it is really around 25m), weight 1510 grams in a 171, sizes are 164, 171, 178, and 185, and suggested retail price is $549.
Trab is also revamping the popular Freerando, and incorporating its trademark "Duo" technology - a little twintip on the front of each ski that gives increased tip surface area for soft snow and utilizes a proprietary piece of skin fixing hardware that fits in the divot.

The Duo Freerando sports a modified swallowtail like the Duo Race Aero and Duo Sint Aero (a tail clip for skins is provided). The ski is slightly wider than the current Freerando, at 112/110-79-96 with a 22m sidecut. Weight is 1350 grams per ski in a 171, and sizes are 157, 164, 171, and 178. MSRP is projected to be $599.
Dynafit is also reworking the FR 10, changing over to a wood core and renaming it the FT 10, with a limited graphic version called the Mustagh Ata also available.

Preliminary reports have the wood core skis slightly softer in flex, which I consider a step in the right direction for the majority of skiers, and perhaps slightly lighter. Dimensions otherwise are the same as the current FR 10, 118-88-110 (last year's was supposed to be 1390 grams per ski in a 178, though a production 178 reportedly weighed 1512 grams on a local digital scale). Pretty damn wide and pretty damn light in any case. The Mustagh Ata topsheets are pretty cool, and commemorate Team Dynafit's record-setting climb/ski of that Chinese mountain.
Previous Incoming Pages:
"Incoming" covers developments that have personal interest to me (ie. gear I covet, or events I feel may impact the sport of skiing) - it is by no means meant to be a comprehensive enumeration of gear or events in the ski world at large. Feel free to contact me via the randosaigai.com link below with news or images that may be of interest . . .