incoming
September 20, 2006:
The New Mid-Fats
How things change. Not that many years ago, my friend Norm brought over a pair of prototype Seth Morrisons with a 73mm waist. I thought they were huge. Now it looks like 88mm, give or take a millimeter, is the new "mid fat."
The goal is an even-flexing all mountain tool that handles any fresh or semi-fresh conditions with ease and still carves well enough on the hardpack to make it home should it turn to ice (or if your ski out includes some groomed in-area terrain). The leader of the pack seems to be the Black Diamond Havoc

, which has been around for the past two seasons with only mild topsheet changes. The Dynafit FT 10 is an updated version of the popular FR 10, with a wood core and slightly softer (perhaps) flex. A limited-edition version of the FT is available with special graphics, called the "Mustagh Ata."

The Karhu Jak BC

is popular with many of the folks on Telemarktips.com and reportedly has a slightly softer flex, as well as being quite light. It has a new topsheet for '07 as well as a new country of manufacture (China). Atomic's entry is the new Kailas
, with the same magnesium cap construction as their other tele skis. They come in an arresting shade of lime green which actually looks like a match for my Scarpa F1 boots, are somewhat softer longitudinally than the Havoc, and for some reason aren't even listed on the Atomic website (though they are on the floor at REI already). The K2 Mt. Baker

has a slightly revised NW native graphic scheme for '07 and is reportedly slightly stiffer in response to criticism of the '06 ski being a "noodle."
There are others not being marketed as specific "backcountry" or "telemark" skis that might fit the bill for touring, too. Several friends who skied the Head Monster iM88

had universally enthusiastic praise for the ski, saying it rips in powder, crud and at speed. The Völkl Karma

is aimed at park-oriented freeskiers, but it is in the same size range and I've heard good things about its all mountain handling. How about the Stöckli Stormrider "Scott Schmidt"?
I'd love to try a pair . . .
Whether you want to haul that much weight around all the time is the big question, but it seems something from this category is almost a mandatory part of any serious skier's quiver these days. Though there's a limit to how light you can make a ski that's this wide, they are still lighter than a modern "fat" ski (I put skis with a waists 95mm and above in this class - next year it'll be 98mm). If you get them short and put light bindings on them, they might just make some of those "difficult" snow days fun.
---
September 6, 2006:
SkiBuilders.com Hits the Big Time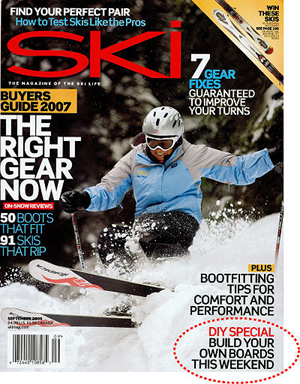 Seattle-based DIY ski makers Kam Leang (well, Kam now resides in Midlothian, VA, but his heart is still in Seattle) and Kelvin Wu, along with Kam's cousin Kam (for clarity's sake, they refer to each other as "Big Kam" and "Little Kam" respectively) are featured in the current issue of SKI Magazine as the principals in SkiBuilders.com, a website and forum devoted to homemade skis and the tools and materials used in their production.
These guys have a leg up on most other devoted skiers, as they all have engineering backgrounds. Big Kam currently teaches mechanical engineering at Virginia Commonwealth University in Richmond, VA, while Kelvin heads up an engineering arm of University Hospital in Seattle. All are hard-core skiers, both lift-served and backcountry, and tend to like their boards mounted for tele.
The article details how to build your own ski press and what materials to procure before starting your ski building project, complete with well-drawn images of the necessary tools and layout. My only criticism is that there are no action photos of the ski builders themselves testing product in the snow!
In other late-breaking news, this site has just undergone a major re-build. It may not look much different, but I've gone from using an older version of FrontPage to writing it from scratch in HTML 4.01 Transitional with Cascading Style Sheets. Next step is to convert it to XHTML 1.0, which should be a minor inconvenience, mostly involving inserting a few characters to close attributes (I tend to space out on this detail). Please let me know if you come across any typos, non-functional links, or design problems via the link at the bottom of the page. Thanks in advance for your help!
---
Previous Incoming Pages:
"Incoming" covers developments that have personal interest to me (ie. gear I might consider acquiring, or events I feel may impact the sport of skiing) - it is by no means meant to be a comprehensive enumeration of gear or events in the ski world at large. Feel free to contact me via the randosaigai.com link below with news or images that may be of interest . . .