incoming
December 26, 2006:
New Leg Hardware
OK, just got back from the doc and everything looks good. The gap in my left fibula doesn't show up at all in the x-rays, the incision healed nicely and only stung a little when they pulled out the sutures, and it's only a month until I get out of all the casts. That'll be around the last week of January, so with any luck I can put on some skis and slide around at Snoqualmie or something to keep my consecutive month skiing streak alive!
What did Santa bring me this year? Eight screws and a stainless steel plate for my leg, check out the picture below . . .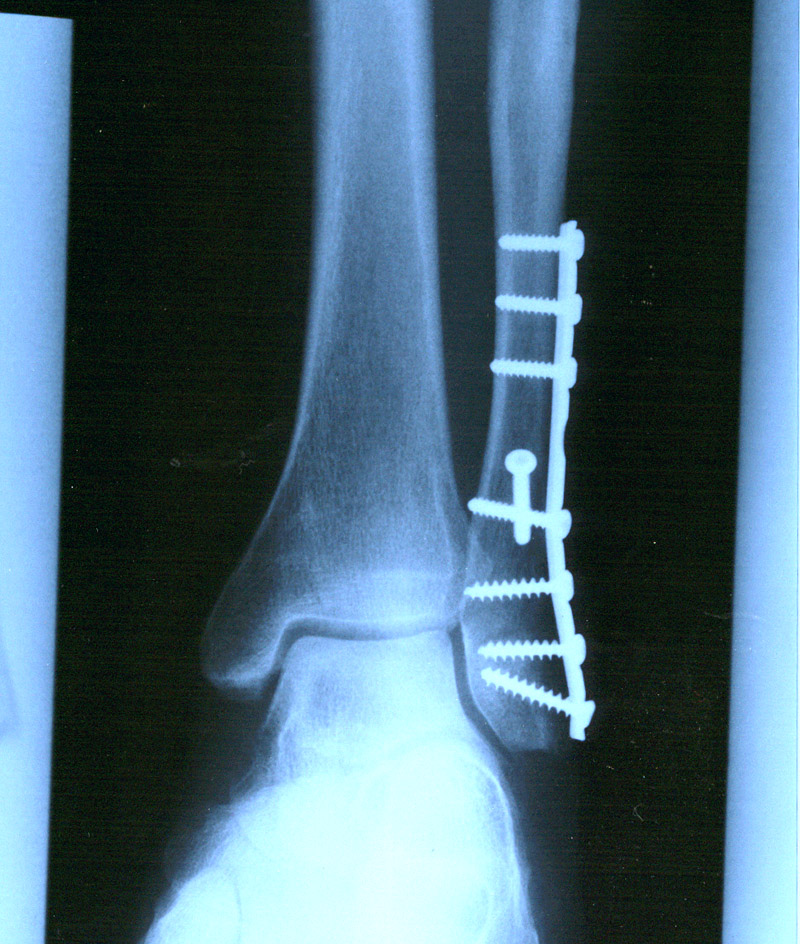 ---
December 8, 2006:
Dynafit TLT Mods
Yeah, my leg's still broken and I haven't had the surgery yet, but I'm still THINKING about skiing. Some people have asked what I mean when I say I grind off the "bump" under the pins on my Dynafit TLT (also known as "Classic" or "Speed") heels. Here's a photo: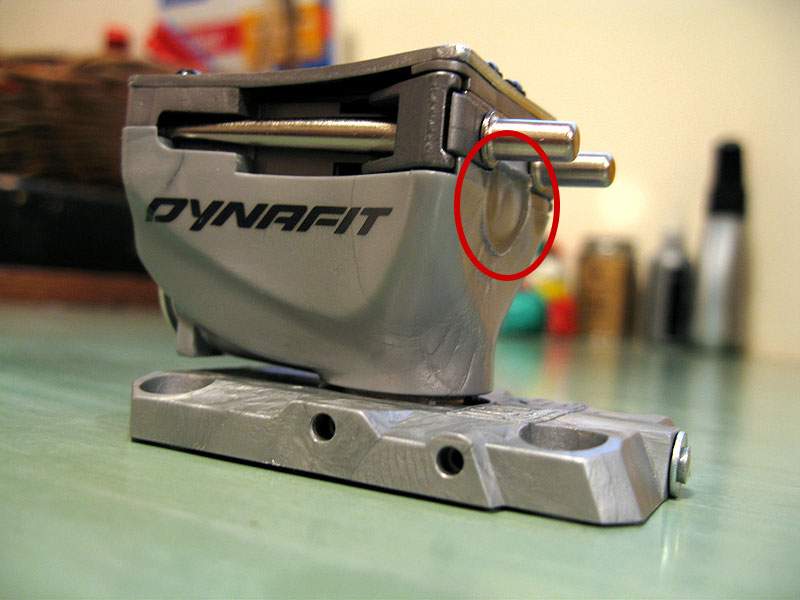 Basically, I disassemble the heelpiece and grind the protruding bump (where the injection port is) off. Since I tour mostly in Scarpa F1 boots which have a tele-style toe bellows, I never seem to use the top climbing position on the heel, so I've also cut that off and smoothed it. Hacksaw (for the climbing post) and a 4" grinder or a mini-belt sander does the trick.
How much weight does this save, you ask? On my digital scale, I got 180 grams for the heelpiece and 142 grams for the toepiece/baseplate for a total of 322 grams (644 grams for a pair), screws not included. That compares to a real-world weight of 670 grams for a pair of unmodified TLT heels/toes, a weight savings of 26 grams. Hardly worth the effort, I guess, but for the clean look and more vertical clearance on your roof rack.
I started doing this because the bump didn't seem to add any structural integrity to the housing, and a couple extra millimeters of rearward travel make the regular TLT/Classic/Speed more equal to the Comfort heel in terms of letting the ski flex. The Comforts come with pins that are 2mm longer, but the gap is a recommended 6mm rather than 4mm, so pin insertion depth is the same. Grinding off this bump (Comforts don't have it) gives you that much more room for the ski to flex before it starts forcing the heel of your boot off to one side or the other, or the toe pins out of the boot sockets. I e-mailed Dynafit guru Lou Dawson about this once, and he said he also does the "grind."
---
December 6, 2006:
Bad News
Last night while riding to the UW for my last class of the quarter, a guy on a bike who had just passed me and apparently didn't realize I was on his wheel abruptly turned right onto a side street, hooked my front wheel, and took me down. I felt something pop as I fell and had a bad feeling right away, but I had a "no excuses" presentation for my usability testing class and was out in the middle of the Burke-Gilman anyway, so I rode another six miles or so to school, gave the presentation with my team, and sat around until 10:00 listening to the other groups give their presentations. By the time my wife Lindsay picked me up in front of the Mechanical Engineering building, my left ankle was the size of a grapefruit.
This morning I paid a visit to my old friend Dr. Todd Seidner, who showed me the x-rays and the 3mm fissure running through my fibula. Bummed is perhaps too tame a word to describe my feelings. Surgery for a plate and screws to pull the bone back together is scheduled for next Tuesday; all good vibes sent my way are welcome!
When I got back from the doctor, a long narrow package was waiting . . . yes, the Trab Stelvio Freerides were here. Timing maybe a tad off, but the skis are beautiful. Trab has combined the classic wood top design of one of their earliest skis with modern technology and a hint of carbon showing around the edges. The workmanship is typical of Trab - in a word, awesome - it's almost a shame to spoil these skis by mounting them up, but I guess I have a while to enjoy them in their pristine state now.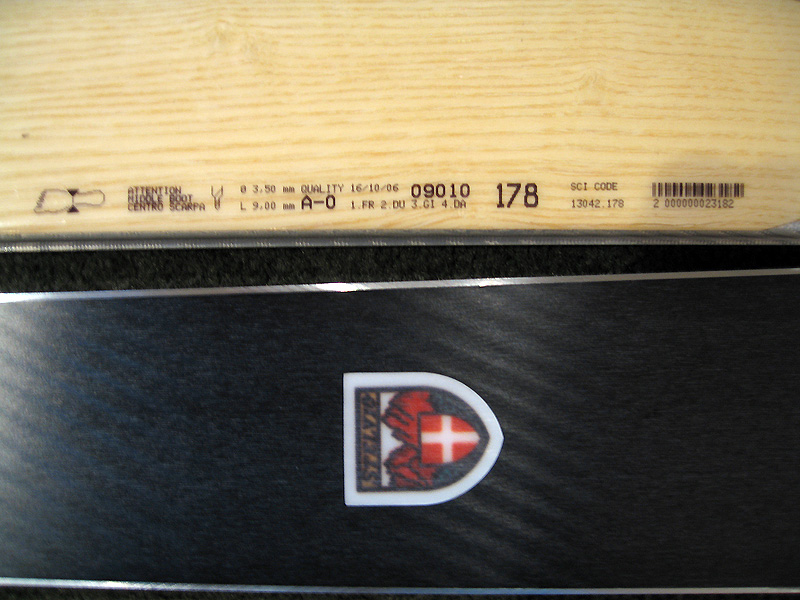 ---
Here's a link to a great video about the Patrouille des Glaciers, an epic team ski mountaineering race held every two years that runs from Zermatt to Verbier. It features a trio of young French women (one of whom works as an R & D engineer for Petzl, the sponsor of the video) who decide to do the race and get some advice from a couple of guys named Stéphane Brosse and Patrick Blanc along the way. The segment in which Brosse demonstrates how to take your skins off in a hurry is priceless. "Chaussure, fixation, peau . . ." Yeah, right. For those of you who think you're hardcore rando skiers, this video will give you a good yardstick to measure by!
---
Previous Incoming Pages:
"Incoming" covers developments that have personal interest to me (ie. gear I might consider acquiring, or events I feel may impact the sport of skiing) - it is by no means meant to be a comprehensive enumeration of gear or events in the ski world at large. Feel free to contact me via the randosaigai.com link below with news or images that may be of interest . . .