incoming
January 31, 2007:
Free at last
A little swollen, a little tender, but my leg's out of the series of casts and walking boots that I've lived with for the past month and a half. On January 22nd, Dr. Seidner took another series of x-rays and gave me the OK to start putting weight on the leg and working on my ankle flexibility.
I'd been doing light workouts with the walking boot on the trainer, and started using a regular bike shoe and upping the resistance until I felt solid twisting my foot to get out of the pedals. On Sunday the 28th of January I suited up for the cold and took a ten mile ride on the Burke-Gilman. A little creaky, but it felt good to be doing something outside.
Needing a day of skiing sometime in the month of January to continue my Turns-All-Year streak and having only two more days in the month, I headed up to Hyak with old friends Mike O'Brien and Deliane Klein on Tuesday the 30th. Francine Curd met us on the hill, and we skinned up to the summit at a leisurely pace on a glorious day.
Skiing down was a little more painful than going up, as the screws and plate in my ankle didn't quite fit the contour of my boot liners, but hopefully a little work with boot fitter Jim Mates this Saturday will cure that. The ankle itself gave me a few twinges of pain under load, but I'm pretty sure it's just a question of building up strength and ROM over the next couple of weeks . . . thanks to everyone who sent well-wishing e-mails over the past weeks, and I hope to see you on the hill soon!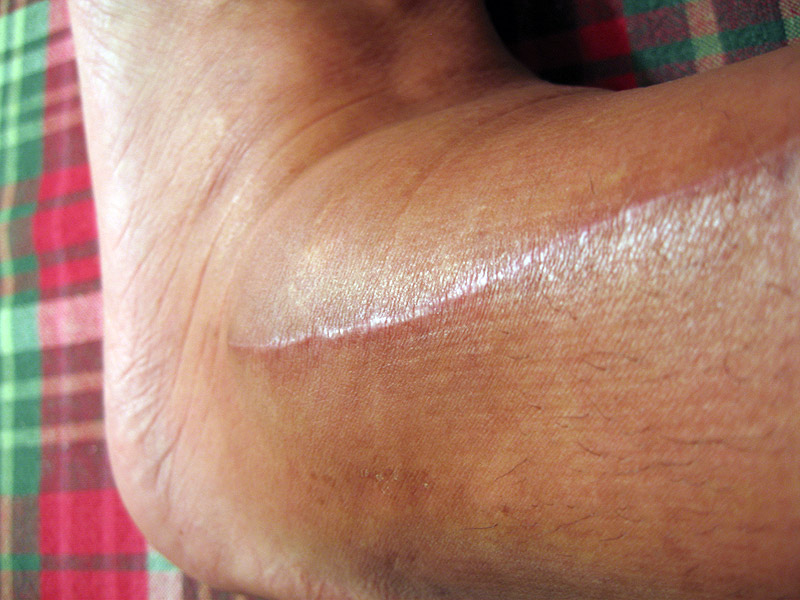 ---
January 9, 2007:
Now We're Talking
This bit of news showed up on Telemarktips.com this morning. Scarpa has just announced a new dual AT/Tele boot called the Terminator X, which will be compatible with both Dynafit and NTN (New Tele Norm) bindings. The boot appears to be essentially a re-soled version of their popular T2X Tele boot, done up in orange. The samples shown in the press release photos appear to have no Dynafit heel plate attached, and no way of securely fastening one due to the traditional telemark cable slot around the heel, but those are minor details - we all know Scarpa has the means of inserting the right hardware.
While I'm ambivalent about the choice of the T2 as a starting point (something stiffer like the T1 would be nice), it's by far their biggest seller in the tele market, so no surprise. I'm a firm believer in the virtues of a toe bellows for touring, having used the F1 for several years as my main light touring boot - it adds a lot in terms of comfort (less heel movement = less blisters) and allows you to use only the first two climbing levels on your Dynafits without torturing your hamstrings on the steeps. A stiffer F1, without the funky latch system? Put me on the waiting list!
My big question is how the über-massive NTN binding is going to fare in comparison with the Dynafit system in the dual-use public's opinion . . . how many tele skiers are going to throw the things away after a day or two of skinning in Dynafits?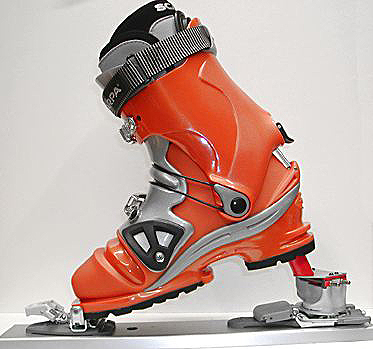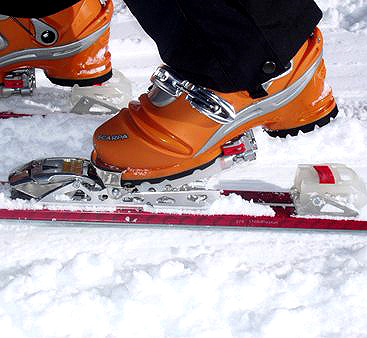 ---
Hold the Phone!
Before you call Scarpa with credit card in hand to buy some Terminator X's, take a look at this picture, posted by Steve (randosteve) Romeo on 1/10/07 on his site, http://www.tetonat.com - it's another new boot from Scarpa called the F3, a "stiffer F1" without the all-in-one top latch (no NTN hanger on the sole, either) - Someone's been reading my mind, or maybe those e-mails to Scarpa USA . . .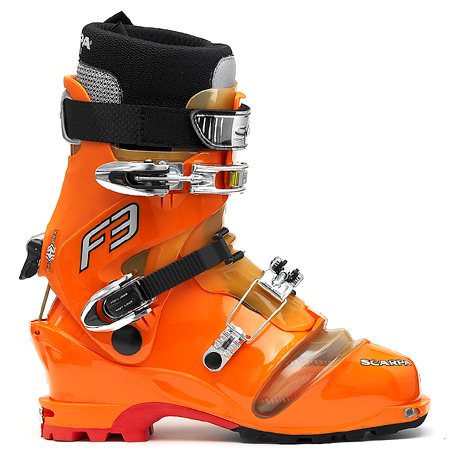 ---
January 7, 2007:
Randonnée Ski Demos
Marmot Mt. Works put on a randonnée and tele ski demo last Wednesday night at Summit West; it was co-hosted by reps from many top manufacturers (Atomic, G3, Black Diamond, K2, Trab, Garmont, Dynafit, etc.). Though the attendance was a bit sparse, probably due to forcasts of inclement weather, my friend Kevin was there and was able to try a number of different skis, as well as demo the Garmont Endorphin boot.
Interestingly, his top two picks for skis were the Atomic Kailas and the Trab Stelvio Freeride, which I had pegged as my top candidates of the year based solely on studying the specs and flexing the skis in the shop. Since I've already purchased the Stelvios, I'm hoping he gets the slightly wider Kailas so he can break trail for me next month once I'm out of the cast.
I don't have much more to report on this event, as I'm only going on verbal reports from friends, but it seems like a great service to the BC ski community and pretty much your only chance to try some of these skis in a head-to-head format. Hats off to Marmot for putting this on!
If you happen to live in or near Grenoble, France (I guess I was there at this time last year!) there is a similar demo event held annually at Espace Montagne, which David of http://pistehors.com covered in detail here. Much of the video is ski rep hype for the various products, mostly Trab and Dynafit, but it's in French, so it's kind of cool.
---
Previous Incoming Pages:
"Incoming" covers developments that have personal interest to me (ie. gear I might consider acquiring, or events I feel may impact the sport of skiing) - it is by no means meant to be a comprehensive enumeration of gear or events in the ski world at large. Feel free to contact me via the randosaigai.com link below with news or images that may be of interest . . .