incoming
December 10, 2005: This is preposterous. Today's news on CNN that more than 150 nations will enter into talks regarding mandatory reductions in greenhouse gases post-2012 WITHOUT the #1 producer of said gases is a slap in the face to people who make an effort to curb their personal use of fossil fuels. Former president Bill Clinton, perhaps not a man whose lead I would follow at a bachelor party, but a guy with a handle on international statesmanship and a respectable legacy of leadership, agrees. I don't think I could have said it better myself; the Bush administration is " flat wrong" on this, and I'm afraid their heads are somewhere where their vision is obstructed. Remember this in a few years when your grandkids can't find anywhere to ski below 8,000 ft.
In skiing related news, here's a link to a 90-minute Powder Magazine interview with Lowell and Gordy Skoog on the life and premature death of their brother Carl. I didn't really know Carl; at most I said hello to him a couple of times in the lift line, but his recent death while skiing Cerro Mercedario in Argentina leaves a big hole in the worlds of both skiing and photography.
Speaking of breathtaking mountain photography, check out these pictures by my friend Michael's brother Christian Trommsdorff on his trip to Chomo-Lonzo last spring . . . Christian's day job is guiding climbing and skiing in Chamonix, and according to his brother is something of a badass. I look forward to meeting him in a few weeks. The scale of those Himalayan peaks is hard for us flat-landers to comprehend, but these pictures bring it home pretty well.
---
November 27, 2005: For those of us who love no-frills cheap steep skiing over frozen avy debris, the big news this week is the scheduled (according to an internal Booth Creek memo) opening of Alpental on Friday, December 2. There are still some issues to be resolved, like sewer and power (they were running a generator on top today to Skil-saw a new stairway to the patrol shack), but staff and patrol are acting on the assumption that it's a go. Alpental may be ghetto, but it's as tough as any mountain in the country and the management deserves a thorough round of applause for providing us with TWO years of sliding for $279 plus Washington State Sales Tax. Today's conditions were about 6-8" of really nice snow over some hard bumpy stuff . . . here's a preview featuring Kevin, in case you missed him last night on TV (in his alter-ego firefighter garb) pulling people off the wrecked Monorail (only two trains running on separate tracks and they manage to hit each other?)
Dynafit Race Ti's are in da house . . . they are things of beauty, super-light, and have little Ti markings in the toe arms and locking lever. My

only complaint so far is that the little plastic template they supply for mounting the small-footprint heelpiece doesn't have a boot heel mark - I'll have to think about how to accurately get a 4mm gap between boot and binding on the first try, since the heel doesn't adjust once mounted . . . wait, I take that back. Examining the binding carefully with my digital calipers, it looks like the edge of the baseplate is about 3.98 mm out from the leading edge of the heelpiece! Real world weights: Heelpiece, 134 grams, toepiece and baseplate, 118 grams, total = 252 grams (didn't weigh the screws). By way of comparison, the non-lateral release race heels I have weigh only 55 grams each. Price was 355.35€, plus 30€ shipping, or about $452 USD, quite a bit less than what I had expected to pay - Telemark Pyrenees dropped the price and the exchange rate got better in the time it took to get the bindings from Dynafit and dispatch them to the US.
---
November 16, 2005: Snow is on the ground, more than at any time during the winter of '04-'05 in many locations, and stoke is in the air everywhere - in the shops, on the street. What's impressive? In a word, Dynafit. I stopped in at Pro Ski Service (actually BOTH Pro Ski Services) this week, and checked out the new Blizzard-produced FR (freeride) skis (most of the Dynafit skis prior to this had been produced by Kneissl or Atomic). Pro Ski had only ordered the fattest of the group, the FR 10.0,

which weighs in at only 1390 grams per ski (118-88-110) in a 178 - pretty impressive. It comes in a light carbon grey, with small longitudinal markings in the skin (similar to Atomic's texture on their XC and MX skis). There is a beefy metal-lined slot for the rubber-ball skin tip attachment which reportedly can be undone just by pushing it with one's thumb, but owner Martin Volken hadn't ordered any skins or fixing hardware so I couldn't see it. They also make a couple of other narrower FR skis, the 8.0

and the 6.0

with similar features and weight savings relative to their smaller sizes, which are available through Telemark-Pyrenees, but the FR 10.0 should be the ticket for our PNW snow.
Martin brought out a box ("I know what you're looking for") containing a real-live set of TLT Race Ti's - I hefted them, and yes, they really ARE that light. Seems that every possible part has been done in titanium; the toe also feels significantly lighter than the steel version of the TLT.
Dynafit has also come out with a burly Dynafit-compatible freeride boot, the Aero FR
, which looks like a winner for the one-boot-quiver crowd. Slightly narrower through the mid-foot than a MegaRide and stiffer as well, the boot seemed to have a fairly roomy toebox and medium heel. Finish and hardware were very nice, with a dial for the walk/ski control rather than a flipper. The new, exclusive to Dynafit binding fittings have a slot under the toe holes to facilitate pushing straight down into the binding, and a severely widened lateral slot extending out from the heel pin holes, presumably to facilitate release/return-to-center. Dynafit is showing a lighter version on their website called the Aero FR TF, something like 150 grams per boot lighter, though they are comparing a 27.5 to a 27.0. Cool stuff.
---
October, 2005: Lots of great new rando gear is on the way for the upcoming year, but be ready for some sticker shock when you see the prices. As always, the majority of the really tasty items are produced by European companies, and with the dollar at a stagnant low all randonnée gear promises to go up in price for the winter of '05-06.
Let's start with skis, where my favorite mass-market producer, Atomic, has come out with a new profile in its tele/AT lineup, called the Tacora (all the skis in the "tele" series are now named after peaks). This new shape slots in between the old TM:X and TM:22, with a 113-80-104 profile and a new-school blunt tip

. If this ski is anything like its brethren and doesn't scrimp on edgehold or stability at speed, it should be a winner. Sizes are 181, 172, and 163 and the weight is a reasonable 3150 grams/pair for the 181's. The new bio-blob graphics for the entire line of tele skis may not appeal to everyone, but IMO the Tacora is one of the more attractive skis in the lineup. The tried-and-true TM:X becomes the Kongur

with the 117/84/109 platform, and the wide-body 125/99/117 Teledaddy becomes the Janak

. All have new magnesium-cap topsheets that reduce weight by around 15%.
Black Diamond adds the Verdict

, a fatty with dimensions of 128/98/116, to the existing lineup of Havoc, Ethic, Mystic and Crossbow, and the Frantic (nice choice of name for a BC ski, huh?) replaces the Nunyo (mixed wood/foam core and slightly stiffer tail).
Ski Trab, long popular with Europeans, will finally have an American presence this year as Salt Lake's Mark Lengel will be importing the dominant rando race line into the US. The popular Sintesi will become a "Duo" ski for '05-'06, meaning that the skis will have a modified swallow-tail and a dual "baby butt" tip like the Duo Sint Aero

and Duo Race Aero (sorry, no .jpg picture of the Duo Sintesi, but it will have the same graphics as the Duo Sint Aero in yellow). Weight will be 1160 grams in a 171, as compared with the Sint Aero's 1050 grams, and the shape will be identical (105/102-73-89) - the Duo skis continue to get wider after the tip turns upward, giving them better flotation in fresh snow; rumor has them skiing fresh conditions like a ski 10mm wider, I dunno, there's no substitute for square inches underfoot, but maybe in combination with the twin tip? The Trab Freerando

is another ski that looks promising for fast and far winter touring, with a profile I used to think of as "fat" (108/78/93) and weighing in at only 1290 grams in a 171.
K2 manages to further cloud the issue of binding choice by introducing a new line of do-it-all "telemark alpine touring" skis with NW native-inspired graphics (this in addition to their popular Piste/Stinx tele line), adding the Mt. Baker

(122/89/108, from the proven Axis AK/AK Launcher mold), the lightweight (1300 grams in a 174cm length) Sahale

(102/70/89), and the Chogori (112/70/97, same graphic scheme as the Sahale but red where the Sahale is blue) to the already capable Martin Volken-designed Shuksan

(117/78/105) which remains the same save for topsheet design. The new additions were, according to K2's website, developed in cooperation with Andrew McLean.
Sound like the choice in backcountry skis is growing by leaps and bounds the past few years? Could be, but the recent acquisitions by Atomic (Salomon), K2 (Völkl & Marker) and Quicksilver (Rossignol) might give you something to think about. What's next, a bunch of Pilot gear by Atomic? (done deal). Völkl moving production to China? Don't bet against it.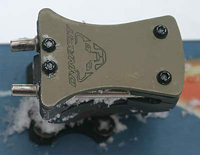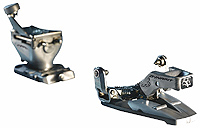 Dynafit's been on the move as well, coming out with a super-light titanium version of its TLT binding that shaves off about 95 grams per ski. The TLT Titan Race or TLT Race Ti appears to have a slightly more minimalist shape to the heelpiece, no heel lifter, and reportedly has even better torque resistance at the toepiece. The weight is 235 grams per binding, down from 330 grams for the regular TLT (now called the TLT Speed). The "cat" graphic on the prototype heel is cool, too, but the projected $600 price? Dynafit has made some minor changes in the rest of the line, too - the TLT has been renamed the TLT Speed and has an all-silver finish, and the Comfort will have a max DIN of 12 rather than 10. If you look closely, the toepiece baseplate appears to have been reworked into a two-part structure with a "fairing" - perhaps to help with the problem of snow getting in under the springs and hampering the function of the jaws. The extra plastic could account for the fact that several overseas sites are reporting the regular TLT to be 5 grams per ski HEAVIER than last year; the picture I have seen of the Ti Race toe appears to use the original, uncovered baseplate.
Note: Telemark Pyrenees has the Race Ti in stock as of 9/21/05 for approximately $504 USD including shipping to North America. Judging by the info on their website, the '05-'06 Comfort does NOT yet go to DIN 12, though they have changed the color of the binding to grey (including the volcano). The TLT Speed apparently does not have a slot in the climbing post to stick your ski pole tip into; you must bend down and twist the heelpiece by hand; also the Race Ti heel appears to use the ultra-small footprint baseplate from the non-releasing race heel and so will not fit the Comfort/Speed hole pattern.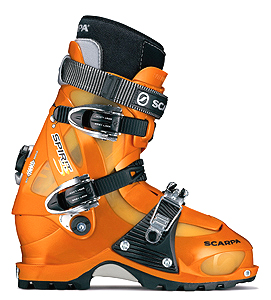 Scarpa has come out with a burly "freeride" AT boot, the Tornado, aimed at the alpine crossover crowd, and a new softer boot that fills the gap between the Matrix and the Laser called the Spirit 3. It's unclear if both boots will make it to the US, but I would bet that at least the Tornado will be available in US shops this winter.
Finally, the popular rando racing F1 is reportedly being revamped, losing its clumsy rear locking latch and shedding weight. It remains to be seen whether these changes will be incorporated into the '05-'06 retail models or if they will go mostly to sponsored Euro rando teams this year (the BD catalog sent the week of September 20, 2005 shows an unchanged version of the F1 for the current model year - seems that Scarpa is waiting until they go independent for NA distributorship in 2006 to introduce the federleicht version).
Black Diamond will be making a dramatic visual change to its skins this year, with the classic purple plush of the standard and ClipFix versions becoming gold (heresy), and the blue-and-white artificial cowhide pattern of the GlideLites becoming a black-and-white tire tread pattern (kinda cool).
---
December 27, 2005:
This isn't exactly about skiing. My uncle Art Louie, in fact, told me he only skied once in his life, and hated it.
Last Friday night, Art was working the floor at the restaurant in his customary and unique style, ordering dinners for parties, telling jokes, patting customers on the back and calling the old ladies "girls." Shortly after nine o'clock, he ordered a root beer, then came in the office and slumped heavily into a chair, complaining that his legs wouldn't work; as my aunt rallied friends to lift him and called 911, a clot in Art's brain was quickly shutting down his conscious being . . . by the time the medics arrived, he was no longer talking or responding to voices.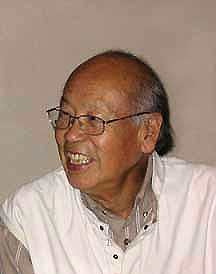 The mood at the Louie family Christmas dinner was subdued with Art in the hospital in a steadily declining state. When he passed to the other side this morning, he closed the door on a chapter in Seattle restaurant history that included characters like Victor Rossellini and Peter Canlis. Art was a host who knew everyone in town, or at least acted like he did, and specialized in making each diner's personal experience memorable, often ordering his own favorite dishes for people he had never met and gaining a life-long customer in the process.
Art Louie was a man who pursued his passions in life - food, friends, painting, fishing and golf - with an unbridled enthusiasm which rubbed off on everyone. If there's a lesson to be learned from his life, it's to go as hard as you can for as long as you can until you just can't do it anymore. Arty, I hope the place you're in has great food, beautiful women, fat fish and fast greens.
Arthur J. Louie, 1918-2005. Rest in peace, pal.
---
December 17, 2005: Don't feel bad if you were left off my hard-copy Christmas card list, the virtual version is right here. For those of you who aren't familiar with the story, my wife Lindsay and I are hosting Jason and

Jennifer Brunet, a young couple from New Orleans who lost their home and most of their belongings in Hurricane Katrina last August. They've adapted quickly, snuggling into fleece and Gore-Tex like native Seattleites, sipping espresso and micro-brews, and taking in the local music scene . . . Jennifer has been attending the University of Washington as a graduate student in architecture, while Jason has found a job building websites for a local firm specializing in sites for auto dealerships. It's been an inspirational experience for all of us. As our home fills with wrapping paper and sugar cookies in preparation for the holidays, it's a reminder that family and friends are what make Christmas real, and a wish that all of us make that circle of family and friends as large as we possibly can.
---
Other Years
"Incoming" covers developments that have personal interest to me (ie. gear I covet, or events I feel may impact the sport of skiing) - it is by no means meant to be a comprehensive enumeration of gear or events in the ski world at large. Feel free to contact me via the randosaigai.com link below with news or images that may be of interest . . .
---