incoming
December 29, 2010
Touring Season Back in Swing
Well, it was a bit of a dud.
Christmas was over, a bunch of snow had fallen in the past week, and the crew was ready to roll on Wednesday. Only problem was, a freezing rain event had laid a nasty thick breakable crust over all the nice pow on Monday night. Greg Ireton sent around a picture from the top of Alpental on Tuesday (when Kevin and I mercifully were engaged in a major plumbing job at my dad's house) of him holding up serving platter sized panes of ice that had formed overnight. Sweeeeet. Around 5 inches of fluff had fallen on top of the crust, but it wasn't going to be pretty, and all except Kevin, his friend and fellow firefighter Chris, and myself begged out.
Basically it was the three of us vs. around 20 snowshoers on the PCT - we went in early and made good time to the top, pretty much eliminating conflicts until the trail descent. Skiing was as anticipated - variable, with a few spots near the summit where we could point 'em and stay atop the crust and everywhere else more or less survival skiing, but the workout breaking trail up to the ridge was stellar!
---
December 17, 2010
It's My Birthday and I'll Cry If I Want To
But I won't, because it was about as good a birthday as I could wish for. I met up with Kevin and Justin Herx in the Alpental maintenance lot just before 9:00 with my birthday TLT 5 Performance boots freshly fit and ready for a workout. A number of other skiers, many of whom we knew, were parked in the front row with the same idea. When we heard that Justin, a skier whose skills I'd admired for years, had never skied the Slot our plan for the day was as good as set . . .
The verdict on the boots?
Skinning with the TLT 5 Performance is a joy. There's nothing like taking 580 grams of dead weight off each foot to brighten up your day. If you leave the power strap in place and just loosen the top buckle (which also unlocks the cuff), it's something like a normal well-designed AT boot on the uphill. If you undo the power strap and put it around just the liner (behind the two shell tongues), the range-of-motion is off the charts. I seem to be able to increase my average stride on a steep uphill skin track by around 10 cm. and it would probably be more on a flatter route - this is free distance with every stride, since you are just pivoting your leg from the hip and not incurring any (at least not much) muscle or respiratory debt. Guys like me with short legs have been waiting for something like this for years. The toe sockets are in the "full forward" position, include the proprietary Dynafit step-in guides, and for some reason didn't work so well with the "hook one side and roll" technique but rather wanted to be stepped in directly. Interesting. There's quite a bit of rocker in the forefoot of the sole that makes booting up steep frozen raincrust seem less secure than my Spirit 3's; a steeper angle with knees crammed into the snow seemed to be in order. Part of this may be due to the plantar flexation hardware; the boot flexes under the ball of the foot very slightly - not nearly as much as the bellows on Scarpa's F1 and F3, but you can feel it move when you walk and roll off your toes. I didn't notice the flex while skiing, but I'll see if it's noticeable in a few days when I get a chance to put some more miles on them.
On the down, the boot is remarkably stiff with the auxiliary tongue in place and everything tightened down. It skis stiffer than my Scarpa Spirit 3's, and comparable to my Garmont Endorphins, though with a different feel to it. The TLT 5 P is less progressive than either boot, particularly the Spirit 3 with either the Intuition or Plus Fit wrap liners, which start to transmit motion immediately and then gradually stiffen up - when you flex forward in the TLT 5 Performance your shin moves a bit, then hits a wall. I wasn't really "on" the boot and probably should have taken some runs in it on the lifts yesterday rather than just jumping into the Slot Couloir with it, but that's where I happened to be and fortunately it worked out OK. The extra stiffness and slightly more upright lean angle do make you stand a little differently in the boot, but I'm sure I can adjust. There are some little clicking noises that come from the forefoot area while both skinning and skiing, but I'm sure I'll learn to tune that out as well.
---
December 16, 2010
Future Rando Skiers of America
Congrats to Holly and Seth Davis, proud parents of Eli, born today! Knowing Holly and Seth, this guy is going to be a monster on skis and bike in a few years . . .
---
December 10, 2010
Christmas Already!
There's nothing like a morning of powder turns at Alpental before coming home to find these waiting at the front door. Damn stiff, extremely light, and unfortunately a little pricey . . . they'll need the usual shell work and liner bake at Jim Mates' place before I try them out, but I'm more than stoked!
Here's some specs right out of the box: weight, each boot (size 27.0), 1,160 grams (no insole). Actually one boot is 1,159 grams and the other is 1,164 grams. Not quite as light as I had heard, but the auxiliary tongue weighs 68 grams, and the boot is still reasonably stiff without it. You could easily go without the tongue for fast-and-light touring or rando racing; even without it the boot is stiffer than my old Scarpa F1's. With the tongue in, the boot is extremely supportive, perhaps (and this is a guess) 15 percent stiffer than the Pebax cuffed TLT 5 Mountain. My flexible footbeds out of my F1's are 60 grams each, so 1,220 grams per foot as I will typically ski them. This compares very favorably with my Spirit 3's, which weigh in at 1,800 grams per boot with the custom insoles. I've already cut off the velcro straps that secure the liner (a hassle to fasten, and I can't think of when I'd want them other than walking around in my liners in a hut - MAYBE) and trimmed the yellow rubber sole under the toe sockets where it hit the toe wings and supporting bracket of the binding. It seems like they've beefed up the sole a little in the interest of durability in this final production version, as well as covered the arch area with rubber (it was exposed hard nylon in the prototype I tried on). More to come as I play around with these . . .
---
December 4, 2010
Virtual Christmas Card
For those of you not on my hard-copy Christmas card list, don't feel bad - I may have lost your address, or think you're hip enough to look on the Internet, or developed a cramp in my writing hand, whatever. Here's this year's picture, shot by our favorite ex-Yuen Lui photographer Carolyn on the Seattle University Campus. As for family news, Nick is living on Capitol Hill with his girlfriend Kerry and career-wise has not fallen far from the maternal tree - he's a contractor working on a Microsoft portal website, and enjoys his job. Jordan is in Marseille doing his semester abroad with the University of Washington, drinking plenty of Grenache-based pink wine and eating lots of moules frites when he's not riding his bike around Provence. Hope you all have a great holiday season!
---
December 3, 2010
Alpy Season Opener
Today was opening day for Alpental ski area, pretty early in the season for a place that specializes in steep, boulder-strewn terrain which often requires six or more feet of snow for reasonably safe skiing. Nobody had their expectations set too high - I was thinking that only the bottom lifts would be running and if we got lucky they would open the top and have a couple of runs on Edelweiss open.
Whaddya know, I pulled in around 9:45, took both chairs straight to the top, and saw people heading for International. Nice. I started lapping Upper and Lower "I" and found nice dry snow, no rocks other than at the very top, and a reasonably sane transition over to Lower International. After around 11:30 or so, the lines inexplicably dwindled down to about 2 minutes on Chair 2, quite unusual considering the parking lots were full. The sun even came out in the early afternoon as I hooked up with Rob and Crispin for a few runs. Exceptional skiing for early season!
On a related note, John Stimberis reports via TAY, "Alpental Beacon Park is now up and running. Early season conditions exist. If you encounter any troubles with the site, or wish to provide feedback, please send a message to: alpental_bark@hotmail.com" - The beacon practice site is directly across from the main Alpental parking lot, running up the hill for 300 ft. or so. It's a great place to break in a new transceiver, hone your skills, or just kill some time on a crappy weather day with your touring partners. Highly recommended.
---
November 30, 2010
Season in Full Swing!
It's here. If you haven't done so already, it's time to scrape the storage wax off the skis and get 'em ready. If you're one of those who worries about the paucity of the snowpack and the resultant unintentional base grinds, this week should just about take care of that. It's snowing hard in the passes around Washington State as we speak, with the DOT struggling to keep up, and there's more cool weather with precip anticipated in the next few days. Word is that Alpental will open for business this Friday, December 3, though how many lifts will be running is a question. They plan to open Friday, Saturday and Sunday this week, and Thursday through Sunday next week, with daily operation beginning Christmas week (Monday excepted, of course). Still no cable or chairs on either of the new lifts at Hyak (that would be Summit East to you young kids) as of today, but crews were on the job and grumbling about the miserable weather. I don't blame them, but you did have all summer . . . Stevens Pass will also be running the lifts starting tomorrow, December 1.
If you're heading for the backcountry, the top 12 inches or so of fresh snow today at Hyak was very dense and quite windloaded, slabbing and propagating nicely on anything over about 25 degrees, so keep your eyes open and your thinking caps on.
---
November 23, 2010
Seattle in the Grip of "Arctic Blast"
Jeez, if you paid attention to the local news media you'd think this was Buffalo. Actually the 3 inches of snow and 16 degree temps that shut Seattle down today hardly slowed me on the way to the pass for a few quick laps at Summit West - maybe because half the city watched the news and took their advice to stay home and off the roads!
Even the University of Washington closed for the day, something that almost never happens. Seattle's snow response program, which was a major point in bringing about the last mayor's downfall, had been revised and called for the use of brine solution and less plowing of "non-arterial" routes (ie. around council members' homes), with an emphasis on keeping transit lines open. Unfortunately, the "new" response plan seems already to have failed miserably, as the temps were too cold for the salt solution (it froze anyway) and the buses couldn't make it on a large percentage of the routes. Maybe King 5 had it right, and everyone should just stay home!
Once out of town, there wasn't any problem getting up to the mountains, where Summit West was getting ready for their Thanksgiving Day opening. Met up with Kevin and Francine, and skinned up a few times for exercise. Trevor K. was on the job with the patrol, setting pads on the lift towers and making sure the groomers had at least the area around the Pacific Crest and Dodge Ridge lifts packed down. Skiing was about as good as it gets at Summit West, as long as you stuck to the area that had been groomed yesterday, about 14" of fresh snow and 9 degrees F., though if you strayed off the beaten path the snow was too thick for the low angle terrain.
---
November 19, 2010
Crystal Mountain Season Opener
I was quite surprised last night when Kevin e-mailed and said he and Francine were headed up to Crystal today for their opening - surprised because when we had stopped by there on Tuesday, there hadn't been more than a dusting of snow at the base area there, and only slightly more coverage up high.
We kept checking the website, and sure enough, Crystal management verified the opening, gradually expanding the operational schedule from 2 chairs to 4, but keeping the ticket price a very reasonable $20! Twist our arms, John Kircher! (But don't expect to see much of me when the regular season price of $73.00 per day kicks in!) We joined a moderate sized and very stoked crowd shortly after 9:00 AM and headed up - still no cable or cars on the gondola, but they continue with a December 15th target date for the new lift.
Skiing was surprisingly good, with excellent packed powder conditions and not all that many rocks. We worked it from 9:30 until about 1:50 when we returned to the cars to enjoy the lunch Kevin had left in my car on Tuesday!
---
November 17, 2010:
Dynafit Tip Fix
A couple of people have asked me about adapting Ascension skins to fit the proprietary Dynafit tip slots that come with all of their new touring skis (the skis also come with inserts that make drilling binding holes unnecessary for almost any boot). Here's how I set up a pair of Ascension Mohair Mix skins to work with my trusty Manaslus . . .
I took some 1.5 inch Velcro (I have a lot; if anyone needs some shoot me an e-mail) and sewed a 2.5 inch piece of "fuzz" to the glue side of the skin. Then I sewed a 6.5 inch piece of "hook" with a 7/16 inch hole in it to the other (plush) side, stuck the Dynafit rubber pull in the hole, and connected the Velcro. The result is much like the second-generation version Dynafit produced prior to the current plastic end, and works great. If you ever need to replace the rubber thingy you can just undo the Velcro and slip a new one in; the Dynafit system is super clean and not having tip loops hanging on the sides of your tips to get slashed by ski edges is nice - not to mention not getting stabbed by the cable strands that such slashing produces.
Jonathan Shefftz adds (by e-mail) that "for the Dynaskin fix, sewing is (relatively) easy by hand with a Speedy Stitcher Sewing Awl." Here's the link he provided - he does a "racer" style shockcord loop with a nylon washer, which will work fine with the Dynafit tip. Jonathan also informed me that the Dynafit ski inserts, which I had mistakenly thought were metal, are actually nylon. There is a sheet of Titanal (aluminum alloy) covering the area, but the inserts themselves are plastic, so treat them with care . . .
---
November 16, 2010:
Bring It!
The snow, that is.
For the past few weeks, winter has been playing with us. A foot or two of snow, then a melt phase. A little more snow, then warm temps again. Finally it looks like we're in for the REAL thing - they shut down Chinook and Cayuse Passes for the season today, with a storm event coming in this PM and two to three feet of snow forecast in the passes in the next two days. The Washington DOT and State Patrol waited patiently for us to score 2010's last laps at Chinook before chasing us off the pass at about 11:55 AM; they were a little perturbed by our report of two fresh snowshoe tracks we saw near the Crest Trail while skinning, but whoever it was hadn't parked a car at Chinook so I guess they were going to shut it down anyway. The gate was closed but the padlock still not in place as we drove out past the Crystal Mountain road and waved to the DOT guy . . .
---
November 10, 2010:
Gondola Towers Go Up At Crystal Mountain
Just a couple of days ago my dad asked about the new gondola at Crystal Mountain, and I replied that I didn't think it was in yet.
As it turns out, I was wrong.
While it may be true that it's not up and running yet, it's likely to be only a matter of days, as this video from November 2, 2010 will attest - a crew of highly skilled installers/engineers/pilots came in and put up the gondola towers despite high winds at the top on that day. The video is quite impressive both for the precision of the flying and the sheer courage of the guys guiding the towers and head frames into place - it would be pretty easy to lose a hand or head in an instant doing this job!
---
November 9, 2010:
I Hate It When They Do This
It looks like Arc'teryx is at it again.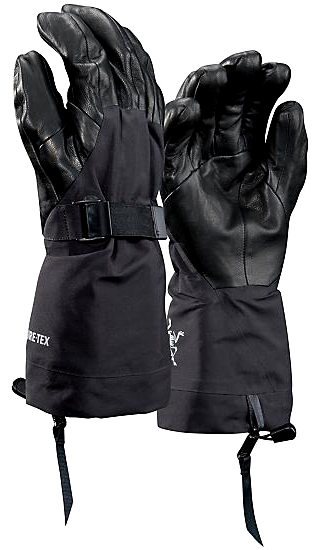 Remember the days when any old jacket would do for a ski jacket? As a youth I spent soggy years skiing in coats from the Sportcaster Bargain Basement. For a few formative seasons I did most of my skiing in a jean jacket, for that matter. Then for several years I labored on home-made Gore-Tex and Ultrex coats in my living room (labored is the operative word; a jacket typically took around 25 hours to complete) - and then, suddenly, Arc'teryx came on the scene.
Hours spent sewing tiny stitches and painting seams by hand made me something of an authority, and I was in awe when I inspected my first Arc'teryx hardshell coat at Whistler in 1998 (a few early production garments had shown up at Escape Route), quickly realizing that I'd never equal the quality achieved by these people. I ordered my first Arc'teryx coat the next year, a now extinct model called the Minuteman, and wore it for about 4 seasons. I then gave it to my son, who wore it until the zipper finally gave out two months ago. In the years that followed, that absurdly expensive article of clothing ($450 retail at the time) became a "must have" piece of GEAR among the notoriously thrifty hard-core ski and mountaineering crowd.
Flash forward to 2010. Arc'teryx rolls out the Alpha SV glove. Retail price, $275. Even as I winced at seeing the pricetag, I marveled at the butter-smooth leather with almost imperceptible seams and how the glove clung to every curve of my hand with the fingers slightly bent. They've managed to cut Gore-Tex fabric in the perfect shape and weld it with their trademark tiny seams to get this glove to conform perfectly to your relaxed hand. Pretty amazing considering that Pro-Shell doesn't really give at all. What remains to be seen is whether they really are waterproof as advertised, and whether the beautiful leather inners will hold up over time. If you can get away with carrying only one set of gloves instead of several, or if it will make it unnecessary to stop by your car three times during a wet powder day to switch out soaked gloves, they just might be worth it.
I looked at the price again, then the glove, and wondered if perhaps Arc'teryx hasn't done it again, upping the ante in a market that's been more or less stagnant for years. In five years, will every dirtbag backcountry skier and climber be sporting these gloves?
Here's the Arc'teryx propaganda video if you're so inclined.
---
November 3, 2010:
Dynafit Night @ Marmot
I usually steer away from pre-season promotional hype, but Dynafit Night at Marmot Mt. Works was one event I felt compelled to attend. The event coincided with Marmot's being named one of four US "Dynafit Competence Centers" which is something of an honor, and staff from the Boulder, Colorado sales office made the trip to Seattle for the night, along with Dynafit-sponsored athlete Jamie Laidlaw. The Dynafit guys didn't have to engage in much heavy-handed sales talk, as it would have seriously been a case of the clergy preaching to the choir - this group didn't look like the kind of people who were trying to decide which binding to buy, and I knew that several of those in attendance had garages full of Dynafit setups dating back years.
Dynafit and Marmot pulled out all the stops, with free appetizers, wine and beer before Jamie's slide presentation, after which Lock Miller recounted the chain of events that precipitated his becoming the first US importer of Dynafit bindings "back in the day." After Keith from Salewa USA (the Dynafit parent company) gave a brief introduction, Jamie Laidlaw stepped up to give his slideshow.
Jamie turned out to be a low key and humble guy from McCall, Idaho who's paid his dues through years of guiding, climbing, skiing and until recently, paying his own way on his expeditions. With the support of The North Face and Dynafit, this trip to ski in the far Northwest reaches of Nepal took on a whole different scale - a team of thirty porters ended up transporting the gear for four guys to ski in this remote corner of the Himalayas. Jamie's tale was as different from the usual triumphant mountaineering saga as Dynafit bindings are different from other companies' offerings; the team spent 42 days enduring weather and sparse rations and only put their ski boots on for two of those days, but they did get in one nice descent. The bigger story lay in Laidlaw's description of the difficulties of navigating this barren land as well as dealing with the native people (he did business in Nepali, as he was once an exchange student in Katmandu). It was less a case of "conquering the mighty Himalaya" than getting their butts kicked and nearly wiped clean by them. Jamie was brutally honest in describing how their team became "desperate to ski anything" once they got down to three or four days worth of food in the middle of nowhere, and equally honest about what went south on his solo attempt at skiing Lhotse. Very refreshing stuff.
"I was climbing with oxygen, and my breathing apparatus failed. Since I was climbing alone, I decided to turn around (about 200 ft. from the summit). You can't really describe it as skiing, it's more like you make two or three turns, then plunge in your ice axe, then wrap your arms around it and recover for forty seconds or however long it takes . . . "
This stuff is not for everyone, and definitely not for those who want guaranteed pretty powder turns or a start-to-finish scenic tour with nice meals in a hut every night (he talked about scenes in remote Nepalese villages where their team of porters and skiers would literally eat all the food in town and the locals would have to walk down valley to buy more rice to feed their families), but it made for quite a story. Thanks to Marmot and Dynafit for an entertaining evening!
---
November 1, 2010:
Standing In
The 2010-2011 gear is beginning to filter into local shops, and as usual I can't seem to resist the temptation to stop in and check out the stuff in person. There's something about actually handling the gear that gives you insight into how it will fit or not fit into one's quiver. The heft, the texture, the look, how the hardware works, how the material flexes and moves with your body - all of these factor into any buyer's decision and can't be adequately quantified by a number or described by a jpeg on a website.
While I am one of those who believe that a good bootfitter can make almost any boot work on any foot, the hands-on (or feet-in) examination is doubly important for prospective buyers of ski boots. For starters, they are made of hard and often stubborn plastic, which resists attempts to change its original shape - it makes sense to start with a basic shape that comes as close as possible to fitting the skier's foot out of the box. Details are important. Small "hot spots" or pain caused by shell or tongue deforming in unpredictable ways under stress can become sources of agony after a day of touring. Thin spots or hard plastic in the wrong place in a liner can mean career-threatening blisters out on the trail.
I like to pick out a few boots each year that seem interesting and put them on in a relaxed setting, hanging out with shop personnel and shooting the breeze for 20 minutes or so in each boot to get a feel for it. During this time I usually walk around and flex the boot in both ski and walk modes, stand on one foot a bunch, and generally get a feel for how the basic shell and liner design work for my foot. I've got a flat, wide, fairly high volume foot (10 D in street shoes, 43 in a SIDI bike shoe), so I generally look for a shell in the 26.5 to 27 Mondopoint range. I also have several pair of skis already mounted with Dynafit bindings for a 300 BSL (boot sole length) boot, so I like to keep the BSL withing 6mm either way of that figure.
The boots that I (and, it seems, many of my friends) had zeroed in on this season are the Scarpa Maestrale, the Black Diamond Quadrant, and the Dynafit TLT 5 Mountain/Performance. All are mid-stiff boots suitable for long tours and all-conditions skiing. All three are true touring boots, with an emphasis on light weight, a functional walk/skin mode, and Dynafit (or "Tech") fittings in toe and heel; none are boots I'd consider if I planned on using them for much in-bounds skiing. All are new designs, with the Dynafit boots sporting what I consider several revolutionary innovations.
The Scarpa Maestrale is an all-new design, meant to replace (eventually) both the Spirit 3 and Spirit 4. It has a cool skeletal look, and both the shell and sole have been minimally designed to shave weight. It worked, and the boot comes in at 1516 grams in my size (27.0 mondo). It feels pretty damn light for such a substantial boot. It has a lower tongue support that hinges out of the way to facilitate getting your foot into the boot, then flips back into place when you buckle up, plus a clever retaining clip to keep the top buckle bail in place while you're skinning. I worry about the rear hinge for the tongue flap, which is almost directly in line for a ski edge hit and only connected by a zip-tie width plastic hinge; I have a feeling these things are going to get popped off by the dozen. The boot is very comfortable for me even without my custom footbeds (Scarpa traditionally has been known for a high arch last) save for the tongue, which gave me pain on the outer shin on both legs (never a problem for me with the Scarpa/Intuition wrap liners). Though the Maestrale is the stiffest in forward flex of all three boots, it isn't very stiff compared to other four buckle "burly" boots you might be familiar with like the Typhoon or Endorphin or Zzeus - part of this might be due to the power strap, which though very wide is elastic and stretches easily when you flex forward. Substituting a normal nylon webbing strap from another boot would probably stiffen it up substantially. The range of motion when the Maestrale is in "walk" mode is incredible, and sets a new standard for a more-or-less conventional design. One interesting note: the 27.0 shell is a relatively long 306mm - by comparision the Dynafit 27.0 shell comes in at 297mm. Might be a deal-breaker if you've got TLT Speeds mounted "short" and they are already maxed out to the back . . .
The Black Diamond Quadrant is a softer, more tour-oriented version of the top-end Factor. It's done in dual-density plastic in outrageous green-and-yellow Oregon Duck colors, which may not be to everyone's taste but they will certainly be easy to spot on the mountain. The Boa closure system, which I used to consider snowboard culture hype, actually does a really nice job of snugging up the liner around your foot, but whether this actually helps prevent movement within the liner and thus blisters remains to be seen. If not, it's a questionable weight addition. The Quadrant is a slightly higher volume and very cushy boot that fits my wide foot very well right out of the box - in fact all three of these boots would be skiable with no shell work (at least for a few runs), something that never used to be the case for me. The Quadrant is easily the softest flexing of the three boots and very comfortable and "anatomic" looking when on your foot, but the walk/skin mode is only average and doesn't hold a candle to either the Maestrale or the Dynafit in terms of range-of-motion. The minimalist buckles are cool but the weight is not especially light at 1700 grams per boot in a 27.0.
The boot that I've been dreaming about since last spring, of course, is the carbon fiber-cuffed Dynafit TLT 5 Performance. No one in town has one in stock yet, but there are a few pairs of the Pebax/Polyurethane TLT 5 Mountain at Marmot Mountain Works. I put on the 27.0 with the non-thermo liner and wore it around for some time while I caught up with Lock, Eric and Steve. The Dynafit "narrow" fit has been relaxed somewhat in the TLT 5 compared to the Zzero 4C; it was still snug in the arch area but I wore it without real pain for around 20 minutes. Flex in the TLT 5 Mountain is medium, somewhat softer than the carbon-cuffed Performance I tried on this summer in Whistler, and the range of motion available for skinning or walking is astounding. The innovative top buckle that doubles as the locking mechanism makes for a super clean look on the rear of this boot, and the only reservation I have is due to the thin plastic of the lower and sole - I have a feeling that some of the more hardcore volcano skiers may blow through these while rambling through the moraines this spring and summer . . . super light at 1225 grams per boot in this non-carbon version, and the TLT 5 Performance will weigh only 1050 grams per boot. To put this number into perspective, my Salomon XA Pro 3D trail runners with mini-gaiters weigh 450 grams per shoe. The TF-X liner is nicely finished with a grey wool interior and without the cutout that the thermoform liner has in the Achilles area; it has loops in both the tongue and calf areas to help pull the boot on and seems quite comfortable. Potential warning: The easily (perhaps too easily) removeable "skiing" tongue barely locks onto the peg that's supposed to hold it in place - if this falls out while you are skinning, or slips out of your pack while you've got them out of the boots, you'll be looking for a replacement.
All of this neglects to mention one important factor, of course - how the boots ski. No one really offers a comprehensive testing venue that's open to the public for randonnée boots (though some reps offer demos of some of their wares at Marmot's annual demo night). I welcome comments from anyone who's actually purchased any of these boots and skied them - I need to make a decision and buy at least one of them. In the meantime, thanks to the staff at Second Ascent in Ballard and Marmot Mt. Works in Bellevue for the warm welcome and the opportunity to spend time in these shoes!
---
October 3, 2010:
Joining the Ranks of the Unemployed
Last Monday went down as the most humid day of 2010, with meteorologist Cliff Mass proclaiming a 100% reading at the UW. The air felt thick as syrup as I went out the door in Lake Forest Park, and the feeling of lethargy was amplified by the fact that my cousin Larry had called me about 10 hours previous to tell me he had sold the restaurant and as of today I would be unemployed. Nice. Thanks for the heads up, bro.
I applied for unemployment for the first time in my 41-year work history, and cleared out my office. Enough Ermenegildo Zegna dress shirts and Gap corduroys to last me for the rest of my life; guess some of these will find their way to Craig's List. I took a few long bike rides and a couple of runs, but when you're feeling a little down and disoriented there's nothing like climbing up and sliding down.
Since Friday was a new month and the weather was supposed to be decent, I headed for the solo ski standard at Rainier, Paradise. Turned out to be just as the doctor ordered - clear, brilliant blue skies, a little breeze, and sweet turns heading off from Camp Muir where a tiny finger of fresh snow skied like the real thing. If anyone has any ideas regarding employment, please use the link at the bottom of the page to contact me!
---
September 15, 2010:
Bob Griswold, 1946-2010
It was the late 1980's, and we were barrelling through the tiny town of Hailey, Idaho after an illicit backside run from Sun Valley's Seattle Ridge. Grizzy buried the gas pedal of his beater station wagon as we blew through a just-turned-red light and muttered the now immortal words:
"Stay outa my way, people, I'm drivin' with my ski boots on!"
And he was. Griswold's thin, reedy voice and bespectacled demeanor tended to mask the determination that lay beneath it; a newcomer might well have taken him for a mathmatics professor rather than the freeski master that he was. But when he wanted to go pedal-to-the-metal, he did it with resolve. I felt a momentary flicker of trepidation, realizing that due to the condition of Grizzy's car as well as his Lange-shod feet with all the buckles undone we couldn't have stopped if we wanted to, but pushed it out of my mind since we still had time for one more run if we could make it back to the River Run lift in the next 15 minutes.
Bob Griswold was one of my heroes as a teenager, a local Crystal Mountain hotshot who had moved to Sun Valley and ascended to the big time. As a member of the original K2 Demonstration Team and one of the stars of the 1971 Dick Barrymore film "The Performers," he was at the forefront of the freestyle ski movement of the 1970's, and one of the first US skiers to bring legitimacy to any form of alpine skiing that wasn't racing. His unique style was smooth as the water moving through the bends at Silver Creek and just as deceptively powerful under the surface.
When my friends and I made the pilgrimage to Sun Valley a few years later, Grizzy and his crew welcomed us as brothers, fronted us free drinks and salads at the Ore House, and got our skiing up to speed in the best possible way - by letting us ski with them.
Bob passed away on August 12, 2010, in his home town of Tacoma, Washington. If you happen to be in the vicinity of Sun Valley, Idaho on Saturday, September 18th, a celebration of his life will be held there and it promises to be quite an event. If you won't be able to make it to the party, join me in throwing some good vibes and fond memories on the virtual pyre . ..
---
August 8, 2010:
6 Years
I celebrated six years of uninterupted year-round skiing yesterday with a quick trip to the Paradise Glacier. Using the standard Turns-All-Year definition of at least one ski day in each calendar month of the year, Saturday was month number 72. Previously I had had a string of 13 months going but barely missed skiing in August of 2004 (I did ski on July 29th and September 2nd of 2004, however). This might seem like kind of a weird hobby to some people, even some of my regular ski partners who claim to enjoy a break of a few months, but it gets me into the mountains at least once a month and seldom creates a hardship unless I'm out of town or procrastinate until late in the month. Other year-round skiers are subject to some of the same "stress" - I've ocassionally witnessed hoards of TAY'ers on the Muir snowfield on the last day of September or October, all of whom briefly flirted with the idea of ending their streaks before heading up to Paradise in a panic to get some turns in.
I've been trying to decide if the Dynafit Speedskins I bought this summer for my Mustagh Ata SL's needed to be trimmed slightly in width. As they come from the factory, they are cut right to the limit of the P-Tex, leaving only steel edges showing. Normally I like to trim skins with a tiny bit of base material showing, as I feel it gives you a better edgehold in firm snow without really sacrificing uphill traction. Last year I trimmed my black mohair-mix Ascensions with a small bit of base showing for the Manaslus and they worked well this past season. Skinning on relatively firm snow in the cool temperatures yesterday, and with mild suncups on the Paradise Glacier, it seemed like the edges held well. I've concluded that the Dynafit skins are somewhat thinner than the Black Diamonds I usually use, which lifts the base off the snow less and allows for the use of a wider skin. At any rate, the Dynafit skins are really nice and the tip fix is a bit cleaner than my home-made one. I still wish they came in black rather than pale blue, but they probably source the skin material from Colltex and get a deal on blue.
---
July 30, 2010:
Cool Summer Rolls Right Along . . .
Funny how we were worried about the snow lasting into the summer a few months ago. Cool temperatures have produced one of the best early summer ski seasons in recent memory (as well as one of the worst years for growing vegetables). Skiers frequenting the southern edge of Mount Rainier National Park have continued skiing to within a few hundred feet of the car into late July, and the conditions on some of Rainier's more difficult routes has been nothing short of stellar.
Meanwhile, I've been attending a few bike races. My son Jordan was moved up to Category II on the track just in time for the biggest race of the year at the Marymoor Velodrome, the FSA Grand Prix. I'm not sure if this was a good thing or not, as the level of competition was pretty stiff, but he acquitted himself well . . .
---
June 10, 2010:
The Spring That Thought It Was Winter
Remember a couple of months ago when we were worried about the paucity of the snowpack, thinking about water rationing during the summer, and dreading those long muddy treks in to find snow?
Funny how the weather has a mind of its own, and changes it constantly! It kept right on snowing through the month of May, which had some of the best skiing of the season (along with November) and plenty of good powder days. Now that it's June, it continues to snow above about 6,000 feet, with freshies for skiers and unfortunately avalanches as well. The last buried climber from last week's avy on the Ingraham Glacier on Mt. Rainier has yet to be found, and NWAC has been sending almost daily stability warnings to subscribers via e-mail - rare for this time of year.
This week's trip to Chinook Pass with Kevin was a nice one; we hit the single sunny weather window for the week on Tuesday morning, and found Joe Dahlem gearing up at the top of the pass. Joe was kind enough to show us his regular "backyard" tour around Naches Peak, and we got in three good laps of skiing in the bowl behind the peak with conditions that ranged from mush to perfect corn.
Then there's the bike races. I've been spending quite a few weekends standing in drizzle or outright rain watching my son Jordan race - first Enumclaw, then Ballard, then Boat Street (Brad Lewis). It actually stayed dry for the Ballard and Boat Street Category 3 races, Jordan stayed up, and I just got a little wet on the ride home. Jordan is getting the hang of working for a team with his new outfit, Hagens Berman - they actually seemed to have a strategy at Boat Street and sent him off the front with 8 laps to go, then another Hagens guy attacked with about 5 laps to go. The other teams had to work to chase back, and with one lap to go the Hagens Berman team leader, J.D. Fette, rode away for the win. Fun to watch the racing and catch up with some old friends who are still doing it, as well as watch the offspring improve.
---
May 4, 2010:
Powder Turns at Alpy
Late in the season? I was thinking so myself until I checked the DOT camera at Snoqualmie Pass last night and discovered a full scale snow storm in progress.
I got up to the the Alpental lot (actually everyone parked right next to the base of the Armstrong chair) around 10:10 AM, and joined about 10 or 12 skiers suiting and skinning up for some fun. There didn't seem to be anyone I knew, so I jumped in the skintrack solo and set a reasonable pace. I managed to put some distance between myself and the three guys who had parked next to me and started about the same time, then caught a couple other skiers along the way. Up ahead I spotted a mustard-yellow windbreaker that somehow looked familiar and figured I'd soon see who it was, but I never was able to close the gap.
When I hit the top of Chair 2, I discovered Greg Ireton there, already with skins off and nearly ready to ski. We shared stories about how the telemetry fairly shouted out to us that today was too good an opportunity to miss before heading to work. Since we were first on top, we had our pick of descents, and International seemed logical. With a couple of weeks since Alpental had closed, the hill had "healed" itself and was smooth as can be; the 10-12" of fresh on top made for the best turns of the year on Upper 'Nash and Adrenaline. Nice way to start the day!
---
May 2, 2010:
Turns-All-Year Crystal Fest '10
Maybe the weather forecast had something to do with it. Maybe people were "out of town." Maybe self-powered skiing just isn't hip anymore . . .
Whatever the reason, the annual Turns-All-Year Crystal Fest, traditionally held a week or two after the official closing date of Crystal Mountain, was a rather sparsely attended affair this Sunday, with an even dozen people showing up at the Campbell Basin Lodge and another seven, according to my friend Eric, collecting at the Summit House. For the first time in my memory, no industrial-sized containers of brewed barley beverage made it to the top of the mountain, but no one seemed to mind.
The weather vacilated between sun with haze and chilly fog, and participants were hard pressed to decide between puffy coats and t-shirts. All in attendance were treated to some challenging slush-on-crust conditions on the way down, and some even enjoyed it.
---
April 21, 2010:
Really Core Mountain Biking
The world's oldest lake. Most voluminous freshwater lake in the world. Deepest and most likely cleanest lake in the world.
Care to take a guess? If you said Lake Baikal, you nailed it. The superlatives keep on rolling - surrounded by pristine mountains on all sides. Home to 1,085 species of plants and 1,550 species of animals, the vast majority of which are unique to Baikal. Oh yeah, it's also set dead in the heart of Siberia.
All of this makes Lake Baikal a prime target for . . . a mid-winter circumnavigation by mountain bike? Well, my ski and bike buddy Eric Noll and a joint Argentinian-American group of adventurers thought so, and thought so highly of the idea that they arranged an expedition this year starting in late February which finished on April 4th of this year.
Their trip marks the first human-powered circumnavigation of Lake Baikal in winter, and certainly stands out for originality. For a first-hand account of the trip, check out the blog here. The group is currently seeking contributions to help fund the post-production costs of the video documenting the trip, so if you happen to have some spare cash I can think of worse places to spend it.
---
April 6, 2010:
The Return of Winter
So your skis were already packed away in the garage, parafin slathered on the bases to prevent oxidation, done for the season?
O' ye of little faith, look what happens when April rolls around and winter decides to descend on the Northwest.
A battery of storms landed in Washington State last week, beginning with last Monday night, laying down somewhere between 6 and 8 feet of fresh snow in the Cascades and bringing the powder-deprived masses up to the mountains on Tuesday. I rolled with Russell and Joe all day, and finally found Kevin and Francine early in the afternoon. The Alpental regulars were out in force, with many familiar faces in the lift line. Saturday was a zoo at the ski area, and Seth, Crispin, John, Ian, Kevin and I headed for the Kendall Trees in an attempt to stay away from both lift lines and avy zones. The day was a complete success on both counts, with perhaps the best turns of the year for most in our group. Today was another epic day at Alpental, where Crispin, Kevin and I lapped the Alp for hours in heavy snow and fog. The season lives.
Here's some of John's shots from Saturday:
---
March 31, 2010:
Bike Season Going Off!
One effect of the mild winter and low precip this year is that most of the cyclists I know got in a lot of miles and the racers are already flying. My son Jordan rode in three USAC races before the collegiate season began: The Frostbite TT, Icebreaker TT, and Mason Lakes Road Race #1. He ended up 2nd at Frostbite, 4th at Icebreaker, and won Mason to finish up his Cat. 4 career on a high note (only the road race counts for upgrade points).
Now it's on to the collegiate circuit for six weeks, where he'll race for the University of Washington "A" team. There's a bunch of ringers on the team, with elite/Cat. 1 dudes like Grant Boursaw, Chris Diafuku, and Rad Cunningham leading the way and giving Jordy lots of pointers. He's been hanging with the group in the crits and road races so far in Boise, Oregon and Seward Park, so it seems like he's making progress . . .
Collegiate racing is a great way for riders taking at least 12 credit hours (grad school counts) to break into racing in a lower-key atmosphere and learn from faster, more experienced riders. It's team oriented in a way that USAC racing never really seems to be, with Cat. 1 heavyweights waving flags and banging cowbells for their Cat. 4 and 5 teammates' races. It seems like an especially friendly way for women to break into bike racing without the elitist game-face attitude - there was a woman out on her commuter bike with flat bars and fenders at the Boise race, and the crowd was going nuts!
So far the NWCCC is midway through their six week season. Whitman College, powered largely by the efforts of Ben Chaddock and Lake Forest Park homeboy Colin Gibson, leads the University of Washington by 6 points, so the outcome is anything but certain. For results from the races to date, and more information on the Northwest Collegiate Cycling Conference in general, check out this link.
---
March 7, 2010:
Vertfest Alpental 2010
The state of randonnée racing in the US is not exactly at a high ebb these days. Due to the economy, lack of demonstrated effectiveness in bringing in skier dollars, and the fact that most of the qualified organizers would prefer to actually race, the Crystal Mountain Vertfest that constituted 50% of our local rando circuit was cancelled this year, and there was a real possibility that there would be NO race at all in the Seattle area this year.
Fortunately Outdoor Research, Pro Guiding, and Summit-at-Snoqualmie, as well as a host of gear manufacturers and distributers, stepped up at the last minute to make Vertfest 2010 happen at Alpental on March 6th. The day dawned bright, warm and beautiful, looking like late May with this year's snowpack, and a record 105 people made the trip to Alpy to sign in for the race. There was no telemark division this year, but Men's and Women's Race (2 laps) and Recreational (1 lap), plus Men's and Women's 50-and-over.
They had groomed a nice patch of snow directly in front of the start, and the corduroy looked like deceptively easy skinning, but several of us went up further on the course to check the grip. With overnight temperatures in the 20's, the icy moguls looked a bit sketchy to Monika and myself, and we both decided to start the race with ski crampons in place. Lowell, who probably has the best feel for skinning of anyone I know, was "on the fence" - standing on the start line with 3 minutes to go, he finally took them off.
The race got off more or less on time, and the normal assortment of fast people including Andy and Mike Traslin from Vancouver ran off into the distance. As predicted, there were a number of falls more or less immediately on the icy bumps, with lots of people losing places and lots more switching to bootpack mode. Near the top of the second steep and icy pitch, I saw a group accident waiting to happen, and went looker's right without noticing the control gate at the left of the course. Fortunately Dan Tomko yelled, "Hey Greg, you missed that gate!" I hadn't even seen it, and asked where it was. "Right behind you!" Ooops. Time to sideslip back down and go through the gate, except with the ski crampons on, I couldn't sideslip. That meant sidestepping down the hill and then "jogging" through some troughs to get across the hill, then waiting while a group of three guys slipped their way through the control gate. Oh well, maybe only 30 seconds lost, but frustrating.
The rest of the way up Chair 1 was smooth, and I should have taken off the ski crampons off at the top of the chair because there was a long flat and with the cramps in place I had no glide at all. John Speiss gapped me even though I was jogging trying to keep up. I finally decided to remove them a little further up Chair 2, as the full sun was turning the top surface of the snow into spring corn, and the rest of the course looked like it was also warming up. I tried to catch up to John and Benj Wadsworth, the guys I had skied with pretty much the whole race last year, but they kept pulling away. Whether it was lack of skiing, older age, the beta blocker I started taking this year for blood pressure or a combination of factors, I never felt that great this year. I decided to stick to my plan of not getting too worked on the skin up and concentrating on breathing as I neared the top in the hope that I'd be able to ski better and make up time on the descents.
I hit the top of Chair 2 just as Benj was getting set to ski, had a decent transition, and headed off toward Upper International. I hadn't skied 'Nash in a couple of weeks, but there were ugly icy bumps at the top and I wasn't surprised at all to find them. In the troughs were piles of grapefruit-sized ice balls. Nice. Combined with a heavy dose of "paying customer" traffic, it made for some challenging skiing until the control gate going out to Snakedance. The first turn after the cat track into Snakedance proper was a little scratchy, but sun had already begun to soften the snow and the moguls were big and rounded, making for some skiing that might have been pretty enjoyable had my legs not been quivering so badly. Still, much nicer skiing than I had expected through this section. The bottom was smooth and fast, allowing big GS turns into the finish area.
The course then headed back up through the woods above the beginner area. Benj had a speedier transition than me and had about a 200 ft. lead as we headed back up, which he proceeded to build upon during the climb. I started having cramp problems in my right thigh, which forced me to slow down and breathe deeply periodically, but which kept coming back. I thought about DNF'ing several times, but the beautiful day and the fact that this was my only race of the year kept me going. So what if the guys I usually keep up with are leaving me behind, I'd most likely want to be out here skinning in the woods today even if this event wasn't happening, right?
I got to the top with a couple guys I didn't know, and had a better transition than them. Heading out to ski the Piss Pass traverse "backward" I figured it was pretty much in the bag, and I could just cruise to the finish trying to ski big, smooth turns quickly and efficiently, and trying to breathe deeply so as not to cramp up. Unfortunately, there were no other competitors around me and a missed some of the course markers (actually I'll admit to throwing in a few powder turns somewhere around Knoll 3 - just couldn't resist). By the time I picked up some markers, I was back down on the "up" track, a couple hundred feet below where I was supposed to be. A couple of course workers yelled at me that I needed to hike up and around a knoll, which I reluctantly did, costing me maybe five minutes. I saw a few people pass me on the traverse above, but couldn't do much about it.
I funnelled into the Snake Dance cat track feeling a little discouraged, but the legs were OK and I tried to ski the rest of the descent as quickly as possible. As I hit the top of the final face into the finish, I saw a guy near the bottom and gassed it trying to catch him, but couldn't quite do it. Still, it was exciting to ski that fast on my 171 Trabs and I ended up getting several compliments from the event staff for "coming in hot" at the finish. I have a feeling they were getting ready to bail in case I biffed and went into stands . . .
Standout performances included the Traslin bros, Andy and Mike, in first and second Men's Race, with 53 year-old Lowell Skoog in 4th. Monika Johnson took her traditional spot at the top of the Women's Race podium, and had little in the way of competition with Holly Davis in La Grave this week. Brandon from Hyak took second in Men's Rec (he was actually third fastest, but they somehow had the real #2 Jerry Sanchez winning the Women's Rec division. I think they worked out the prize situation themselves) and Greg Ireton in third. Melissa who I skied with last week took second in Women's Rec, with Brandon's wife Heather in third. The Hyak group also had the winning lottery ticket for a pair of K2 Backside skis, so they came out the clear winners in the schwag category. Dan Larsen and Tobae McDuff took Men's and Women's 50-and-over. I don't really know any of the splitboard competitors, but the guy who won was really hauling ass!
Results here: Men's 50+ Women's 50+ Men's Race Women's Race Men's Rec Women's Rec Men's Split Women's Split
Tim Tietjen has a great video that really captures the spirit of the event here on his Snow Troopers site.
---
February 20, 2010:
Holy Oly Revival @ Hyak
I got a late start today and wasn't inspired by the prevailing lean conditions, but it was a sunny day so I headed to Hyak for a few exercise laps. Lo and behold, they were holding the Holy Oly Revival on the main hill. For those of you without a background in Hyak history (I happen to have grown up skiing there from the ages of about 3 until 8), the "Oly" refers to a water tank on the hill that once was painted to resemble a can of Olympia beer. Numerous Northwest snowboard luminaries hold Oly cans near and dear to their hearts, and a quarterpipe/jib festival is held each year to commemorate the "can."
The skiing was pretty much horrendous and made worse by the fact that they scraped every available bit of snow off the lower hill in order to create the gargantuan quarterpipe mound, but I did run into Holly's mom Marg and her friend halfway up the cat track and skinned and chatted with them for a bit.
---
February 9, 2010:
Alpental Beacon Basin
Today was clear and warm at Alpental, with icy bumps on the top and decent groomers below. A few runs on the corduroy seemed enough, and I had the new Pieps DSP, so I decided to pay a visit to the beacon basin across from the main Alpental parking lot. Those of you who know Alpental will recognize the location from the Shot 10 monolith hiding behind the pole; the location adds a shot of realism to any practice scenario as it is a real avalanche path. Many readers will no doubt remember the slide from two winters ago that came through this same spot and remodeled the roof of the adjacent condos.
When I arrived, Margaret Wheeler was leading a group of guides through a series of "expert" scenarios, and I watched with interest as guides and aspiring guides from around the country tried their hand at timed location tests. Two guys from Colorado commented that the Alpental venue was much larger and more realistic than others they were familiar with; indeed the size of the test site easily exceeds the 65-70 meter limit commonly found in avalanche beacons. If you are alone, you will have to walk uphill a bit after pushing the start button before you begin receiving any signal. To lend more realism, you might have searchers walk above the search area with ski gear and have one person begin the test from the box while shouting out directions (as Margaret did).
The Easy Searcher test unit itself is self-contained and solar powered. You simply select your level of difficulty from a menu of "easy," "medium" or "expert," wait for a few seconds, and start hunting when the machine starts a visible timer. Pressure sensitive plywood pads are the "victims" and are buried randomly around the practice area (though most are a fair distance from the control unit). With little or no fresh snow for the past two weeks at the practice elevation, and many bootprints having packed the area thoroughly, the snow was quite hard to penetrate (I chose to use the one-piece metal probes provided at the site rather than beat my own), but probably realistic for many an avalanche rescue scenario. "Easy" gives you a single victim to locate, "medium" provides several (I got three), and "expert" provides an unknown number of randomly placed victims (I got five). When you locate a "victim" with your probe, a loud signal sounds at the control box, and when you successfully complete searching for multiple victims a series of signals sounds.
The single victim search was no problem, even though I waited for about 40 seconds before starting to walk uphill without realizing the thing was on. The medium search also went well, after I realized I wasn't holding the "mark" button down long enough on my Pieps and came back to the same victim a couple times. There seemed to be a problem with the expert level resetting itself during the session (it seemed to do this once while the guide group was working as well). I found three, then more victim icons popped up on my transceiver - when I went back to the control box, it said I had failed to find numbers 4 and 5. Hmmmm. Seems like I need to go back again when I have more time and try again.
Hats off to John Stimberis of the WSDOT, Rob Gibson of the Alpental Pro Patrol and the David Pettigrew Foundation who maintain and fund this facility! It's a great resource to have in our backyard, and the practice you get here could indeed save someone's life. Perfect entertainment for those really crappy ski days when a couple runs are enough.
Edited to add: I just checked this thread on Turns-All-Year.com and it appears there may be a problem with the "expert" mode, or at least there was three days ago. At least you can run the single and multiple with known number of victims modes without a hitch, which should be plenty to get started with. One recommendation I picked up from watching the AMGA guides' group was to have only one "searcher" (person with a transceiver set to receive) in each group, and designate others in the group as probers or shovelers (they were using 2 person groups, so just a searcher and prober).
---
February 1, 2010:
Calling all Groundhogs
Winter is still struggling to gain a foothold in the Pacific Northwest. The foot or so of nice snow we got earlier in the week was rained on for several days in a row, and scraped off the high, steep places (witness Upper International at Alpental) leaving nice huge clear ice patches. I'm hoping that somewhere in the world tomorrow, a groundhog will see its shadow and keep winter coming.
Meanwhile, we keep skiing. After a great day of lift skiing with the bros on Tuesday, Kevin and I were thinking of something in the Alpental vicinity for the weekend, maybe Kaleetan to Chair Peak Lake? We headed out in a steady drizzle, and when we reached Pineapple Pass and found essentially no visibility, decided to stay on the front side in case we fell in a hole and broke our leg (in which case we might be able to persuade someone from Alpy patrol to bring the sled down from Piss Pass and carry us out). This wasn't exactly a remote scenario, as we came across several huge holes near boulders that we couldn't see in the fog. Found some decent "transitional" powder (ie rain saturated, but untracked) over light crust.
If you think it looks foggy in these pictures, you should have seen it before I added contrast, sharpness and brightness in Photoshop!
---
January 30, 2010:
Testing, testing, 1, 2
With ice and rain prevailing in the mountains (at least until this week) the Gotamas and Manaslus haven't been getting much work this season, so I figured I'd throw in some comments about bike stuff as well. Hey, every backcountry skier I know is also a bike fanatic, so it's not really that much of a stretch. The primary additions to my commuting arsenal were both presents from family - a new partial SRAM Rival gruppo (no crankset, but derailleurs, brakes, and levers) and a new light from Magicshine.
I've got a little over 400 miles on the Rival stuff so far, and love it. I was already familiar with the SRAM "action" having used a RED gruppo on my Cervelo all last season, and was experiencing problems (not all that serious, but nagging) when switching back and forth between the DuraAce and RED shifters, missing shifts at critical times (like just starting up a hill) because of the difference in the mechanisms. Jordan found a reasonable group on eBay, and Lindsay and Jordan chipped in to buy it for me for Christmas, so all good! Performance is almost identical to RED for a lot less money, and not much of a weight penalty. You could run this groupset on your race bike with a decent set of wheels and generic carbon frame and sacrifice very little. In fact, the money you save on the gruppo might buy you a set of carbon wheels if you know where to shop.
Shifting is just as precise as RED, maybe even a little snappier for the front derailleur throw from the small to the large ring. Shifting at the rear derailleur feels identical, both up and down. The hood shape of the handles, which provides a much larger "flat" spot than 7800 DuraAce, is almost the same as RED with just slightly less indentation where your thumbs rest. Brakes fall just a bit short of the buttery-smooth standard set by RED; they don't have the ball bearings at the pivot points and are supplied with JagWire cables instead of Gore Ride-On cables with the special debris guards, but who cares? There's a good reason Lance has invested millions of his own money in this company.
A note on chains. When I started using my RED gruppo, I used the SRAM 1090 chain they supplied with the ultra-light 1090 cassette. As many other people have noted, it was extremely noisy, and probably amplified by the one-piece CNC'd upper shell of the 1090 cogset, which acts like a bell. I've since switched to using a DuraAce 7801 chain with this cassette, and it's significantly quieter. For the Rival group, I put a DuraAce chain on from the start and it runs smooth and quiet with the 1070 cassette. I didn't try the 1070 chain, so I can't comment on how good it is or how much of the silence is due to the riveted and heavier cassette. I do know the DuraAce 7801 chains work well with every gruppo we run in our household, and we found some for around $32 each, so we bought a bunch. Spending $65 for a new chain five times a year gets old.
I've been using NiteRider's TriNewt basic version for about a year and a half, and have been quite happy with it. Weaknesses have been problems with their Surlok cable system loosening up and losing connectivity when the cable is bent over for prolonged periods (Niterider was good about replacing the cable). Also the light housing weighs a ton, which is especially noticeable when using it with a helmet mount, and the battery is huge. With the basic model you can't turn the light on or off or change brightness settings without accessing the switch on the top of the battery, which is not all that practical when it's in your pack. These may seem like niggling little complaints, but this IS a $399 light. The newer iterations of Niterider's LED lights are even more expensive.
My brother had been raving about his Magicshine. Made in China, lighter, brighter, and (relatively) cheap. For my birthday, he surprised me with one, which I set up and used the next day and have been commuting with since as a helmet-mounted main light. Waterproofing is non-existent, as compared with NiteRider's (excellent), so I have the battery in a heavy-duty ZipLok bag, but the light turns on and can be adjusted for brightness from a button on the back of the lamp (convenient). They call it a 900 lumen device, but I am prone to disbelieve this number (maybe 600?). At any rate, it's a bit brighter than the Tri-Newt on high beam, and the Tri-Newt was originally rated at 500 lumens (they later down-rated it to something like 486). The second of three brightness settings on the Magicshine is slightly brighter than low setting on the TriNewt, which I normally use for bike path riding, and the beam is slightly warmer in tone (less blue) with a more diffuse pattern (better vision at the sides, not quite as good in the center). So far I've been getting about four hours of use on setting #2 with no sign of running out of juice. The directions give a little Li-Ion primer which says you should normally recharge them when they get down to about 40%, rather than drain them completely like NiCads. So far so good, even with the cheesy name which is probably a direct transliteration of the Chinese.
The light housing on the Magicshine is quite light compared to the TriNewt, and uses a rubber-band mount that is easy to adjust on the fly. The battery pack consists of four Li-Ion AA cells and is probably 1/5 the weight of the NiteRider proprietary battery, though as noted previously there is no watersealing. Replacement batteries are $40, and are light enough to carry as a spare (I ordered one). The best news of all is the price for this light - $85 for light, battery, extension cable and helmet mount! If you need a decent light, you can order one directly from Geomangear.com.
---
January 17, 2010:
Superlight boots for Everyday Touring?
Jonathan e-mailed today with the news that he'd gone ahead and bought a pair of DyNA race boots (nice!) but that I might want to wait until next season when they will come out with a couple of derivative models, the TLT5 Performance and the TLT5 Mountain. Both are based on the DyNA mold, with the Performance using a Pebax lower and carbon fiber cuff. The Mountain uses a Grillamid lower with Pebax cuff, and both boots have a "downhill booster" to stiffen up the forward flex if you want. Published weights are 1050 grams for the Performance and 1225 grams for the mountain (27.5 shell). One or the other might be just the ticket for my main touring boot some day . . .
---
January 16, 2010:
That Pesky El Niño Still Kicking Us in the Ass . . .
Weeks of cold and dry weather, then a January characterized by marginal freezing levels . . . what's a backcountry skier to do, except to go out and ski with what we've got? Seth and Kevin had a glimmer of hope on Friday, when the telemetries showed snow falling above about 3,500 ft. (and a six inch accumulation at Alpental). Unfortunately that turned to rain during the night, right up to around the top of Kendall Ridge, our destination for Saturday.
With this crew, it didn't really matter. The skies were clear, there was handy parking at Summit West at the late hour of 9:00AM, and no other skiers to get in our way. Plenty of exercise chasing Seth up to the top of the ridge, and a rather challenging ski down with a few inches of fresh over crust at the top, then really thick but skiable rain crust, then really really thick rain crust that we couldn't really ski gracefully, then thawing corn mush over and around the PCT footpath to I-90. Oh wait. I forgot to mention the frozen tree-bomb minefields in the forest. Sweet! Still, we had more fun than we had a right to, and laughed about the conditions once we got back to the cars.
---
January 5, 2010:
New, New, New
With three weeks of abnormally cold and dry weather over the holidays, ski touring has been something of a disappointment. Those who have ventured out have reported excellent weather but a marginal snowpack that ocassionally begs for crampons . . . but life goes on. My friend and right-hand woman at Louie's, Jennifer Fung, got married a few weeks ago in a gala ceremony that combined the cultures of her family (Chinese) and her husband Steven's (Hmong).
A Hmong temple ceremony, a Chinese tea ceremony, and assorted costume changes throughout the day were part of the fun that I didn't get to witness. The wedding itself was quite a scene, with a full-course dinner at Ocean City in Chinatown, more costume changes, and a Hmong pop band going full blast. Approximately 100 extra guests, not familiar with the protocol of RSVP'ing your intent to attend an event, showed up and created a bit of havoc for the restaurant staff, who fortunately handled it coolly by wheeling extra tables in through the throng. We ended up on the dance floor with a bird's-eye view of the action. The Peking Duck and steamed fish were awesome, not to mention the Hmong line dancing - Lindsay and I didn't partake, but all of the Hmong people seemed to know what to do, and people of all ages had big smiles on their faces.
Hunter Skis!
Old friend and Crystal Mountain legend Hunter Eng has had a tough year in 2009, finding cancer in his liver, bile ducts, and several locations in his lungs and enduring an exhausting schedule of surgery and chemotherapy for much of the year. He's stuck it out with willpower and the remarkable strength and love of his wife Crisi and family, and when he's feeling strong enough makes sure he does what makes him feel better. You guessed it, he goes skiing!
Hunter, Crisi and daughters Laura and Elissa joined a group of the old Sunnyside Sliders last Tuesday for high-speed (and non-stop) runs at Crystal Mountain. The snow was hard as rock, with regular patches of east coast-like "transparent" hardpack, but we ripped it up like kids for a while. Send positive vibes Hunter's way if you think of it, he's facing another bout of treatment beginning this week.
Want more? Here's a link to a video Stanley Larsen put together of Hunter and crew skiing early season pow . . . Hunter Skis (Requires Apple Quicktime)
---
Paolo!
My ski and triathlon friend Magali Prevost, now back in Toulouse, France, brought in the New Year in style with a new baby boy, Paolo. Born December 23, and weighing in at 8.5 lbs., Paolo and parents are doing fine and looking forward to 2010. Might cut into Magali's training a little, though!
---
Other Years