incoming
January 25, 2009:
Pain
Been feeling sorry for yourself because of the atypical icy January conditions? Get over it. Here's Daniel Albrecht of Switzerland making an impact on the Kitzbühl Streif downhill course, which had been bootpacked earlier by the Austrian army. The poor guy had to be put into a medically induced coma after this fall while swelling in his brain subsided. Send him some +++vibes when you get a chance.
On a positive note for the Swiss, Didier Defago won the downhill event, putting an exclamation on his 2009 season after winning the Lauberhorn downhill last week, and the other Didier (Cuche) tied for fourth with Bode Miller. Michael Walchhofer was second and Klaus Kroell third to put two Austrians on the podium.
---
January 15, 2009:
Lawinen Gefahr
I spent Tuesday of this week skittering around on rock-hard groomers at Summit Central, which wouldn't normally have been all that enjoyable except for the fact that it was a beautiful sunny day and a bunch of my friends from the pass were there. We did relaxed laps on Bonanza and the new Silver Fir quad with Kevin and Francine, Earl and Daisy, Mike O'Brien, and (for a while at least) Don Hecker. Frank showed up around mid-day to add some Euro flavor to the group, and we headed to the 'Acres lodge for burgers, pizza and fries. You know something is up when all the Alpental regulars are at Central on the groomed, I guess, but we got adventurous with a few absolutely heinous runs in the bumps trying to jar our dental work loose.
Riding up the chair, I managed to get some details out of Earl and Francine regarding the big slide event at Hyak the week previous. Seems Francine was out walking on her street, and heard a horrendous sound coming from the direction of the ski hill. They ran to the end of the street and watched as the vast majority of the slope relocated itself to the bottom of the hill, taking out a couple of the chair towers and damaging two homes.
Fortunately no one was on the slope at the time of the incident (we've all been known to skin Hyak for fun and fitness simply because of its proximity), but their neighbor Norm Cravens lucked out big time. Norm was in the top floor of his house (the one "akimbo" in the bottom photo) settling down in his recliner chair with a cup of coffee, and had just turned so that his back was facing the hill when the mud and snow slide let go. The house was knocked about 70 feet off its foundation, the bottom story inundated with snow and mud, and piles of mud, glass and snow flew by him on the upper floor. Though the house is history, Norm was protected from injury by the thick back of the chair, and walked away.
---
January 7, 2009:
Bombshell
Big news this week in the world of randonnée skiing is G3's press/web release of its new AT binding. As many of you know, several of Dynafit's patents relating to their boot/binding interface have expired in the last year, leaving the door open to other manufacturers to make and market their own versions of bindings that will accept a boot with Dynafit toe and heel fittings. To date, most of those products catered to the elite rando racer market (see ATK for an example) but none were aimed at recreational alpine touring enthusiasts.
Will they change your life? Maybe. Few people except the engineers, it seems, have used the working prototypes, and no bindings are actually scheduled to appear in shops until next fall (with MAYBE a limited release this March in "core" markets), but G3's offering takes the parameters of the Dynafit boot (called "Tech" by companies other than Dynafit) and runs with them.
What you can glean from the videos on G3's website is that they've used a very similar toepiece mechanism, and added a bulkier plastic baseplate and lever. Material added around the base of the jaws seems intended to keep snow from building up under the arms, which is a major scourge of Dynafit users worldwide and a common cause of unintended toepiece ejection. Of course, if snow does get in there, it looks like it will be really difficult to remove.
The G3 heelpiece uses a Dynafit-like twin pin setup to engage the heel, but places the spring for lateral release in the baseplate rather than in the heel housing. To go from ski mode to tour mode, you press a tab at the rear of the binding and the heel moves backward. Instead of the traditional Dynafit twist-to-lift riser system, the G3 relies on two separate lifts that hinge up from the baseplate and housing.
In terms of use, the G3 attempts to be more step-in friendly by adding a plastic "stop" in front of the boot toe; it's unclear if this will work with all Dynafitted boots (ie. my Scarpa Spirit 3's with the set back inserts). The toe jaws also appear to be spring loaded in the closed position, and the method of getting in the binding (if not stepping in) is to hold the toe lever down with your pole (or hand, I assume), put your boot in, and slowly release the lever as the arms engage. How this will work in real life remains to be seen.
The new binding is significantly heavier than Dynafit, and unfortunately doesn't offer any increase in release tension, still maxing out at DIN 10. In a marketing move that will make my European friends chuckle, G3 refers to locking the toe lever as a "DIN booster," which isn't exactly a new invention as Dynafit users have always done this in gnarly terrain. There has been talk of increased elasticity as a goal at G3, though this is lateral and not vertical, and most people I know have only had problems with the latter.
Projected MSRP is $399.00, and I have to give props to G3 for being first out of the gate with a Dynafit re-design. Hopefully they'll be able to refine and lighten the binding in the future.
---
January 5, 2009:
Reunion
Iíd been gone, but not forgotten.
35 years ago, I ran with a ragged group of skiers called the Sunnyside Sliders, who considered themselves freeriders decades before the term was coined. Based at Crystal Mountain, we participated in the pro freestyle circuit in its formative years, but thought of ourselves as freeskiers first, preferring blasting through knee-deep Cascade slop to refined moguls and cultivating a motorcycle-chic sartorial edge that generally took the form of shoulder-lenth hair and jean jackets with raw-looking embroidered emblems affixed to the back. Gore-tex had yet to be invented; constant motion and a layer of ice over denim kept us warm.
Since the mid 70ís, Iíve lived in many places around the country and though we eventually settled back in Seattle in the 90ís, Iíve seldom made the trip to Crystal Mountain. Last Saturday, under the pretext of picking up a pair of boots from a guy who pro patrols there, I made the tedious drive up from Maple Valley, forgetting about the Green River Gorge closure, and took my place in a long line of cars snaking up the slippery 410 at 40 mph.
I arrived at the ski area a little after 8:15, as savvy drivers were already peeling off into the lower lot, and filled the time until first chair by wandering about the area and introducing myself to Dan the patroller. I got in line behind maybe 60 other people and watched as high clouds gave way to blue sky.
I took a few runs by myself, testing out a new pair of fat skis. A little chopped powder, a little fresh corduroy Ė they seemed fine in the fluff and even carved fairly well on the groomers. As I stood in the REX line thinking about the right boot for this setup, I heard a voice.
ďLouie?Ē
I turned and saw Joe Habenicht, my partner for many a road trip in the distant past, and his wife Kathy smiling at me.
ďI thought that looked like you!Ē
After 30 some years, the long hair now no hair, the jean jacket replaced by Arcíteryx XCR, they had recognized me in seconds. Iíve often wondered at how a personís ski style never really changes, and how friends can recognize each other from a quarter mile away by the arc of their turns, their pole plant, or the carriage of their upper body. Maybe this ingrained recognition of a good ski buddyís body language carries over to the way they stand in the lift line, I thought. Amazing.
The convergence was only beginning. Within an hour, we had hooked up with Fred and Rick Reininger and Fredís wife Liz, Mark Rohrbach and his wife, Hunter Eng and Stanley Larsen, all friends and erstwhile ski companions from years past.
We were a sight to behold. Years of ski and bike accidents had taken their toll. Between us (the men, at least) there was probably a million dollar representation of the orthopedic surgeonís art Ė new hips (4) new knees (2) repaired ACLís and tendons (multiple) and many broken bones held together with steel and titanium. Ouch. And these patched-together 50 and 60 year-olds were still out ripping it up like youngsters.
We lapped many of the old favorites, including Sunnyside, Bull Run, and Iceberg until just short of crippling ourselves, then adjourned to Fred and Lizís condo for lunch. His unit at the Silver Skis was one I was familiar with from years of staying with Alex Crooks just down the hall, and the unit next door was now owned by Joe and Kathy, by way of her father Dr. Walt Krengel. The change at the Silver Skis has been a suble one, with most of the names staying the same, but the faces of the owners shifting from the parents of my old friends to the friends themselves. It was like stepping out of a time machine and discovering that three decades had suddenly passed by, as my arthritic friends talked about their grown childrenís new lives and mates. We shared a chuckle as Joe talked about his son Blair, now a pro snowboarder based in Glacier, Washington. Living the life, indeed.
After lunch, Fred and I headed back out for a few more runs, hoping that patrol would finally succeed in opening Southback after a full day of throwing bombs. He related the story of how, after moving with his family from Michigan at age 13, and thinking himself a good skier already, he had been almost in tears as our CMAC group skied Upper Bull Run in chopped up heavy fresh and a whole new dimension of skiing was revealed to him.
Now Fredís the acknowledged master, smooth as silk in any conditions, blowing by youngsters on twintips on the traverse over to the King, and knowing the mountain as well as anyone at Crystal. His 12-week-old hip hardly seemed to bother him as he led me around the mountain, and he even showed me his secret offloading technique that gets him a chair or two jump on potential first track competition.
We finished off the day with a run through three feet of face-shot powder in Silver Bowl. The first fifteen turns were as good as anything anywhere, until we got to the part that had already slid and were forced to deal with our aching 50 year-old backs on the track out. What a day.
Happy New Year, and may old friends remain true friends.
---
February 4, 2009:
Vitamin "C"
There's nothing like losing a few hundred grams off each foot to make you feel like you're in shape and ready to fly uphill, and carbon fiber seems to be the miracle common denominator in the search for lightness. It comes at a price, though. Witness skis, which have made steady progress in the weight reduction game, with rando race skis typically in the mid-800 gram range per ski (or lighter). Bindings have been light for a while, at least since Dynafit came out with the basic TLT (low-tech) in the nineties, and they continue to hone the concept.
Randonnée race boots have been stuck in a stagnant cycle since the F1 was introduced roughly six years ago, but get ready for the superlight boot market to take off next year. Boots have reached a Pebax-induced limit in weight, but skiability has definitely suffered - most of us wouldn't be comfortable using a WC rando racer's boots for our everyday touring. That may be about to change. A bunch of new (and very pricey) offerings from Dynafit, La Sportiva, and Scarpa are making their debut for the 2009-2010 season. Pierre Gignoux, who started the carbon madness with his all-carbon XP500 two years ago, is still in the mix, and is being joined by well-known boot maker La Sportiva with an all-carbon model made in conjunction with rando specialist Merelli. The La Sportiva boot seems to have Dyna-fittings at both toe and heel, and I'm sure there's an interesting story there. New binding in the works? Ski that gnarly couloir switch? Dropped the prototype boot off at the machinist's, and he wasn't a skier?
Dynafit is bringing out the DyNA and Scarpa the F1 Carbon, both utilizing Pebax lowers mated to carbon or multi-material uppers. All of the companies are taking aim at the elite rando-race crowd, who thus far have been content to hack and drill the crap out of normal Scarpa F1's or F1 Races. Prices are scary, with the low end (Scarpa F1 Carbon, 840 grams) nudging 1000€ and the La Sportiva (638 grams) hitting 1,400€. The DyNA is 1,000€/920 grams and the Pierre Gignoux 1,200€/570 grams. Yowsa. Perhaps the best we can hope for is that the technology will filter down to the touring level in a few years, and we'll all be skiing in 1,000 gram boots that have partially carbon uppers and are pretty damn stiff.
On the binding front, the lapse of certain Dynafit patents regarding the use of its toe and heel pin system is paying more immediate dividends. Last month G3 released the Onyx, with a Dynafit "like" toe and a fore-aft sliding heel. This month SkiTrab hit the Münich ISPO show with a prototype of its new TR-1 binding. It's a hybrid that uses jaws at the toe to grab Dynafit toe fittings, but a more or less alpine style heel, complete with cam/spring adjustment, at the rear. In contrast to the classic Dynafit system, the toe jaws hinge out laterally to allow release. No photos yet of the binding in touring mode, but it reportedly has three climbing levels and maxes out at 14 DIN.
---
March 28, 2009:
Vertfest Alpental
I got up early this morning and packed the light gear, a bunch of food, and some dry clothes. It was time for the second OR Vertfest rando race of the year, and this time I had actually done a few days of training. Well, one day of training, anyway - I went up to Hyak last Tuesday and did 3-plus laps in driving wet snow, but it helped. At least I was pretty sure my skins would work this time, and my transitions were becoming, if not exactly fast, somewhat smooth.
I picked up Mike O'Brien, who had generously agreed to hang on to my coat and car keys, and take some pictures of the event. We made our way to Alpental in a more-or-less driving snowstorm, and pulled into the employee lot after spotting Seth and Holly coming out of their condo. The procedure was straightforward - sign waivers, pay money, pin your number and get ready to suffer.
Regular course-setter Martin Völken was in Europe, so Pro Guiding's Ben Haskell stepped up to set the course and coordinate the event. The course was much like last year, heading straight up from the lodge under Debbie's Gold, through the creek bed, and up the steepest and most visible terrain Ben could find. No ladder this time, but some huge-ass steps had been cut into the snow through the cliff bands under chair two.
The race got off pretty much on schedule, and as usual the really fast guys ran for the first few minutes to jump into the lead. Ben Parsons, who seems to be the fastest guy in the US at the moment (he won the PowderKeg last week, as well as the Crystal Vertfest and several other races this year) was out of sight in a hurry, with the Traslin brothers and Seth Davis in hot pursuit. Old guys Lowell Skoog and Garth Ferber (of NWAC forecaster fame) were not far behind. There was a traffic jam of sorts as the group entered the creekbed, as several columns of racers filtered into the single-track lane and no one thought it was worth the effort to break trail through 10 inches of frozen crust.
As soon as the going got steep, traction problems from the icy crust underneath an inch or so of fresh became apparent. Many racers, including some of the elite guys, had varying degrees of difficulty, although I wasn't close enough to witness them firsthand. I did find that it helped to follow someone who seemed to have a reasonable amount of grip and decent technique, and watch to see when they slipped . . . and be really careful when you got there.
There was a quick bootpack up the Fan of perhaps 50 vertical feet, then some smooth skinning to the Rollen Cliffbands. The steps cut into the ice were put in by someone with much longer legs than me (I could barely stretch up to several of them) so I was forced to use my skis to self-belay in a few spots. There was a fixed rope, but my hands were full of skis and poles (it seemed no one really put their skis on their packs for either boot-up, as they were so short).
The final push to the top (just under the patrol station) was smooth and I didn't really feel too wasted yet. I had been in a group with John Spiess and Benj Wadsworth of FOAC, and we ripped skins pretty much at the same time before setting off down International. Skiing there was not too bad, with a bit of frozen mank lining big moguls for much of the way down. The traverse around the corner from the Snakedance gate wasn't too bad either. As soon as we turned right into Snakedance, however, the icy bumps with frozen bowling balls made for some pretty sweet turns (NOT) and I heard a number of unkind comments from competitors on the way down.
When I hit the bottom, Monika Johnson was still there and I said "Hi." John S. made a very quick transition, and jumped off to about a 150 ft. lead before I was able to start skinning, but I "jogged" a bit and caught up to him before the trees. I knew Monika, Benj and Peter Avolio, who were right behind, would put a dent in our slight lead, and sure enough they caught up to us as the course wound through the trees. We stayed together for quite a while, until Monika got impatient and jumped around John and myself on a traverse, then found another gear and dropped us. We wouldn't be seeing her again until the finish. I spotted Holly also catching us, and yelled a greeting.
The shortened course this year (due to potential avy danger) didn't go out to Piss Pass as usual, but instead stopped at Knoll #1. No problem, I was plenty worked by this time. I had a pretty good transition here, and headed out quickly, nearly eating it when I hooked a ski on the crusty snow. I felt pretty sure I could hold a lead over the others in our group based on the last descent, but my legs were rubber as I made the turns down Snakedance a second time.
About halfway down, I heard a cheerful voice calling out,
"Hi Greg!"
I was in survival stem-turn mode, and turned briefly to gape as Holly blew by me like I was standing still, doing beautiful GS turns at speed through the icy bumps. I decided I would almost certainly fall and lose more time if I tried to follow her, and made my way carefully down to the base area, where Seth, Holly and Monika were still hanging out. Ben Parsons and the Traslins had probably showered and were on their second beer already, but I felt pretty good about my race given my fitness level, ending up 9th in Men's Race out of about 25 starters.
Here's the results: Splitboard Telemark Open (1 lap) Race (2 laps)
The few rando races I do invariably serve as great learning experiences, with an emphasis on efficiency that carries over to my regular touring and skiing. It's easy to see when something works well or not, or whether you're deficient in a certain area, when a bunch of people with similar skills and fitness are skiing along side you. Transitions are especially interesting - when you pull in at the same time as someone else, and they pull out way before you, it means there's room for improvement.
What's on the list for next time? I'm pretty good with taking the skins off, but I need to work on applying them faster. I talked again with Mike Traslin, and he showed me his collection of three sets of skins he uses for racing - fast, but not too grippy, medium fast with OK grip, and grippy without much glide. I think he carries two sets while racing, and all of them are mohair Colltex skins; the fast ones the pale blue thin ones and the grippy ones black with thicker backing. I'll be looking for some mohair skins that I can use without tail hardware, maybe the new Black Diamond ones. I lost time after the second boot section because my boot toe sockets iced up - shoulda sprayed them with silicone the night before. I need to figure out a way to carry my water (actually Nuun these days, it's a pretty tasty product with electrolytes but no sugar) on my pack strap so I actually drink it before the finish. Oh, and grow some cojones mas grandes so I can keep up with Holly Davis on the descents!
---
March 4, 2009:
Slumdog Randonneurs
Bruno Paulet is a cool guy who once owned a software company in California, sold it, and now splits his time between Paris and the south of France. Married to a Chinese woman, speaks Mandarin, loves to travel and of course, ski. When we skied with Bruno and his good friend Daniel last year, they and our guide Christian Trommsdorff were talking of the possibility of ski touring in Asia following Christian's successful trip to Pakistan the year before.
This January, they pulled it off, taking skis and gear into the huge valley between India's Ladakh and Zanskar ranges. Christian led the way, they stayed in the finest hotels the region had to offer, and even had porters to carry the ski gear! Though the skiing looks marginal, the scenery and cultural elements are mind-blowing. Bien fait! For more of Bruno's photos, click here . . .
---
March 1, 2009:
Crystal Mountain Vertfest '09
I missed the Crystal Mountain Vertfest last year, and really wanted to participate in 2009. Even though I'd only toured twice this year due to business problems and medical issues with my dad, it seemed like it would be kind of lame to show up and just demo skis, so I signed up for the rando race. Lowell had space in his car and lives just down the street, so I caught a ride with him and we picked up his brother Gordy (another of my ski buddies from back before the day) in Enumclaw.
We were first in line to sign up, and hung out in the lodge eating and chatting with some of the other racers. I talked with Mike Traslin from Vancouver, BC for quite a while; one thing about rando racing is that it's still a "bro" scene, and elite racers still hang and chat with the regular joes. It became apparent that some ringers had driven in for the event - Cary Smith from Jackson Hole, Stano Faban from Vancouver/Slovenia, and Ben Parson from Montana were present with full skinsuits and national team skinny skis. The Traslin brothers came down from BC, and some XC guy from Bend.
The weather seemed a little cold and windy at the start, and all but the fastest racers chose to wear some sort of softshell rather than just tights, but it turned out to be perfect once we got going. Weather was beautiful, clear with some high clouds, and a foot or so of new snow covered most of the icy bumps from the past month's drought.
The race got off more or less on schedule, with 67 skiers taking the start, and headed directly up Ferk's (I call this Lower Bull Run). About a third of the way up, the snow got very hard, and my new "race" skins (straight 65mm mohair NOS Black Diamonds with a home-brew tip attachment) slipped and took me down, right in the middle of a bunch of racers. Ooops. Several other people also lost grip, one guy on teles taking out a couple of people as he slid downhill. I looked up the hill and saw the elite guys booting (all except Seth, who made it all the way on his skis and jumped up to 2nd place), so I followed suit.
My skin problems continued, and I fell a couple of times and lost traction but caught myself numerous more times. Guess I should have actually used the skins a couple of times before the race (not to mention done some training), but it was too late for that. Each time I paused, a couple of people passed me, and most of the rest of the race division was long gone. Holly passed me on the second boot-up section, a 300ft vert portion of the K2 face, and I wished her luck.
The race route wound up to the Campbell Basin Lodge, then up the basin to ascend Silver Queen. Skinning up the icy mogulled ridge with semi-functional skins was miserable, and several people on big tele and Fritschi rigs passed me, but I made it to the top (just downhill from the postage stamp sized lift station) and ripped the skins. The course traversed into Campbell Basin just under the ridge over some funky icy bumps. I managed to pass several people on the traverse, and a couple more on the ski down. As soon as the course hit the groomed, I hit a high tuck and tried to relax, hoping no one would turn suddenly in front of me.
I had my regular skins stashed, and at the bottom I switched over and headed out again. Halfway up the Ferk's face, I started to cramp badly in my right thigh, and had to slow to a crawl for several minutes. I thought about bailing, but after a few minutes of moving slowly and trying to breathe as deeply as I could, it got better, so I kept booting. There were only two race category guys behind me, but it looked like they had dropped out, as no one was following me up from the finish area. So much for my goal of not finishing DFL in the race division.
After the cramping issues, I decided to turn it into a tour day, and pretty much cruised the rest. My old Sunnyside Slider gang (Hunter Eng, Mark Rohrback, Rick Reininger, and Stan Larsen) buzzed me on way up, shouting encouragement. Kaj Bune was there taking photos, and the rest of the OR volunteer staff cheered me on as well, thankful that they could finally start dismantling the course and head down. I did manage to catch one guy at the Bearpits turnaround gate, and passed him a few turns into the descent, so at least I wasn't last . . .
As for the results, the top three in Men's race were Ben Parson, Cary Smith, and Stano Faban. Andy and Mike Traslin took 4th and 5th respectively, and homeboy Seth Davis came in 6th. Middle-aged phenom Lowell Skoog, who it turns out had been training with Seth under cover of darkness at an undisclosed location for some weeks prior to the race, came home in 7th and won the 50+ Men's Division. Seth's wife Holly won Women's Race and a nice new OR coat to match Seth's from last season's events.
After changing into dry clothes and eating/hydrating for a while, I went out for a few runs with Lowell, Seth and Holly. Since I hadn't brought any alpine skis, I demoed a pair of 178 Dynafit Manaslus, a ski I had heard good things about from a couple of people. We went straight up to Upper Bull Run, which turned out to be sun-crusted cut up mank with ice underneath. The skiing was terrible and all of our legs were toast, but the Manaslus rocked.
There were only ten minutes left of the demo period, but the Dynafit guy cut me some slack and said to take another run, so we did a fast groomer down Iceberg Gulch/Lower Bull, and the skis worked great there as well. They carved really well at high speed, were quite damp considering their light weight, and tracked as well as can be expected for a 95mm waisted ski. They have binding inserts that will only accept Dynafit bindings, and were mounted with Vertical ST's, so your binding choice would be somewhat limited. I don't know about running even FT12's all the time for lift-served, but the ski is light enough that I wouldn't mind touring with it for deep snow days.
Aside from skiing really well (the demo pair could have used a little de-tuning at the tip, as they were a tad hooky), the thing that stood out about the Manaslus was that they LOOKED really big. Seth, Holly and Lowell all noticed the same thing, not only wide (as might be expected of a 95mm waist) but LONG (though they said 178 on the tail). They are also really beautiful, with natural wood grain showing through underneath the black, and have a uniquely long and graduated tip curvature that rode over the crappy snow very well. The rep said they were on sale now at Marmot, so feel free to stimulate the economy if you have any free cash . . .
---
April 25, 2009:
A Lap with the K2 Crew
I got an e-mail from Tim Petrick on Thursday, who was eager to ski the Nisqually Chutes down to the bridge on the weekend. The forecast was for nice weather, and the snow was certainly deep enough all the way down. I made a date to meet with him and Keith Rollins somewhere on the way up (they were set on an earlier start than I was, since I had to work the night before).
I pulled into the Paradise lot around 8:20, and saw Tim's truck. As I geared up, Tom Broznowski pulled up and I remembered that this was the weekend for the Mountaineers' Glacier Travel and Crevasse Rescue field trip. I've done the class for the last four years, and so it took me a while to make the rounds of old friends like Monika, Jeanette and Amar before heading up the mountain.
Neither the weather (rolling fog) nor the snow (frozen bootpacked corn with a trace of new on top) looked too promising. Tim had been worried about the snow in the chutes becoming too sloppy early in the day, and I guessed this wouldn't be a problem. I got them on the radio, and they had just reached the base of Pan Point as I left the lot, so we arranged to meet at the stone shelter/restroom at the Pan Point lookout zone.
I had to get within 20 yards of the shelter to see the thing, and saw four people waiting - in addition to Tim and Keith, they had brought Ned, a former RMI guide, and Paul. Just to make the trip more balanced, Ned was on a splitboard.
To give you an idea of how bad the visibility was, Ned (who's made this trip hundreds of times) and I had our hands full navigating up the standard winter climber's trail, ending up climber's right of the ridgeline that delineates the Nisqually basin, but only by a bit. We broke out of the fog near the top of the chutes at about 8,800 ft. and snacked a bit, but by that time the cloud deck had drifted upward a few hundred feet and we were challenged when it came time to find the entrance. I was pretty sure I had found the steep entrance, and quite sure I had the normal entrance (enough to side slip into it and radio up to the rest) but there wasn't a consensus "go" vote, and we decided to retreat along the route we had ascended.
It was a good call. After dropping down into the chute part way and finding I couldn't tell if I was moving or not, I developed a severe case of vertigo, and ended up puking several times on the way down. Good thing I can ski as well as I can walk, because I was in bad shape. We finally reached the bottom after three-thousand+ feet of side slipping and snow plowing, and I had to have Ned drive my car down to Puyallup so I could lie on Keith's floor with my eyes closed for an hour or so and recover. What an ordeal!
So much for the skiing. On the plus side, it was good to catch up on what was happening with K2. I saw some of next year's backcountry line including the WayBack (same ski as the current Baker SL with new topsheet) and the SideStash (108mm underfoot with a rockered tip, they look fairly light but Keith had Dukes on them so it was hard to tell). More interesting were Tim's prototype K2 skins (sorry, no closeups, but you can see how clean the tip hardware on Tim's skis is in the first picture above), with plush and glue provided by the folks at Climbingskinsdirect.com and proprietary tip and tail hardware that fit into the holes in K2 skis. The system is very slick, with an "L" shaped fitting that slots into the tip and a hook that fits into the tail hole after the strap wraps around the tail. It seems quite secure, and is significantly lighter than either the BD or G3 systems. The finished version will have a slightly longer "L" fitting for the tip, and they are still thinking about the mounting point for the tail strap, but leaning toward one that will offer field replaceability (good call). Props to K2 for joining the touring fray; it's always nice to have new minds liven up the competition!
---
May 3, 2009:
Turns-All-Year Crystalfest 2009
Turns-All-Year.com, the very loosely organized group of backcountry ski enthusiasts that serves as a cornerstone of the Pacific Northwest touring community, doesn't really have an agenda. A few times a year, however, spontaneous events erupt based on mutual agreement among the "members." Crystalfest, which usually occurs a week or two after the lifts close at Crystal Mountain, WA, is one that has become a fixture.
Weather was a potential problem - heavy rain the night before in town had probably lessened attendance for this year's event, but when I got up Sunday and looked at the telemetries, it showed 32 degrees at the base of Crystal and 22 at the top, with a bit of fog but no rain. My two friends who had expressed an interest both bailed, but I packed a lunch and hit the road anyway.
The sun was out when I pulled into the Crystal lot, and one by one cars began to filter in. Paul and Mary were in the front line and I stopped to chat; when they said they planned on taking a lap before the party I decided to tag along with them and their friends Andrew and Lisa.
The day was turning beautiful and hot. We headed straight up Chair 4 and through the forest, headed up into Silver Bowl and took a quick run. The snow was a little variable, and got mushy lower down, but everyone got some nice turns before traversing over into Campbell Basin. We ended up a little below the party site, but skinned up to join the festivities.
With many of the usual instigators away on business or at the Silcox Hut on Mt. Hood, Justin Davis had taken over as master of ceremonies, and a keg of ale was already in place. People came and went, but many of the year-round skiing public stopped by to say hello or just for a bit of exercise. I caught up with Joe, Lowell, Eric L. and Eric H., Jim, Amar, and many others, ate some good sausage and had a beer. At about two in the afternoon, the clouds rolled in and it started to snow. Puffy coats came out for a bit, and then the party came to an end as we skied back to the base. A nice way to spend the day with kindred spirits!
---
June 15, 2009:
Summertime
It's been a relaxing few weeks for me, with 10 days spent wining and dining (not to mention soaking in the mineral springs and volcanic mud) in Napa, Sonoma, and Monterey counties. Lindsay and I spent our 25th anniversary at Indian Springs Spa in Calistoga, California and ate dinner at Cindy's Backstreet Cafe in St. Helena, saw our old friend Megan, then continued south to Big Sur where we met up with our ex-next door neighbors the Joneses who were married the same week as us.
Backcountry skiing?
Michael and Christian Trommsdorff recently returned from a trip to India, saying that the trekking was epic but the skiing was a bit of a disappointment, as the snow was mostly gone from the valley they were traveling in. If you don't go, you'll never know. The photo above was taken after they received a dusting of fresh one night, and Michael was able to make a few turns.
Seth Davis' annual birthday ride was held on his actual birthday (June 6), and an enthusiastic collection of skiers and bikers turned out for the event. In addition to the usual retired (and some not-yet-retired) racers, ski tourists Eric Noll and Lowell Skoog came along for the ride, which ran south along Lake Washington Boulevard, through Renton and up the Maple Valley bike path, then wound through some really scenic Eastside roads to Tiger Mountain. We celebrated with the customary Hostess cupcake, then headed back to Seattle. I managed to nudge the mileage for the day over 100 by riding out to Ballard to watch my son Jordan race the Ballard Twilight Criterium.
As usual, the south side of Rainier is the perfect relaxed ski outing this month. I took the new Dynafit Manaslus with the Euro mohair/nylon mix skins up yesterday for a test drive, taking a run on the Muir snowfield proper and then traversing over to the Paradise Glacier and skiing all the way down to the car except for a short 200 ft. transition at 7,400 ft. from the Paradise side to the regular winter climber's trail. Smooth like butter conditions on the Paradise Glacier, and decent skiing on the Muir Snowfield if you stayed away from the hoofprints. The new skins seemed to stay on fine with the Dynafit "beavertail" rubber thingy on the tips and a normal Black Diamond STS strap on the tail; we'll see how the grip is next winter.
---
July 19, 2009:
Changes
My ski and bike buddy Tim Petrick made national ski news this month when, after years of heading up the Seattle office of K2 skis, he jumped ship to French conglomerate Rossignol. Beginning July 1st, he'll be based in Moirans, France and traveling the world to further the Rossignol, Dynastar, Lange and Look brands. Sweet job if you can get it, but then Tim is one-of-a-kind and Rossi is lucky to get him. He told me via text that he's also been biking many of the climbs in the Tour de France in his spare time, so it seems like a win-win-win situation.
---
August 16, 2009:
Slush Cup '09
After the scorching heat of early August, when temperatures in normally moderate Seattle reached well into the 100's, the quality of summer skiing took a steep nosedive. Traditional spots like the Muir Snowfield and Paradise Glacier became obstacle courses of pumice-coated suncups. The road to Heliotrope Ridge remained washed out. What to do?
The Turns-All-Year Slush Cup was the perfect remedy. Peer pressure to get August turns in, the promise of a sunny day in the mountains, and the chance to catch up with friends were all the excuse needed for a crowd of perhaps 60 people to hike up the Pinnacle Peak trail and scramble down into the once majestic Pinnacle "Glacier." The Hummel family alone counted 14, including kids and extended family. Lines of non-skier spectators, as well as a reporter from the Yakima Herald and at least one park ranger all made the trip without mishap.
The Turns-All-Year regulars were amped for fun, with many showing up in costume (outfits ranged from Lisa's "Naughty Nurse" to Kurt Hummel's "Zorro" to Santa Claus, businessman, cheerleader and more) and the hard-core pond skimmers coming equipped with PFD's. I got in two clean runs before getting sideways and losing a ski in not-so-shallow water. After a second submersion to retrieve the ski, I was seriously cold and had to change to dry clothes and a puffy jacket to recover.
Not all was fun and games, as several near-drownings in the ice cold water were averted by the quick thinking of Jerry and Jen with the TAY lifering and Jason Hummel and Chris Cass in the inflatable raft. All good until the first person drowns, right? Not quite the face the year-round skiers want to present to the public, I guess, but when the avalanche danger is pretty much nil, we need something to keep us awake.
Here's some more pictures for those of you who care:
More crowds, Lisa, Amar, Kurt, Christy, More Lisa, Team Hummel, Rockered skis were the ticket
---
September 13, 2009:
New Season
Temperatures are going down, arm and leg warmers are welcome additions to the kit for riding home at night, and snow is falling above 6,000 ft. in the mountains. Both the road and track racing seasons are over for the bikers among us - time for cyclocross. And skiing.
A system rolling through the Northwest on Sunday and Monday of last week laid down several feet of fresh on the Cascades, and those of us who could found two to five feet of wind deposited fresh above Paradise. I was chained to the restaurant on Tuesday and Wednesday, but made it up on Saturday to find patches of fresh still cushioning the gritty ice above Pebble Creek. Amar and Kyle slid by after a relaxing night at the Muir shelter, and I gave the rando spiel to several groups of climbers who seemed really interested in my gear choices.
I usually stay away from politics, but here's a shout out for Seattle mayoral candidate Mike McGinn. In addition to being anti-tunnel, he's a level-headed environmentalist who considers public service a serious responsibility. He's a bike commuter as well. The pic below is from Mike's Twitter page . . .
---
October 25, 2009:
Trick or Treat?
With the heavy rain in Seattle on Friday and snow showing on the Visitor Center cam at Paradise Saturday morning, I was thinking in terms of a foot of fresh at Muir yesterday, but somehow I and the four other people who hiked up were tricked (although the treats are evidently right around the corner). High overcast, with light snow coming in and out, I lapped Pebble Creek twice with Jimmy and Nick from Turns-All-Year. Mild temps and lack of foot traffic had flattened the snowfield to the point where it resembled a groomer at Sun Valley in terms of both smoothness and hardness; a quarter inch of fresh didn't do much to increase edgehold and skiing called for subtle "Ice Coast" slalom moves.
All in all, a very mellow day on the mountain with virtually no company. The most interesting thing about the hike was the abundance of vertically-oriented ice crystals in and around the trail, which were holding pebbles and dirt aloft. The crystals looked as if they had risen in place and pushed the debris upward as they grew.
---
October 24, 2009:
Rando Race Bindings Galore
Jonathan Shefftz bombards me every other day or so on the "Dynafit Users Alias" to update me on new rando race offerings, and this week is no exception. He recently guest-blogged on Lou Dawson's Wildsnow.com about the ISMF banning aftermarket modifications of boots and heel/toe binding combinations by more than one manufacturer.
While these regulations probably don't or won't affect casual randonnée racers like me, people who do race in sanctioned races at the elite level should be paying attention. Jonathan (and most of the other US-based readers) were surprised by the number of French and Italian companies now marketing Tech (ie. Dynafit-compatible) heel and toe sets - seems like anyone who likes ski touring and has access to a CNC rig is getting into the act!
Below are a few photos of race binding sets now on the market - by Jonathan's count there are at least nine companies offering such bindings, including the "old" standbys Dynafit, Schia Meccanica and ATK. Top row, from left: Crazy Idea, Merelli R8, and Plum. Bottom row: Colibri toepiece, Colibri heelpiece. The Merelli R8 set reportedly weighs in at an incredible 105 grams! (I assume this is for one toe and one heel). This compares favorably with 160 grams for a Dynafit Lo-Tech Race binding. Most of these bindings also feature an auto-locking toepiece which puts the skier in a "locked" position as soon as they step in - you don't have to pull up on the lever before you start skinning. Montura and Ski Trab also have working versions in the pipeline.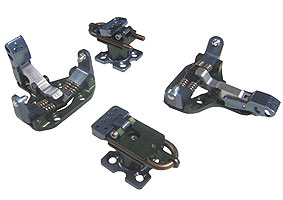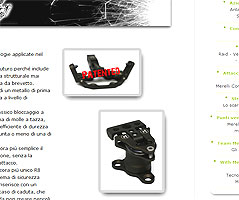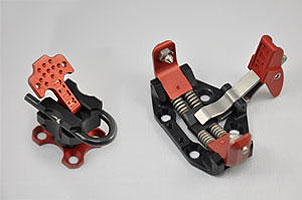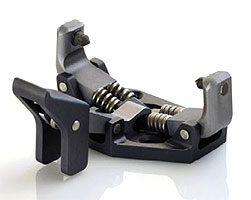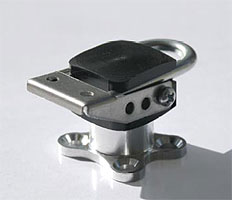 ---
November 14, 2009:
Cowboy Up, Cowboy Down
It's back. It really is.
Every year I'm amazed when the snow magically returns, and this year is no exception. A thick white blanket fell over the Cascades this week and last, and cold temperatures held into the weekend. Seth and Holly put out the word that they intended to tour on Saturday (just in case they didn't get enough exercise on Sunday at the Cyclocross races), and rounded up a group consisting of them, John Mauro, Eric Noll and myself. My good friend Michael Trommsdorff, in town for a few days from Switzerland, needed a break from leadership training at software company "M", so we grabbed his "spare" skis from my basement and headed to Stevens Pass.
We arrived at the pass around 9:00 AM and joined hundreds of snow-seeking enthusiasts tromping up through the area - families with saucers, new-schoolers with twintips, booting snowboarders and practiced ski tourists packed the main parking lots and plaza area. Our group set off for Seventh Heaven and got first tracks skiers' left of the chair, then re-ascended to the ridge of Cowboy Mt. and picked off a nice line down the backside. For dessert we followed the ridge line for a bit further and found a nice waterfall line in the "pull-your-pass" area near the cliffs.
A sweet way to start a fresh season. Now for just a bit more snow, and more cold weather while the base settles . . .
---
December 20, 2009:
'Tis the Season
Here it is, in case I didn't get around to sending you a hardcopy of our family Christmas photo. Instead of going to Yuen Lui this year, we called our favorite ex-Yuen Lui photographer Carolyn and had her come out to the house this fall, shooting in our own backyard rather than in the studio. Kind of nice to have real greenery in the background for a change!
Best holiday wishes to anyone who happens to be reading this, and of course many nice turns in 2010!
National Championship goes to the Dawgs!
No, not the University of Washington football team; with all due respect to Jake Locker and company, that program is a few years off. But chalk up another national championship for the UW to add to their Women's Softball and Women's Cross Country titles with Zach McDonald's adrenaline-filled win in the US Cyclocross Collegiate Nationals last weekend in Bend, Oregon. Most people in the crowd called it the best race of the week, and the final lap is worth watching more than once!
Sorry, Cyclingdirt's imbed function didn't quite function as slickly as YouTube's, but click on the picture above and it'll take you to the right page. Check out the sneaky inside pass on the last lap - my friend Russell is right when he says Zach will go under your armpit to get by you! McDonald is a friend of my son from road racing, and Jordan recruited him to ride for the Huskies in cross this year. Maybe MTB as well . . .
---
Other Years