incoming
December 26, 2006:
New Leg Hardware
OK, just got back from the doc and everything looks good. The gap in my left fibula doesn't show up at all in the x-rays, the incision healed nicely and only stung a little when they pulled out the sutures, and it's only a month until I get out of all the casts. That'll be around the last week of January, so with any luck I can put on some skis and slide around at Snoqualmie or something to keep my consecutive month skiing streak alive!
What did Santa bring me this year? Eight screws and a stainless steel plate for my leg, check out the picture below . . .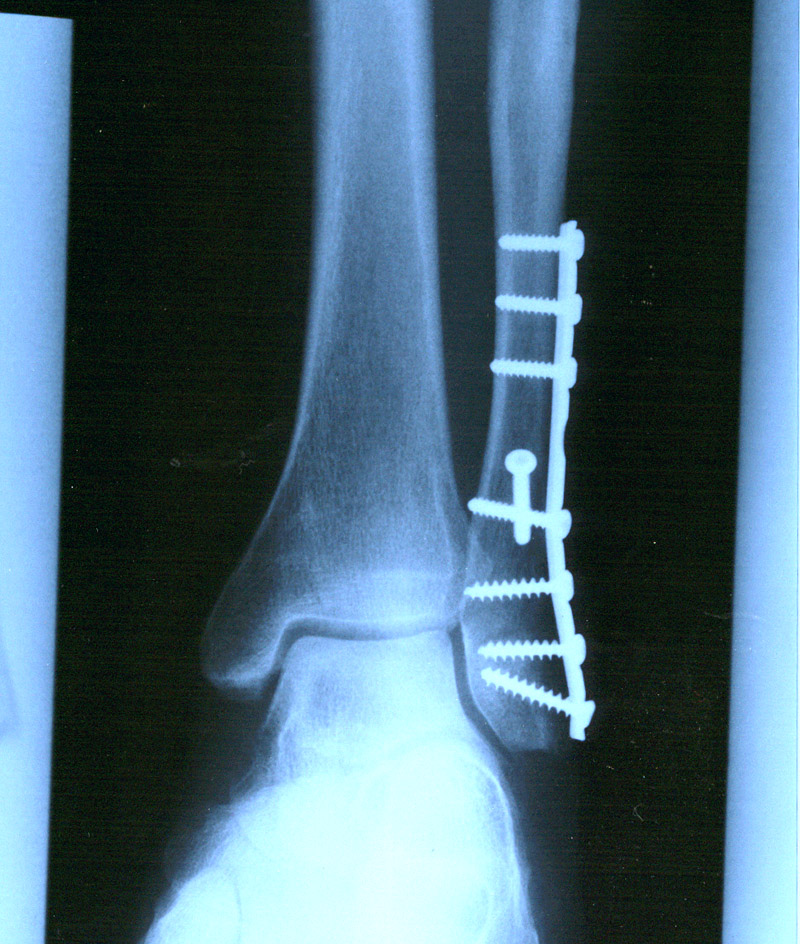 ---
December 8, 2006:
Dynafit TLT Mods
Yeah, my leg's still broken and I haven't had the surgery yet, but I'm still THINKING about skiing. Some people have asked what I mean when I say I grind off the "bump" under the pins on my Dynafit TLT (also known as "Classic" or "Speed") heels. Here's a photo: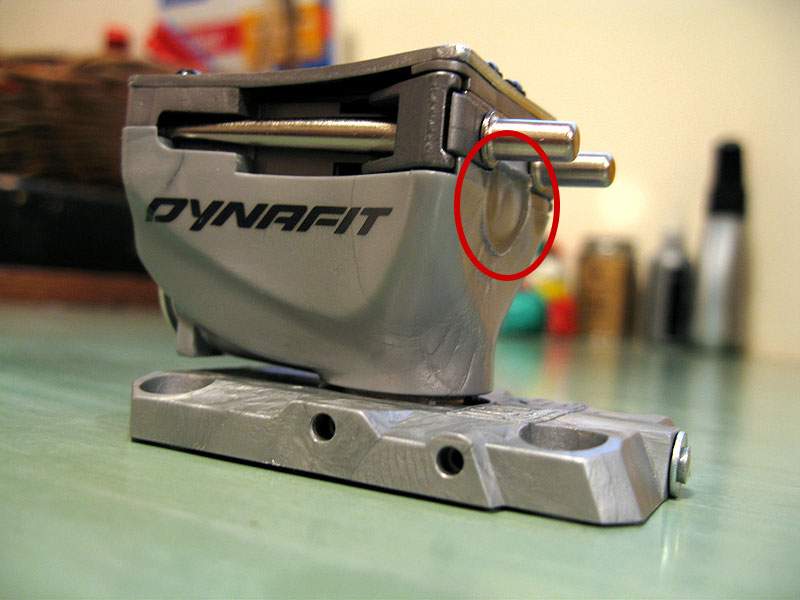 Basically, I disassemble the heelpiece and grind the protruding bump (where the injection port is) off. Since I tour mostly in Scarpa F1 boots which have a tele-style toe bellows, I never seem to use the top climbing position on the heel, so I've also cut that off and smoothed it. Hacksaw (for the climbing post) and a 4" grinder or a mini-belt sander does the trick.
How much weight does this save, you ask? On my digital scale, I got 180 grams for the heelpiece and 142 grams for the toepiece/baseplate for a total of 322 grams (644 grams for a pair), screws not included. That compares to a real-world weight of 670 grams for a pair of unmodified TLT heels/toes, a weight savings of 26 grams. Hardly worth the effort, I guess, but for the clean look and more vertical clearance on your roof rack.
I started doing this because the bump didn't seem to add any structural integrity to the housing, and a couple extra millimeters of rearward travel make the regular TLT/Classic/Speed more equal to the Comfort heel in terms of letting the ski flex. The Comforts come with pins that are 2mm longer, but the gap is a recommended 6mm rather than 4mm, so pin insertion depth is the same. Grinding off this bump (Comforts don't have it) gives you that much more room for the ski to flex before it starts forcing the heel of your boot off to one side or the other, or the toe pins out of the boot sockets. I e-mailed Dynafit guru Lou Dawson about this once, and he said he also does the "grind."
---
December 6, 2006:
Bad News
Last night while riding to the UW for my last class of the quarter, a guy on a bike who had just passed me and apparently didn't realize I was on his wheel abruptly turned right onto a side street, hooked my front wheel, and took me down. I felt something pop as I fell and had a bad feeling right away, but I had a "no excuses" presentation for my usability testing class and was out in the middle of the Burke-Gilman anyway, so I rode another six miles or so to school, gave the presentation with my team, and sat around until 10:00 listening to the other groups give their presentations. By the time my wife Lindsay picked me up in front of the Mechanical Engineering building, my left ankle was the size of a grapefruit.
This morning I paid a visit to my old friend Dr. Todd Seidner, who showed me the x-rays and the 3mm fissure running through my fibula. Bummed is perhaps too tame a word to describe my feelings. Surgery for a plate and screws to pull the bone back together is scheduled for next Tuesday; all good vibes sent my way are welcome!
When I got back from the doctor, a long narrow package was waiting . . . yes, the Trab Stelvio Freerides were here. Timing maybe a tad off, but the skis are beautiful. Trab has combined the classic wood top design of one of their earliest skis with modern technology and a hint of carbon showing around the edges. The workmanship is typical of Trab - in a word, awesome - it's almost a shame to spoil these skis by mounting them up, but I guess I have a while to enjoy them in their pristine state now.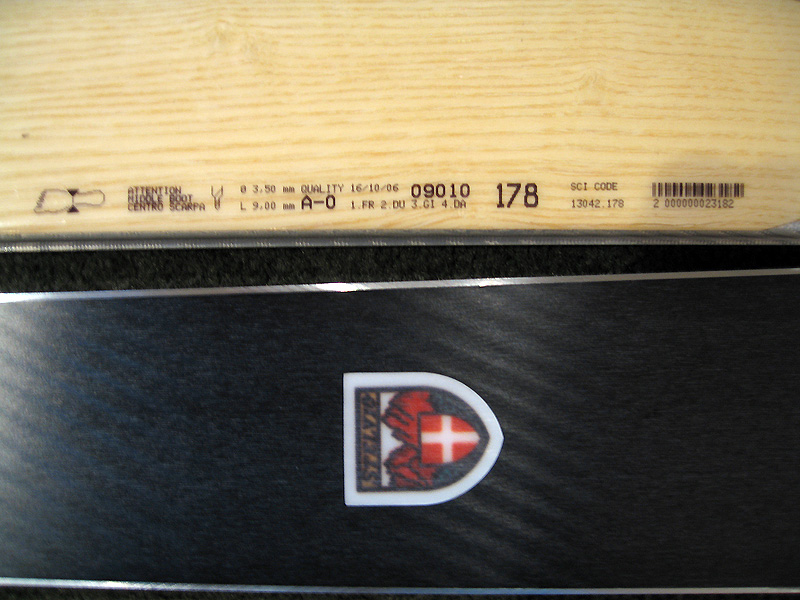 ---
Here's a link to a great video about the Patrouille des Glaciers, an epic team ski mountaineering race held every two years that runs from Zermatt to Verbier. It features a trio of young French women (one of whom works as an R & D engineer for Petzl, the sponsor of the video) who decide to do the race and get some advice from a couple of guys named Stéphane Brosse and Patrick Blanc along the way. The segment in which Brosse demonstrates how to take your skins off in a hurry is priceless. "Chaussure, fixation, peau . . ." Yeah, right. For those of you who think you're hardcore rando skiers, this video will give you a good yardstick to measure by!
---
November 27, 2006:
"On the Cover of the Rolling Stone"
This picture, taken by my friend Tim Petrick on Snoqualmie Mountain, graces the cover of the Telemarktips site today . . . the backcountry equivalent of having your mug on the cover of Rolling Stone magazine for a rocker, I guess. The skiing was as good as it looked, and it was fun going out with Tim, a longtime big mountain ripper who's keen to make the transition to randonnée.
---
November 9, 2006:
Water. Lots of Water.
Just when we thought we were getting a normal start to the ski season, this happens. The most significant "Pineapple Express" event in perhaps 40 or 50 years has pummelled the Northwest for the past week or so, not only melting what snow we had, but dumping unprecedented amounts of rain over our region. Amar Andalkar added the six-day rainfall totals at June Lake on the south side of Mt. St. Helens and got an astounding total of 37 inches!
With the rain, of course, came the flooding. Rainier seems to have taken a heavy hit, with the main road into the park washed out for approximately 1/4 mile and the Sunshine Point Campground relocated to Puget Sound. Mike Gauthier has some interesting photos on his blog. In addition, washouts of Highway 123, the Stevens Canyon road, and SR 410 make access to Rainier questionable for the immediate future.
Elsewhere in the NW, weather-induced slides/closures/partial closures of SR 542 (Mt. Baker), SR 20 (North Cascades Highway, 7 miles west of Mazama), Highway 2 (Stevens Pass, 1 lane blocked), Oregon Highway 35 to Mt. Hood Meadows, and the Mountain Loop Highway are perhaps just the tip of the iceberg.
How about a nice muddy hike along the I-90 corridor this weekend?
For the latest in road closures around the state, check out the DOT site before you go.
---
This just in from the NWAC:
Sonnet for Seven (2006/07) (by Mark Moore)
I look all around me and know that it's fall,
But I'm not yet concerned there's no snow at all. (hardly any)
Whatever the weather, El Niño or not,
Don't fret just yet about the cool gear you bought.

For blocking ridges and split flows may not last,
And the winter ahead could still be a blast.
For we have had deep powder during El Niños you know,
And all have marveled at the depth of the snow.

But this isn't my forecast for winter to be,
As it could make me enemies for eternity.
It's a plea to relax, be patient and wait,
For soon snow may cover the entire state.

It's just that El Niños skew the odds toward drier,
With temps slightly warmer but not in the fryer.
Odds are high that you'll find some good snow,
But you'll have to be crafty and stay in the know.

Hopefully you won't have to travel too far,
Or fly to a country that for a prez has a czar.
Know that there will be snow closer to home,
Just get ready to drive, hike and roam.

Thanks, Mark! Speaking of the Northwest Weather and Avalanche Center, how often do you use their services? Once or twice a week? Every day in winter? Here's a suggestion: Help a perpetually underfunded but critically needed organization out, and send them a few bucks. Now's the time. Go to the Friends of the Northwest Weather and Avalanche Center website and sign up. You can even pay by PayPal!
---
October 23, 2006:
What Was That Noise?
Michael T. and I were hunkered down behind the outhouse at Camp Muir on Saturday the 21st of October, kickin' it out of the wind and enjoying some bread, cheese and Gatorade, when both of us thought we heard a rumble . . . we looked to the south, and saw a jet of black dust erupting from the St. Helens crater! Now the USGS is reporting a combination earthquake/rockslide that day. Whoa. We thought there was something suspicious about the four big serac falls we saw while up on the mountain! Click here for a cool animated GIF of the dome before and after.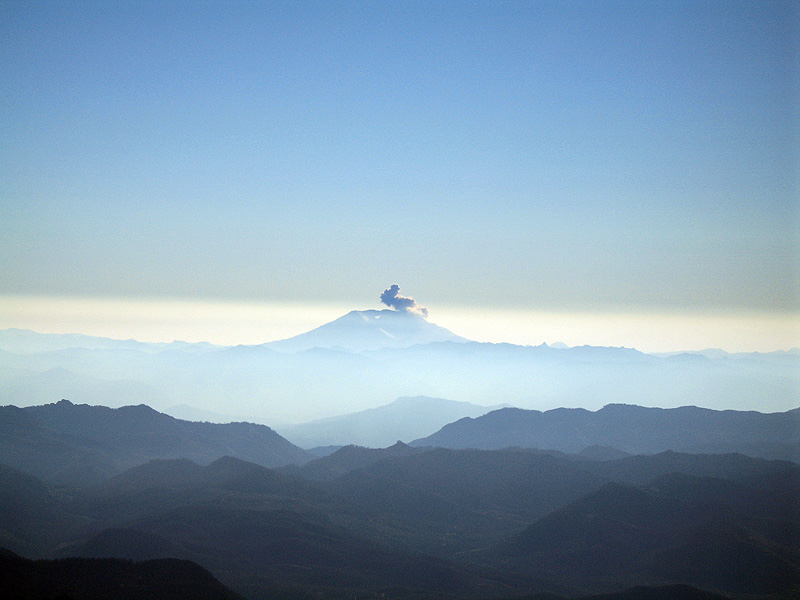 ---
October 4, 2006:
Don't Believe Everything You Read on the Internet Dept.


I was surfing ski retailer sites the other day, looking for a current price on Dynafit bindings ($399 without brakes seems about average for standard Comforts) when I happened upon REI's Expert Advice piece "how to choose randonee ski gear." Reading through the thing, I was astounded by the number of untruths included in the FAQ, and felt compelled to send them an e-mail suggesting a few changes. Here's a link to the page on REI's site.
Here's the text of the e-mail (text from their FAQ in quotes, my comments in red):
Hi REI, There are a number of factual inaccuracies in your "How to Choose Randonee Ski Gear" FAQ which you may want to address as the season approaches.
"Randonee boots are stiffer and the skis typically wider than 'tele' gear, so you have a bit more control for negotiating steep chutes while carrying a pack."
(Randonnée boots are typically equal to or less stiff laterally and lighter these days than comparable price-point tele boots, the difference in downhill control is due solely to the binding being latched down).
"In the free-heel mode, you can even carve telemark turns with randonee gear."
(You would do well to omit this piece of information; although people often do this for fun, no randonnée binding is designed to withstand the forces generated by tele skiing while unlatched and this might create some liability issues for you).
"There are slight drawbacks to this style (the reference is to Dynafits), though. You have to get out of them in order to switch between uphill and downhill modes, and they are also compatible only with boots made specifically to fit them."
(Your writer may be thinking of the widespread myth that Dynafits must be removed to go from skiing to skinning mode, but neither statement is true. Anyone with reasonable flexibility can lock their heel and remove skins with Dynafits on; you can also unlock the heel after skiing by twisting the heelpiece while applying upward pressure with the boot heel).
"Randonee skis are usually wider than either telemark or standard skis. How wide you get them will depend on the type of snow you most often encounter."
(In practice, most tele skis are now marketed or at least used as both rando and tele tools, so the skis are exactly the same. In fact, any alpine ski without a plate can and often is used as a "randonnée" ski).
"Keep in mind that, because of the walking sole, randonee boots cannot be used with regular (downhill) bindings. Plastic mountaineering boots may fit some randonee bindings, but it's best not to use them."
(Randonnée boots will work with many common alpine bindings, notably most Salomon models, though the release may be inconsistent due to greater friction from the rubber soles. PMB's can and often are used as an approach tool for alpine climbs in conjunction with light rando bindings and short skis. They are well-suited to such use and the danger of needing reliable release is small).
You may want to reconsider your spelling of the word "randonee" - correct spelling in French is "randonnée" with the first e accented acute (é) - I would be inclined to use this spelling as many European customers see this site. My second choice would be the "Americanized" spelling without accent, "randonnee" - Just my two cents worth. Sincerely, Greg Louie
BTW,I am not longer an affiliate for either REI or REI-Outlet; for some reason (inactivity?) my account was suspended and my re-application denied. I am currently an affiliate for Sierra Trading Post and Backcountry.com, meaning that any sales originating at this site will pay me a percentage (you must click on the banner links on my link page before buying), so if you have no other charity you'd rather donate to, I'd appreciate your using the links on this site.
---
September 20, 2006:
The New Mid-Fats
How things change. Not that many years ago, my friend Norm brought over a pair of prototype Seth Morrisons with a 73mm waist. I thought they were huge. Now it looks like 88mm, give or take a millimeter, is the new "mid fat."
The goal is an even-flexing all mountain tool that handles any fresh or semi-fresh conditions with ease and still carves well enough on the hardpack to make it home should it turn to ice (or if your ski out includes some groomed in-area terrain). The leader of the pack seems to be the Black Diamond Havoc

, which has been around for the past two seasons with only mild topsheet changes. The Dynafit FT 10 is an updated version of the popular FR 10, with a wood core and slightly softer (perhaps) flex. A limited-edition version of the FT is available with special graphics, called the "Mustagh Ata."

The Karhu Jak BC

is popular with many of the folks on Telemarktips.com and reportedly has a slightly softer flex, as well as being quite light. It has a new topsheet for '07 as well as a new country of manufacture (China). Atomic's entry is the new Kailas
, with the same magnesium cap construction as their other tele skis. They come in an arresting shade of lime green which actually looks like a match for my Scarpa F1 boots, are somewhat softer longitudinally than the Havoc, and for some reason aren't even listed on the Atomic website (though they are on the floor at REI already). The K2 Mt. Baker

has a slightly revised NW native graphic scheme for '07 and is reportedly slightly stiffer in response to criticism of the '06 ski being a "noodle."
There are others not being marketed as specific "backcountry" or "telemark" skis that might fit the bill for touring, too. Several friends who skied the Head Monster iM88

had universally enthusiastic praise for the ski, saying it rips in powder, crud and at speed. The Völkl Karma

is aimed at park-oriented freeskiers, but it is in the same size range and I've heard good things about its all mountain handling. How about the Stöckli Stormrider "Scott Schmidt"?
I'd love to try a pair . . .
Whether you want to haul that much weight around all the time is the big question, but it seems something from this category is almost a mandatory part of any serious skier's quiver these days. Though there's a limit to how light you can make a ski that's this wide, they are still lighter than a modern "fat" ski (I put skis with a waists 95mm and above in this class - next year it'll be 98mm). If you get them short and put light bindings on them, they might just make some of those "difficult" snow days fun.
---
September 6, 2006:
SkiBuilders.com Hits the Big Time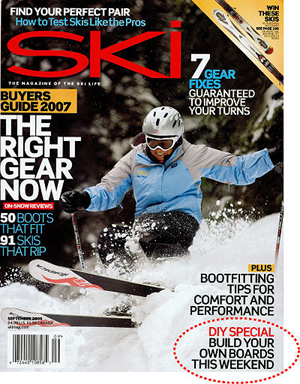 Seattle-based DIY ski makers Kam Leang (well, Kam now resides in Midlothian, VA, but his heart is still in Seattle) and Kelvin Wu, along with Kam's cousin Kam (for clarity's sake, they refer to each other as "Big Kam" and "Little Kam" respectively) are featured in the current issue of SKI Magazine as the principals in SkiBuilders.com, a website and forum devoted to homemade skis and the tools and materials used in their production.
These guys have a leg up on most other devoted skiers, as they all have engineering backgrounds. Big Kam currently teaches mechanical engineering at Virginia Commonwealth University in Richmond, VA, while Kelvin heads up an engineering arm of University Hospital in Seattle. All are hard-core skiers, both lift-served and backcountry, and tend to like their boards mounted for tele.
The article details how to build your own ski press and what materials to procure before starting your ski building project, complete with well-drawn images of the necessary tools and layout. My only criticism is that there are no action photos of the ski builders themselves testing product in the snow!
In other late-breaking news, this site has just undergone a major re-build. It may not look much different, but I've gone from using an older version of FrontPage to writing it from scratch in HTML 4.01 Transitional with Cascading Style Sheets. Next step is to convert it to XHTML 1.0, which should be a minor inconvenience, mostly involving inserting a few characters to close attributes (I tend to space out on this detail). Please let me know if you come across any typos, non-functional links, or design problems via the link at the bottom of the page. Thanks in advance for your help!
---
August 2, 2006:
Dynafit Team Summits and Skis Gasherbrum II
Dynafit-sponsored athletes Sebastian Haag and Benedikt Böhm, two of the skiers who last year set a climbing/descending record on Mustagh Ata, are at it again.
On July 29th at 8:00 AM, the pair summited 8,035 meter Gasherbrum II in perfect weather, and skied back to Camp I, a vertical drop of 2,500 meters, without resorting to ropes or downclimbing. Pretty impressive stuff, and no sign of a doping scandal here in Pakistan (though I doubt that anyone tested them).
Lou Dawson writes about their exploits, with some great photos thrown in, at http://www.wildsnow.com/?m=200607 - for earlier blogs from the expedition members themselves, check out the Dynafit website. Oh yeah, they have special gear for this trip, too - some green and fairly wide-looking Gasherbrum skis show up in the photos, which I'm sure will be available to the public next season!
---
And now for the bad news . . .
July 27, 2006:
Team Phonak today confirmed that the rider testing positive for an excessive testosterone-to-epitestosterone ratio after Stage 17 of the Tour de France was Floyd Landis. Floyd and his team have asked to have his "B" sample evaluated, and are awaiting the results. If the "B" sample is also found positive (greater than 4:1), Landis has the option of having a series of tests done by a qualified endocrinologist that could prove his innocence by reason of a naturally high T/E level. In the meantime, we wait. For an in-depth discussion of T/E testing, click here.
---
July 23, 2006:
As the ex-Mennonite farm kid with the arthritic hip rolled around the streets of Paris, two guys named Eddy and Lance sat in a hotel café talking about one of the most incredible Tours de France they'd ever witnessed. The one named Merckx murmured "Strong . . . unbelievably strong," and the one named Armstrong nodded in agreement.
Landis doesn't really look the part of the Euro-cool bike racing pro. Strip off the spandex and hand him a pitchfork and some overalls, and he'll fit right in, slightly rough edges and all. But no one can deny the pure force of will that resides deep inside him, and which propelled him to victory in the 2006 Tour.
Unlike Lance, who had a cadre of hand-picked and highly paid specialists to help win the team time trial and pace him on the big climbs, Landis was often alone in the final critical kilometers of stages (there was no team time trial this year).
As his ex-team leader Armstrong put it, "Floyd won this race; his strength was not his team, his strength was his mind and his will."
Well said, Lance, and here's to the new"Patron" of the Tour, Floyd Landis.
---
July 21, 2006:
Real Heroism at the 2006 TdF
No one has ever seen anything like it. Stages 16 and 17 of the 2006 Tour de France threw the ultimate in emotional and physical pendulum swings at us, as Tour leader and all-around tough guy Floyd Landis blew up big time on Wednesday's final climb and lost over 10 minutes to eventual stage winner Michael "Chicken" Rasmussen. Landis would end up plummeting from first overall in the race to 11th, 8:08 behind new leader Oscar Pereiro (his former teammate and good friend). Click here for Cyclingnews.com's summary of the stage.
The cycling press and most everyone else wrote Landis off - everyone knows that 8 minutes is too large a margin for even a great time trialist like Landis to pull back, and his chances of finishing in the top five of the Tour this next Sunday were slim.
Mentally and physically depleted, Landis refused to be broken. Instead of hiding in his mobile home and declining to speak to the media, he cleaned up and hydrated a bit, then came out for an interview. The team leader who had just "thrown away" the biggest prize in cycling was unexpectedly open and candid, placing all the blame on himself. Other riders might have faulted their team for not having hired stronger climbers to help pace them (Axel Merckx, not known as a climber, actually performed that function admirably during Stage 16), but Floyd simply blamed the collapse on a "really bad day on the wrong day." Personally I suspect a combination of under-hydration and maybe a bit of the bonk, but the result was disastrous.
Apparently nobody told Landis that he had been reduced to a footnote for Thursday's Stage 17, another brutal climbing stage through some of the most difficult terrain in the Alps. Shortly after the start, he and his teammates launched a vicious attack to bring back a small breakaway, and Floyd continued to pour on the power as the leading group was caught.
Patrick Sinkewitz, a young German rider who seems destined for stardom, and Patrice Halgand from Crédit Agricole, were able to hang with Landis for over the Col de Aravis, Col de Colombière, and Côte de Châtillon-sur-Cluses, but on the epic climb of the Col de Joux-Plane, it was all Floyd. Followers of the Tour may remember this as the place where Lance Armstrong bonked badly a few years ago and nearly lost the race.
In the end, Landis soloed on to the stage victory, putting 5:42 into Carlos Sastre and 7:08 into Oscar Pereiro. With time bonuses, he trailed Pereiro by a mere 30 seconds and Sastre by 12 seconds in the overall race. He's not wearing the "maillot jaune" yet, but with Floyd's superior time trialing ability, he's again the favorite to lead the race as it finishes in Paris on Sunday.
You need to go back to 1958, well before the advent of race radios and live TV coverage, to find any such comeback in Tour history. That was the year the "Angel of the Mountains," Charly Gaul, made up 15 minutes on Raphael Geminiani on the final stage in the Alps. Gaul went on to win the final time trial as well as the overall that year.
Thanks, Floyd, for taking us on an incredible roller coaster ride over the past few days. May the force be with you on Saturday.
Epilogue
July 22, 2006:
Floyd's the man. He powered through the individual time trial pounding a huge gear and looking smooth all the way, to finish third on the stage behind Sergei Gonchar and Andreas Klöden, 1:11 down on Gonchar, but good for a .59 second lead on Pereiro on GC (overall time). Game over.
---
Ski Trab Headquarters
June 27, 2006: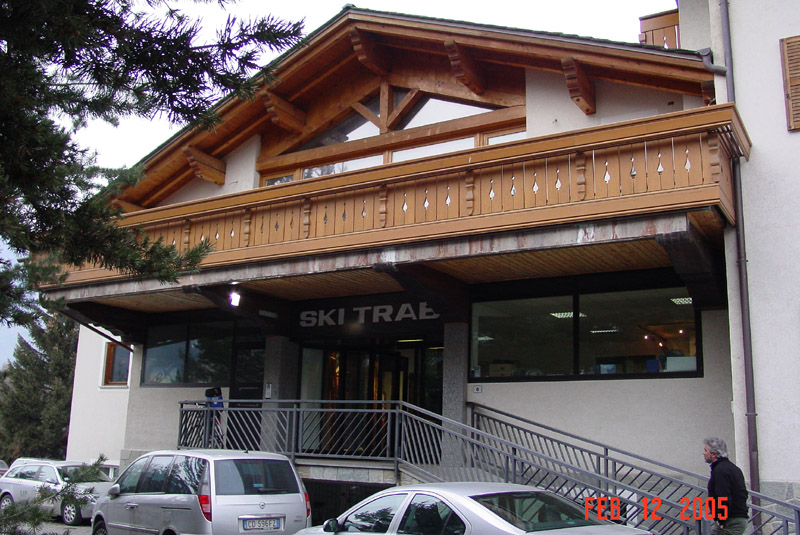 Ski Trab US Distributor Mark Lengel recently sent me these pictures of the Trab factory in Bormio, Italy . . . some day I'd love to tour this place, but for the time being I'm really enjoying the 178 Freerandos I've been skiing on this spring and summer. Really light for their width, softish forebody with plenty of tip (quite handy for bashing through summer runnels on the Interglacier last week) but good edgehold on firm stuff. The slope in the lower picture is the GS hill from the 2005 FIS World Championships.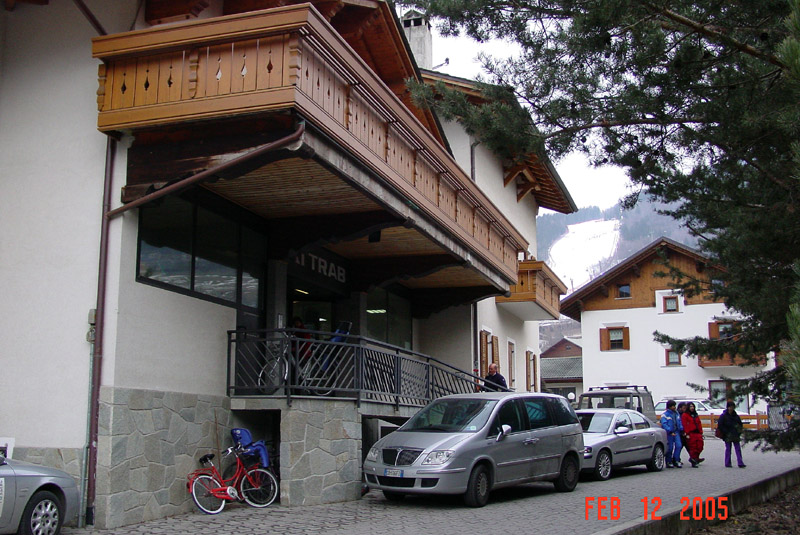 In other ski-related news,this tidbit about skiing in China came up recently on Telemarktips.com - Nanshan is a new ski area located 62 km outside of Beijing, and while the skiing may be marginal, they appear to have already rounded up sponsors like Volvo and Nokia. Beijing residents on the cell phone while driving to the ski area in their XC 90's . . . now that's a cultural revolution!
---
May 9, 2006: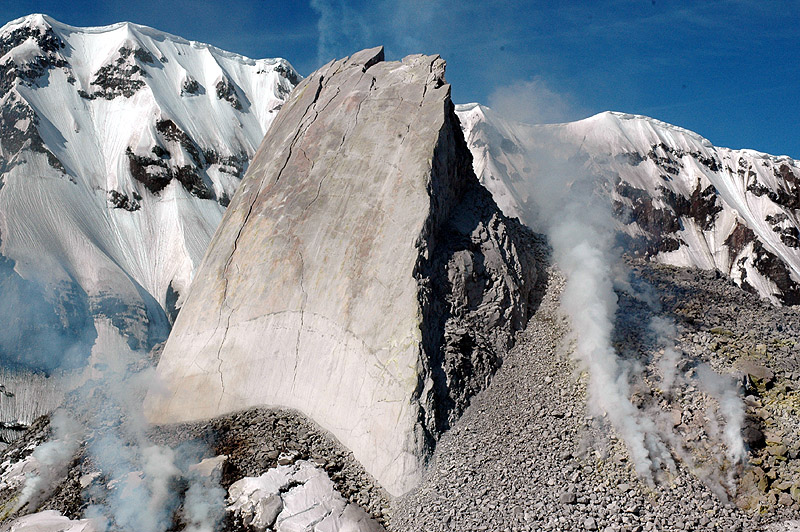 Thrusting skyward like a warning from God, the three-hundred-something-foot tall sharkfin forming in the crater of Mt. St. Helens could easily be the centerpiece from an episode of the Twilight Zone. Fully expecting to see cryptic characters appear on its smooth east face any moment, scientists and citizens have watched in awe the past few weeks as the bump grows at the rate of three to four feet per day.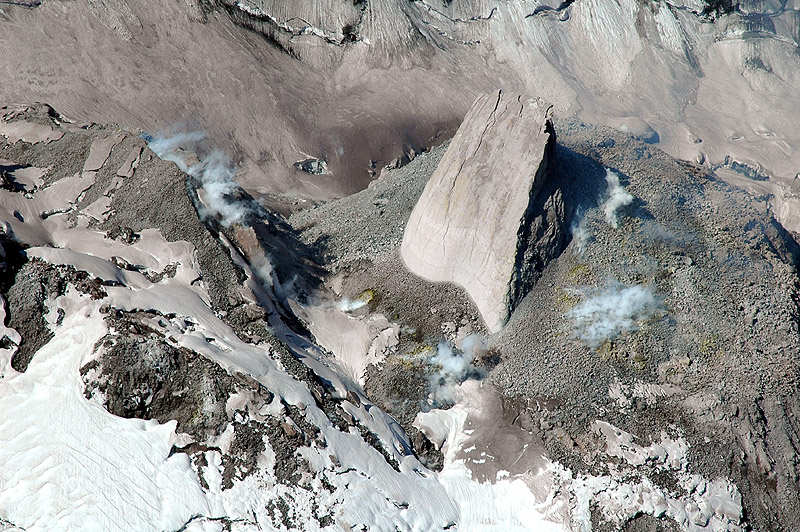 Perhaps in years to come, when St. Helens has regained its former stature, there will be those of us who can say "I remember when that wedge was just being born!" Is it premature to be thinking in terms of skiing the crater? There are probably people studying these pictures right now, looking for the best lines . . .
---
May 2, 2006:
I'm already excited.
About NEXT year's skis.
Even though it seems that the ski touring season is just getting going, the ski industry moves to the beat of SIA's clock, and first looks and long-term test drives of next year's gear are in full swing.
Ski Trab, the exclusive Italian manufacturer that counts about 90% of the elite rando race corps among their loyal customers, is breaking out of the race and XC mode and building some wide (for them) skis that should be of interest to us freerider types. The new Stelvio Freeride

is a case in point, with dimensions of 117/115-84-105 (as with other Trab skis, the tip continues to get slightly wider after it turns upward) and a unique woodgrain and carbon fiber topsheet that successfully juxtaposes traditional with high-tech. How Italian! Kind of like the MOMO steering wheel hand-stitched by someone's 63-year-old grandmother that they put in Michael Schumacher's Ferrari F1 car. Dimensions sound familiar? It's almost a dead ringer, profile-wise, for the Atomic R:EX/TM:X, my go-to ski for the past few years. As far as picking a tried-and-true pattern to emulate, they could certainly do worse, and if they soften up the flex a bit it might be just about perfect . . . Sidecut radius is 20m (this number sounds low, given the dimensions - I'm guessing it is really around 25m), weight 1510 grams in a 171, sizes are 164, 171, 178, and 185, and suggested retail price is $549.
Trab is also revamping the popular Freerando, and incorporating its trademark "Duo" technology - a little twintip on the front of each ski that gives increased tip surface area for soft snow and utilizes a proprietary piece of skin fixing hardware that fits in the divot.

The Duo Freerando sports a modified swallowtail like the Duo Race Aero and Duo Sint Aero (a tail clip for skins is provided). The ski is slightly wider than the current Freerando, at 112/110-79-96 with a 22m sidecut. Weight is 1350 grams per ski in a 171, and sizes are 157, 164, 171, and 178. MSRP is projected to be $599.
Dynafit is also reworking the FR 10, changing over to a wood core and renaming it the FT 10, with a limited graphic version called the Mustagh Ata also available.

Preliminary reports have the wood core skis slightly softer in flex, which I consider a step in the right direction for the majority of skiers, and perhaps slightly lighter. Dimensions otherwise are the same as the current FR 10, 118-88-110 (last year's was supposed to be 1390 grams per ski in a 178, though a production 178 reportedly weighed 1512 grams on a local digital scale). Pretty damn wide and pretty damn light in any case. The Mustagh Ata topsheets are pretty cool, and commemorate Team Dynafit's record-setting climb/ski of that Chinese mountain.
---
April 12, 2006:

OK, the Trab Freerando 178's are "in da house" . . . courtesy of Wasatch Ski Distribution's Mark Lengel, who began importing the boutique Italian brand this year.
First impressions? Taking the skis out of the wrapper and hefting them, they have an almost palpable feeling of quality even though they are really damn light for a middish-fat board. Finish work is ultra-clean, and the topsheets have a jewel-like geometric texture reminiscent of an M.C. Escher print. Trab has an aura of exclusivity to it, as the skis are little-known outside of Europe - something on the order of a fine Lorenzini shirt or a Bimota motorcycle, they are hand made with a keen eye for detail by old world craftsmen.
With a profile of 108/78/93, the Freerando isn't really all that wide compared to "midfat" offerings by other companies, but it has other features to recommend it. It's relatively soft in the forebody, with a fair amount of upcurve at the tip (and a hole for those pesky crevasse gear removal situations) which should make for easier skinning in crusty snow and good float for its width in challenging conditions. It has a fairly large radius sidecut (25 meters) which lets you not hang from the tips and tails in narrow steep chutes. And it seems to have quite a bit of torsional stiffness for edgehold on hard stuff.
I mounted the Freerandos up with a set of Dynafit Race Ti bindings that I had modded with a normal, adjustable TLT heel baseplate (for the sake of adjustability and accuracy in setting the 4mm gap between boot and binding). Though I can't find reliable weight figures for the Freerando in a 178 (the 171 weighs 1290 grams per ski), I'm guessing they are about 300 to 310 grams lighter per ski than my R:EX's were. That's about 1.32 lbs. or more of weight savings for the pair. For what it's worth, the grey and white graphic down the center of the ski is perfectly centered, so there was no need to draw a center line to mount the bindings . . .
I took the skis up to Alpental for a test drive - conditions were hideous, with rain for the first 800 feet of vertical, then heavy snow and fog. Icy bumps at the top of the mountain, covered with about 6 inches of cut up thick potato-like fresh and avy debris all over the mountain made a comprehensive test difficult, but the relatively soft forebody and well-defined tip curvature rode up over the mank well (I'm not a fan of low-profile tips for BC use). The skis initiated fairly easily, but gripped well as you finished the turn, and had a lively and snappy feel to them relative to the Atomic and Atomic-made skis I'm used to. They felt like they wanted me to ski upright and relaxed, with feet fairly wide apart - the light weight is a little deceptive, at first I interpreted this as less stability at speed, but as I skied faster and faster on them they didn't seem any less confidence-inspiring, so it may be just a question of my getting used to them.
Could be just what I've been looking for . . . I'll post more when I've used these skis a couple of times.
---
April 11, 2006:
We Saw Doug's Last Three Turns . . .
Just spoke with my friend Andy Luhn, a former US Ski Team member and K2 honcho, who knew Doug Coombs well and skied with him in Valdez for years. His brother Matt, who has been skiing La Grave since about 1980 (when it was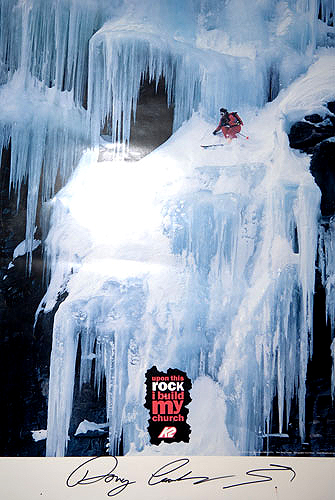 known only as an observatory, not a ski destination) was in France last week and went back up to the Couloir Polichinelle with Skier's Lodge guide and Seattle native Miles Smart the day after the accident to try to piece together the chain of events that led to Coombs' death. Smart and other area guides were concerned about the initial reports of VanderHam and Coombs being caught in an avalanche (implying, perhaps, faulty assessment of the snowpack), even though it seems clear that Matt Farmer's account of the accident is what actually took place - Doug was in rescue mode, trying to reach Chad, when he slipped and fell. Apparently Coombs had few obvious injuries, but broke his neck in the accident.
Matt Luhn also spent time with Doug's wife Emily, who understandably was worried about her family's financial future.
"I hope I don't have to go back to being a waitress," she commented. Hopefully she and their three-year-old son David will be at least partially provided for by the fund being set up by Doug's longtime sponsors Marmot, K2, LifeLink and Jackson Hole Resort. To find out more about or donate to the memorial fund, click here: http://dougcoombsmemorialfund.com/
"It's really hard to believe," said Andy,"Doug was a cat - he was always able to get back on it after being knocked off balance - he had those long angles going for him, and it seemed like he had nine lives . . . I skied with him for five seasons in Valdez, and he always made it possible for us to ski just a little over what we thought was possible, because the VIBE when we were with Doug was just so good . . ."
This seems to be a recurring theme in the Doug Coombs legacy - taking already great skiers to places that seemed hairball even to them, and gifting them with the mental ammunition it took to make the most epic ski day of their lives possible. Priceless.
Plans call for a service in Doug's hometown of Boston, followed by a larger memorial in Jackson Hole sometime in May.
For a recent video demonstration of Doug's Quick and Painless Ski Tune by the man himself, click here
---
April 6, 2006:
Here's an account of Doug Coombs' accident by Jim Stanford in the Jackson Hole News & Guide:
Coombs dies in fall over Cliff
Skier slipped on rocks while trying to help friend who fell down gully in France.
In the end, the man regarded by many as the greatest skier in the world simply lost an edge.
Doug Coombs, the Jackson Hole mountaineer and guide who took the sports of skiing and climbing to new heights, died Monday in the French Alps after slipping and falling over a cliff while trying to aid a friend who had plunged over the same precipice. He was 48 years old.
Chad VanderHam, 31, of Colorado later died of his injuries in the incident, which occurred near the resort of La Grave, about 50 miles east of Grenoble in southeast France. Coombs guided skiers at La Grave and also operated steep skiing camps there with his wife, Emily. He was skiing with friends at the time of the accident.
French authorities confirmed the deaths Tuesday and gave a basic account of the incident. Miles Smart, a friend of Coombs' and colleague at Exum Mountain Guides in Jackson Hole, provided further details in a telephone interview Tuesday from La Grave, where he had been guiding with Coombs this winter and had spoken with a member of the ski party.
Coombs was one of four skiers, all Americans, descending the Couloir de Polichinelle, a steep chute that winds through cliffs and ends in a 200-foot drop, Smart said. To avoid the last cliff, skiers must traverse to the left at the bottom and exit via another chute, said Smart, who skied the Couloir de Polichinelle on Tuesday and inspected the scene of the accident.
VanderHam went first and disappeared from sight. Coombs skied next, saw that VanderHam had fallen over the cliff and yelled to the other two skiers above – Matt Farmer and Christina Bloomquist – to bring a rope.
"Doug skied down to the edge of the cliff and was sidestepping down on some rocks, to try to get a view of Chad, and Matt Farmer saw him slip a little bit," Smart said.
"He was down on rock slab and wasn't able to reset an edge because it was all rock slab below him," Smart said.
Some snow covered the rock where Coombs likely slipped. "He lost his edge when he was peering over the lip, trying to get a view of Chad," Smart said.
In all, the two skiers fell about 1,500 feet over rocks and steep slopes. Coombs was not breathing and had no pulse when rescuers arrived, Smart said. VanderHam, who likely had lost control when he hit a patch of ice near the bottom of the couloir, was unconscious and breathing but could not be revived, Smart said.
VanderHam and Farmer were aspiring mountain guides, while Bloomquist is an old friend who has been skiing at La Grave for years, Smart said.
Memorial fund set up
Emily Coombs was at the couple's home in La Grave on Tuesday with their 3-year-old son, David, and was "doing alright" under the circumstances, Smart said. An account has been set up for the family at Jackson State Bank and Trust and the Web site www.dougcoombsmemo rialfund.com.
News of Coombs' death sent waves of shock and grief through Jackson Hole and the ski world, where Coombs was revered as a hero. His death came a day after the final public run of the aerial tram in winter, and skiers lamented the loss of two icons of Jackson Hole nearly at once.
"A Legend Falls," read the Web site of Powder magazine, where stories and photos of Coombs often graced the pages.
Mark Newcomb, a senior Exum guide, summed up the sentiment of the community: "It's going to take a long time to finally sink in," he said.
Newcomb and Coombs were friends who climbed and skied together in the Tetons. "We shared that passion of being in the mountains and challenging ourselves, certainly," Newcomb said. "But I don't think anyone can match Doug's passion. He was out there so often and always having so much fun and sharing that with everybody."
"That kind of enthusiasm and passion is probably something we will see only very rarely, if we ever see it again, in a person,&quot Newcomb said.
Jackson Hole Mountain Resort owner Connie Kemmerer released a statement praising Coombs for inspiring guests and staff with his teachings and adventures.
"For me, Doug was Jackson Hole," Kemmerer said. "... He will be missed every day."
Gracious, inspiring
Porter Fox, a Powder editor and former sports editor of the Jackson Hole News, recalled writing his first ski stories about Coombs in the mid-1990s. "He was nothing but gracious and inspiring, always,&quot Fox said.
Fox said Coombs had a purity of spirit, form and vision. "There was not one part of him that wasn't completely devoted to skiing, and you felt it and were inspired from it when you were around him," Fox said. "He was truly the best skier ever."
Coombs was born in Boston and grew up skiing in Vermont and New Hampshire. He later moved to Bozeman, Mont., to ski at the Big Sky and Bridger Bowl resorts and attend college at Montana State University, where he was a ski racer. After earning a degree in geology, he moved to Jackson Hole in 1986 and began guiding for High Mountain Heli-Skiing.
Coombs was a two-time winner of the World Extreme Skiing Championships in Alaska and served as ski ambassador for Jackson Hole Mountain Resort in the early 1990s. He and his wife founded a heli-skiing business in Valdez, Alaska, where they would go each spring and pioneered hundreds of ski routes.
His feats in the Tetons included the first ski descent of the Otter Body Snowfield on the Grand Teton with Newcomb in June 1996; the first ski descent of the CMC Route on Mount Moran with Hans Johnstone in 2002; and taking clients on the first guided ski descent of the Grand Teton in 2004.
In his 1994 book Driving to Greenland, a collection of winter adventures, author Peter Stark called Coombs "The Dean of Flow." He marveled at Coombs casually slipping between obstacles.
"To see him ski is to see fluidity, as if he were a droplet of water trickling down a rough plaster wall," Stark wrote.
La Grave, the tiny French village with a no-frills ski area, had become a second home to the Coombs family over the last 10 years. The Alpine resort, home of the La Meije massif, boasts 7,000-vertical-foot runs and unlimited off-piste terrain that captivated Coombs' imagination. The resort has only one lift, a two-tiered gondola called le telepherique, and has no grooming, no boundaries, no trail maps or ski patrol.
Endless ski runs
"When I first arrived at La Grave and stared at the majestic glaciated peak of La Meije (13,065 feet), I imagined endless ski runs that would last a lifetime," Coombs stated on his Web site.
After a fallout with the Jackson Hole resort in 1997, Doug and Emily Coombs brought their steep skiing camps to La Grave and Verbier, Switzerland. The couple retained a home in Jackson Hole and spent a good portion of the summer, fall and early winter here.
Doug Coombs often spoke at ski-related events and shared slide shows of his adventures. He was a regular presenter at Skinny Skis' annual Avalanche Awareness Night, which promotes backcountry safety. On New Year's Day this year, he brought his toddler son to Snow King to ski from the top of the Summit Chairlift.
Exum's Newcomb said while it's natural for people to conclude that death is an inevitable fate for someone who plays in extreme terrain, in this case special circumstances were at work that may have affected Coombs' instincts.
Newcomb compared Coombs' climbing and skiing of hair-raising couloirs to a city person savvy about walking the streets, knowing which neighborhoods to avoid and how to behave so as not to draw attention.
Coombs always was conscious of the consequences of a fall in such terrain, and that mind-set "forces a precision and a control,&quot Newcomb said.
"In this situation, I have to think that the added level of adrenaline in watching his friend go down and wanting to do something ... might have made that sixth sense slightly off-kilter," Newcomb said.
"I'm absolutely sure that if his friend had not fallen, he would have skied right past that ice, and it would have been just another run on a great day.&quot
Another report here from snewsnet.com . . .
And this on Chad VanderHam from his hometown newspaper . . .
---
April 4, 2006:
Doug Coombs, RIP
Steep-skiing and guiding pioneer Doug Coombs died yesterday in an accident which also claimed the life of friend Chad VanderHam near La Grave, France. According to preliminary reports on http://www.pistehors.com, the two either slipped or were hit from behind by a slide, and fell over some 200 meters of cliffs while skiing the Couloir de Polichinelle. The most recent information reported http://www.telemarktips.com suggests that VanderHam may have fallen first, with Coombs slipping and falling while assessing the situation and possibly trying to reach his friend by rappelling down the face.
Probably no American has fired the imagination of our generation of backcountry and freeride skiers in the manner of Doug Coombs - while I never had the privilege of skiing with him, Doug's legacy proliferated even before the accident.
Our ski group at Crystal Mountain last Saturday, which contained several K2 sponsored athletes and employees who knew Coombs well, underscored his influence - on several occasions, as we pulled up to survey a steepish chute, we would be treated to Coombs anecdotes . . .
" . . . the first time I went to Alaska, and stood at the top of ------, Coombs turns to me and says . . . "
Ironically, Tim P. mentioned an empty spot on his Valdez Heli Ski trip next week, where Doug continued to guide even though he and his wife had sold the business - but I was about $3,700 short on funds. It might have been the chance of a lifetime to ski with the legend, but now, sadly, it'll never happen.
---
March 3, 2006:
Real Rando Racing
No, I'm not talking about my participation in the OR Randonnée Rally at Alpental on February 25th, but about the guys who weren't there . . . Chris Kroger (the winner at Alpental the last time it was held two years ago), Pete Swenson, Cary Smith, and Steve Romeo, along with Monique Merrill and Jeannie Wall, couldn't compete stateside because they were in Europe to participate in the World Ski Mountaineering Championships in Cuneo, Italy. Karen Kingsley, who was also named to the team, showed up at Alpental and won the Women's Race Division, beating all but two of the men in the process. Apparently she was unable to compete for the US because she is still a German citizen, but there's a chance you'll see her skiing for the US in the Whistler Olympics . . . Ski mountaineering icon Andrew McLean accompanied the team as a technical delegate and coach.
This is the first time the United States has fielded a team in the Worlds, which consists of four separate events: A two-man team event, an uphill only time-trial, an individual up-and-down race, and a sprint relay. The American skiers were planning on skiing all four of the events (the more rando-savvy Europeans had "specialists" for certain events), and turned in respectable results in the vertical and especially the team events, with Merrill/Wall coming in 10th and Swenson/Romeo and Smith/Kroger 22nd and 25th respectively. Outstanding for their first big Euro competition, I'd say. A link to the results is here.
Today's individual event was marred by two avalanches during the main competition, one of which caught about ten competitors. Fortunately there were no serious injuries (maybe a broken arm), but the incident forced the cancellation of the event . . . click here for a dramatic video of a second slide coming down only a few meters from a group of already buried racers. Hopefully they'll get tomorrow's relay event off without any further casualties!
Rumors about Randonnée being included as a demonstration (non-medal) event at the Whistler Olympics in 2010 have been circulating, but reportedly there is some disagreement between the UIAA and the IOC - the UIAA preferring a hardcore "Pierra Menta" type of event that shows the sport in it's purest form (read burly), and the IOC preferring a more "spectator-friendly" venue (read within the ski area). Seems like it shouldn't be too difficult to find challenging terrain for the event within hiking distance of the lifts at Whistler/Blackcomb, though. For those who are unfamiliar with the Pierra Menta, here's a video from the Millet website.
The relay event went off without a hitch, with the US Men's Team (the women didn't have the requisite 4 members) finishing in 9th place. An awesome effort for their first trip to the World Championships.
The 2006 Pierra Menta? No big surprise there, as Stéphane Brosse and Patrick Blanc won for the third time, taking three of the four stages in the process. These guys rule.
---
February 12, 2006:
While most of the winter sports world tunes in to the 2006 Torino Olympics, another incredible athletic event has been going on - the 24 Hours of Sunlight held at Sunlight Ski Resort in Colorado. The object? To see how much vertical you can ski/skin in a 24 hour period.
The results? Simply astounding. Anyone who's felt worked after a 6,000 vertical foot day of backcountry skiing will be blown away by Greg Hill and Jimmy Faust's stomping out 50,520 vertical feet during this event. Third place went to rando circuit regular Steve Romeo, fourth to Dave Penney. Greg and Jimmy apparently made some sort of "Faustian Pact" and skied across the finish line arm in arm . . .
Lou Dawson, who participated in the Team Competition, blogged about the event at Wildsnow.com)
February 4, 2006:
Now that the mid-winter trade shows - SIA in Las Vegas, the Outdoor Retailer Show in Salt Lake City, and ISPO in München - are over, word is filtering back to the masses about things new and wonderful for next season. BTW, does anyone else think that the timing of these trade shows is terrible for the retailers? Taking the most experienced and knowledgeable staff out of the store in mid-January, just when most ski shops are guaranteed to be hit with the annual barrage of ski school problems, Christmas returns, and new equipment needs after-finding-out-your-old-stuff-doesn't-work-anymore seems downright stupid to me . . . it gives the manufacturers a bit more lead time, granted, but the old schedule (SIA was the last week of February back in the day) seemed to work OK . . . how about a compromise in early February?
New stuff that made the headlines started with the Volvo SportsDesign Award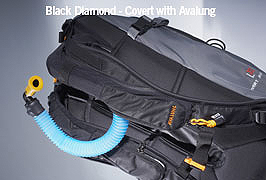 nominees in a couple of categories (these awards are getting to be a pretty big deal, at least in Europe). Black Diamond's Anarchist pack line, which includes an on-board Avalung built into the left pack shoulder strap, sounds like something almost every backcountry skier/rider I know will actually use. I'm the first to admit that I rarely wear the Avalung II I was given as a present, and the hassle factor is usually the deciding one. If the device were built into the pack and didn't require taking off/putting on one more thing each time you added or took off a layer, it would go out with me every time. Black Diamond has the Avalung option adding about $70 to the cost of an comparable BD pack. I'm waiting with credit card in hand . . .
Co-winners in the Safety & Security category were two new products by Mammut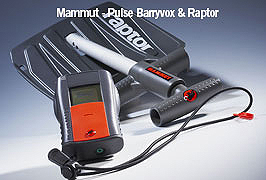 - the Pulse Barryvox transceiver, and the Raptor shovel. The Pulse is a new three-antenna beacon that not only gives a graphical view of multiple burial locations, but when used with other Pulse units will show whether each victim is moving and if they have a pulse. Sounds kind of grim, but when you're faced with the option of digging out several avalanche victims in a given amount of time, it makes sense to leave the one with no heartbeat for last. The Raptor shovel is a compact shovel with the handle staying attached during storage and features a cool industrial look.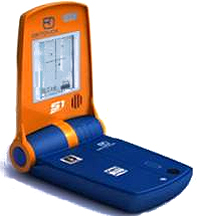 Ortovox also showed two new (or at least newly-working) transceiver models - the S1 and the D3. The S1 is the much talked-about blue and orange flip design model that has crosshairs marking the positions of both searcher and victim(s), while the D3 is an all-digital model in the shape of the venerable X1 and F1 Focus (different color, though). Several people have reported that the S1, which when seen last year, wasn't functional, seemed to work fine on the floor of the SIA show . . .
Dynafit showed a new "Freeride" binding apparently aimed at making alpine cross-over skiers feel visually more at home. The Vertical FT features a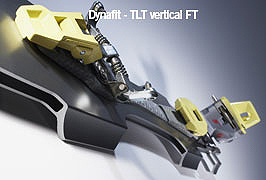 carbon fiber stringer running full-length underneath the toe and heel (doesn't this seem like adding useless weight?) and a truncated pyramid-like climbing post supplanting the Comfort's volcano. In Europe, they also showed a new "light" version of the TLT Speed (Classic in North America) called the TLT Speed Lite, which has no climbing post (like the Race Ti) but being made of steel is 50 grams heavier. Hey, if the price is in the neighborhood of the regular TLT, I'm in! (Should be cheaper, right, since it's less stuff)? As usual, pistehors.com does a thorough job of covering the Dynafit news beat; Dynafit is actually introducing 4 new models next season, though probably not all will make an appearance in the US.
Fritschi showed a re-worked version of the Freeride called the Freeride Plus, which reportedly has less lateral movement and more alpine-like performance . . . Sounds like just what I need, put me down for two pairs!
---
January 11, 2006: Good morning, and Happy New Year.
I've skied in four different countries in the past two weeks. My friend Kam Leang and I seized a unique opportunity to see the Alps through the eyes of locals and joined our mutual friends Michael and Corinne in the heart of Europe just after Christmas. As I walked through the München Flughafen, I sent a mental note of thanks to my junior high German teacher, Herr Horst Göllnick, who had done his work well . . . my limited but seemingly perfectly understandable German worked like a charm with the oversized-baggage handlers and the Mietwagen (rent-a-car) guy. Kam had arrived on another flight minutes before, and we picked up a cool Euro SEAT Leon, a car that resembles a mini Nissan Murano.
Heading out into the wilds of southern Germany, we got slightly sidetracked in downtown München, abandoned our original plan of taking the A8 Autobahn out of town, and settled on the more direct A95 route going directly south. We cranked the SEAT up to around 130-140 KPH (and were still being passed like we were standing still) and enjoyed the scenery - the major problem was visibility due to the large quantities of salt mush on the roadway and the fact that the left side windshield squirter was frozen shut.
In a little less than two hours, we were roaming the streets of Garmisch-Partenkirchen, a famous German ski resort, looking for a cash machine. After that, we blew through the pass into Austria, expecting a Hogan's Heroes sort of border check but finding nothing except a subtle change of script below the names of the hotels to indicate we were now in another country.
We followed Michael's sister Marion's directions along the A12 and took the Ötztal cutoff, heading for Umhausen. The streets became narrow and picturesque as we took the left turn toward Niederthai, the town that Michael's dad grew up in - Michael was right, it was like Leavenworth, only the real thing. Niederthai is quite a bit higher in elevation, and the road is the equivalent of one of our Forest Service routes to a remote trailhead, only paved. Several cars without winter tires were left spinning their wheels in frustration on the steep switchbacks, but the SEAT rocked and we made it up the hill without incident.
Niederthai itself is a beautiful town of about 280 people, set in a gorgeous valley and surrounded by 3,000 meter peaks. It has the requisite church, a small ski lift and ski school, and a few hotels and restaurants. Everyone

skis, talks snow conditions, and follows the alpine World Cup racing circuit. We pulled into the driveway and met the rest of the Trommsdorff clan, including Michael's dad Peter, mom Gisela, aunt Gitta, sister Marion and her soon-to-be husband Arno, cousin Ulla and husband Stef and kids, as well as assorted cousins staying in the house next door.
Michael and Corinne had an agenda for us - as soon as we got our gear unpacked, they headed us out the door for a several kilometer "walk" over a neighboring hill. We entered an ancient stone and wood hut that appeared empty, and found a room full of people enjoying hot soup, beer and pastries, all of whom had walked the same route to get there. Pretty cool, and it gave us some insight into why the Austrians, who don't seem to practice any sort of low calorie or low fat dietary regimen, aren't fat. They exercise.
The next three days held to a predictable schedule with the Trommsdorffs - get up at dawn, eat bread-butter-jam-yogurt-müsli-fruit, put skins on skis, and head out. Twice we walked to the center of town, where Michael would whip out his cell phone. Soon thereafter a guy with a snowmobile and trailer would show up, we would pile in/on the contraption, and be pulled up the flat 6 km trail to another hut, where the steep skinning started. It seemed a little like cheating to us, but then we realized that everyone else, including the hard-core mountain rescue guys, did it as well. Save your energy for the real thing, I guess.

After a full day of skiing, the family gathered on the porch to take in an hour or so of sun while drinking tea and schiwasser, cold water mixed with some sort of fruit syrup, and eating bread and cheese. Most nights we went out to eat, usually at restaurants specializing in wild game dishes like Hirshentrecote (a delicious and tender venison) and Springbok (wild Ibex) . . . if you wanted to know what you were eating, they had the mounted skulls of the animals on the walls!
Day one's objective was a peak called Hohe Wasserfalle (High Waterfall, though there is no waterfall anywhere near it), Day Two was der Schartenkopf, and Day Three was der Brand, the mountain just behind the Trommsdorff home. Each was special, either for the views, the avy danger, or the snow, and Kam and I were in heaven. It was especially inspiring to watch Florian, a neighbor and one of the local "mountain goats" catch us like we were standing still on the steep uphill skin, not to mention skiing with Michael's dad and aunt who are both still hitting it hard though they are pushing seventy. We missed the opportunity to ski with uncle Völkmar Trommsdorff, a local legend who put in something like 110 days of ski touring last year just before his death.
Like Michael had said, these are tough mountain people who think of a 2,000 meter day of skinning as an easy day, go out touring in softshell at -25° C, and live with avy danger and weather ambiguities like we choose between a tall and a grande at Starbucks. Watching fit people in their seventies and even older cruising the cross-country paths on skis and enjoying themselves immensely was a joy to watch and a goal to shoot for, to be sure.
Following a festive New Year's Eve complete with fireworks, during which the still jet-lagged Leang and Louie struggled to stay awake, we made a very special trip up to the mountain behind the house with a bottle of Champagne to both bring in the new year and pay tribute to Uncle Völkmar. The local mountain rescue team had recently placed a large stone and bench at the summit in his honor, and we toasted to his memory before enjoying some pretty fine powder on the way down.
The next day we loaded up the cars and headed out of Austria, though we were delayed for several hours when the "Americanized" Michael mistakenly filled his in-laws' TDI Passat with regular gas. It was an expensive mistake, which required throwing away a full tank of gas as well as paying a garage to siphon the tank and air out the system, but fortunately didn't damage the car permanently. If Corinne's parents are reading this, it's really true, we almost never see diesel here in Seattle!

Kam and I drove through most of Switzerland before stopping in Savigny, just outside of Lausanne, to stay the night with my brother-in-law Jeremy, his wife Teresa and their daughter Sophia. Michael and Corinne went straight through to the "other" family home in Grenoble, France, where we would meet up with them the next day.
We did a day of "resort" skiing at Chamrousse, site of the '68 Olympics and Michael's home area. It's roughly 15 minutes up the hill from the house, roughly the size of Crystal Mountain, and offers some great views

of the surrounding mountains, especially La Grave and the Écrin Range to the south. With a reservation in Chamonix the next night, we reluctantly decided to pass on skiing La Grave for a day, as it would have involved 3 to 4 hours of extra driving. It was probably the right call, as I was completely beat driving up the curvy road to Chamonix and had to turn the wheel over to Kam, who wasn't much more awake . . . we pulled into our place of lodging, l'Ecole de Taconnaz, an old school that was home to our hosts Manu and Cécile Cauchy, in the small town of Les Houches, downloaded the car in a stupor, and hit the sack.

If you're passionate about skiing or mountaineering, Chamonix is a place you simply have to experience at least once in your lifetime. The mountains are huge, with descents of 7,000 to 9,000 vertical feet not uncommon, the lines are as steep as your skill and imagination will allow, and no one tells you what you can and can't ski or climb. You also, of course, can't sue anyone if you screw up.
We spent four days skiing in Chamonix and the surrounding area with Michael's brother Christian, a well-known UIAGM-certified guide and Himalayan climber.

Christian seems to know everyone in the valley, from the lift operators to the waiters in the huts and of course the other guides. The image to the right is Christian's promo New Year card published by his sponsor Millet. It was quite a revelation to be introduced to friends like Valeri Babanov, one of the top Russian climbers and also a guide in Canada and Chamonix, while riding the tram. These guys talk about doing Shishapangma or Cho Oyu next season like we plan a trip to Whistler, and the glimmer in their eyes when they talk about an unclimbed 3,000 meter face at 7,000 meters of elevation is impossible to miss.
It turned out that Emmanuel "Manu" Cauchy, our host at the bed and breakfast in Taconnaz, is also a guide and author and famous in France as the man responsible for setting up the national emergency rescue system for climbers

and skiers. He also maintains a medical practice in town and skis and climbs every chance he gets, and is a gracious and amusing host. The renovated school that serves as home for the Cauchys, their two children, and two cats has three bedrooms that they rent out on a weekly basis for what amounts to a very measly amount of money by Chamonix standards, and we were lucky to be the guests for the week. In addition to serving a great breakfast and after-ski snack, Cécile Cauchy was extremely patient with our meager French language skills and even dressed my Garmont-induced blisters with a professional ease. Staying with the Cauchys for a week was like being part of the family, a very different experience than staying at the luxurious Le Morgane last time I was in Chamonix, and a highly recommended experience if you ever get the chance.
The first two days were technically "lift-served" skiing - we drove through the tunnel from Chamonix to the Italian town of Courmayeur, where the weather was much nicer than in Cham and the south-facing slope picked up a

bit of welcome warmth. No one in Europe seems to care if you have a passport or not anymore (except the Swiss, who are sticklers) . . . Christian said to just bring some photo ID and we'd be good to go. Lift skiing in the Chamonix area, assuming you stay out of the tourist resorts and their high-speed quads, is not exactly for the faint of heart. For starters, we did the "green" run off the top of the Courmayeur tram, which involves climbing through the safety fence at the top, putting your skis on a thin patch of icy snow, doing a butt-drop off a rocky ledge onto more icy/rocky stuff, and then downclimbing a rather large set of erector-set stairs for about 800 vertical feet before hanging off a fixed rope to put your skis on on another icy angled slope. Your typical US resort skier would have been in cardiac arrest by the butt-drop, not to mention the rope. Nevertheless, this was the easy way down, and sensing that Christian was putting us through a test of sorts, we

followed like the sheep we are down the "classic" route. As with most of these ski routes from the big trams, the skiing varies a lot according to altitude (the vertical is something in excess of 7,000 ft.) - the top was icy with some windblown fresh, the middle had some good powder, the bottom was largely frozen avy debris with survival bushwhacking . . . We soon got the signals down; when Christian stopped and held his poles out to either side, it meant a crevasse was just past him and we should under no circumstances go past him (actually, the rule was never to go past him at all). When he said follow exactly in his tracks, he meant EXACTLY. When he hooted like an owl (WOO-HOO!) it meant he had found a powder stash and we should bust our butts to get over there. In the afternoon, we went back to the top and skied the Vallée Noir, a sister route to the famous Vallée Blanche, which also ends on the Mer de Glace. Kam and I hung in a local café drinking Coke and eating tartes de pomme until they basically urged us to leave while Michael and Christian hitched a ride back to Italy to retrieve the cars.
On the second day, Kam decided to take a break and re-evaluate his tele-commitment, so Michael and I went with Christian back to Courmayeur with more challenging objectives. First off, we headed to les Marbrées, another of the classic descents in the valley skier's left of the tram, then a very enjoyable powder run from the mid-station followed by a "real Italian" lunch with bread, wine, pommes frites, lamb, duck breast, raspberry tarte and cappucino. The hour-and-a-half dining experience left our legs a bit on the heavy side, so of course Christian decided to show us a "little couloir" for our afternoon session. This turned out to be the very cool line under the top tram called the Cesso Couloir that we had seen tracks on the previous day, though we skied directly off the top through an impressive maze of rocks rather than accessing the couloir from the closed refugio on the ridge. The snow was good and the descent quite fun, and we skied yet another route at the bottom to get out.
Day three in Chamonix was a touring day; Kam decided to try rando gear for the first time in years, and we headed up the valley towards Bel Oiseau, Switzerland. Just over the border, we veered off the main road and headed to a tiny town with no apparent name to find probably two dozen cars already parked at the trailhead. No problem, we skinned up the road three abreast until we reached the steeper portion, then cruised up a well-defined and sometimes slick skin track. Once in the main bowl, we were faced with a choice of two major routes and decided on the one to looker's left, which seemed more crowed but also had more ski options. After lunching on pâte de lapin and bread at the col, we decided to ascend the peak to our right and check out the ski options. This turned out to be quite an adventure, as the peak was not the one Christian had been looking at on the map, and the descent involved a rather sketchy sideslip and a good-sized slab release to regain the col . . . there were also some pivotal "relationship" moments between Christian and his girlfriend Karine during this episode, but that's another story altogether. The ski from the col involved some genuine powder moments, as well as some icy cat track fun.
Our final day in Chamonix was reserved for the classic descent from l'Aiguille du Midi through the Vallée Blanche and the Mer de Glace. The scenery is as spectacular as one could imagine, though the skiing leaves something to be desired. Still, skiing through a huge icefall that one would normally avoid at all costs is quite an experience, and gave our legs a good warm up for the off-piste bushwhacking excursion down to town.
As Kam blasted through Autobahn traffic at 165 KPH on the return to München, the feeling of spent exhilaration in our legs and minds was real. Europe IS all it's cooked up to be for skiers, and the opportunity to experience it with the Trommsdorffs and their friends was not to be missed.
We'll be back.
---
Other Years
"Incoming" covers developments that have personal interest to me (ie. gear I covet, or events I feel may impact the sport of skiing) - it is by no means meant to be a comprehensive enumeration of gear or events in the ski world at large. Feel free to contact me via the randosaigai.com link below with news or images that may be of interest . . .