incoming
January 29, 2008:
"It's not funny until someone gets hurt"
This choice Andrew McLean quote came to mind as I watched this interview with Stephen Colbert on Comedy Central last week. If that's indeed the case, this one came very close to hilarity.
Colbert, who I normally find pretty funny, tries lamely to dissect the ski mountaineers' mindset, but it soon becomes apparent that there's no explainable rationale driving the people who appear in the movie "Steep" - and Colbert never quite grasps the fact that the stars of the film are at a skill level that makes the stunts that appear insane to most normal people quite doable. Nevertheless, the footage of the slide in Iceland that Andrew and his partners are caught in is knuckle-gripping stuff.
---
January 22, 2008:
Steep, the Movie
Maybe the opening shots of people shambling along on the flats in full alpine gear with all the buckles on their boots undone are a little hokey to rando purists. Maybe the emphasis on the "ultimate thrill" angle is a little overdone. Maybe you're just one of those people who think the joy of skiing has nothing to do with cameras and movie theaters, and should remain a private experience.
Still, it's rare that we get a chance to watch a ski movie in a mainstream theater venue, and Steep is a monumental achievement for that reason alone. Though the movie blurs the distinction between hardcore adrenaline junkies like Shane McConkey and meticulous ski mountaineers like Lou Dawson, there's a majesty to the action photography that transcends these distinctions and simply draws you in. I was surprised to find that the footage of McConkey combining steep ski lines with base jumping techniques was some of the most exhilarating stuff in the film for me. The action is tied together with thoughtful commentary from ski luminaries like Mike Hattrup, Glen Plake, Andrew McLean and our own Tim Petrick.
Though a series of vignettes, the core of Steep is really the Doug Coombs story, probably familiar to anyone who has ever aspired to ski a big line anywhere. The film follows Doug's career from his childhood through his extreme skiing phase and finally to the creation of the steep camps in Alaska and La Grave. Many of the best sequences in the film are follow-footage of Doug done with an elaborate camera setup in Alaska.
The movie is probably the perfect Coombs memorial - There's Doug, twenty feet tall on the wall of the theater, ripping a beautiful line into eternity. Check it out this week at the Varsity Theater on University Way (Seattle). Now through Thursday, January 24th.
---
January 20, 2008:
Jibbin' at 70
OK, so his bindings don't hinge, and there's not a climbing skin in sight. Maybe you don't care for his 'tude, or think he should just toe the line and live in the hotel with all the other US Teamers . . . or he parties too hard . . . or whatever. Personally I buy his claim that he skis first for the "feel" of skiing fast, and thinks that results will follow if and when he attains that. There's a purity to that approach that flies in the face of all the multimillionaire hardguy skiers that used to dominate the circuit.
Regardless of whether you like Bode Miller or not, no one can argue with his skill set, or with the fact that he embodies a style that no one else quite matches on the World Cup Circuit. If you love skiing, you won't want to miss this video of Miller's run at this year's Hahnenkamm downhill in Kitzbühel, Austria - the Super Bowl of World Cup skiing. Though he tied for second on this run, the Euro announcers went as crazy as if he'd won going away - I like the Italian version the best. "Mamma mia, mamma mia . . ."
Speaking of the Hahnenkamm, vibes go out to Scott MacCartney from Redmond, WA. I don't know Scott, but I've skied with his brother and I came up through the same Crystal Mt. junior program, so he seems like a bro. His horrific crash on the final jump into the finish at Kitzbühel with his helmet falling off and his unconscious body spasming in front of the crowd is hard to get out of your mind. I won't imbed it, but it's pretty easy to find on YouTube if you're so inclined.
---
January 11, 2008:
Marmot Demo Day
I attended the Marmot Mountain Works Demo Day (actually, night) at Summit West along with over 100 other avid randonnée and telemark skiers yesterday, and got a chance to take a bunch of this year's crop of skis for a free test ride. The conditions were pretty dismal - it was puking wet snow all night (at least, after it stopped raining) which demanded a minimum of two goggle wipes per run to see where you were going, but there was about 10" of heavy fresh in 360 bowl and some semi-groomed with islands of glop near the chair for your testing pleasure. The Marmot crew plus reps from a number of the brands represented deserved high praise for cheerfully adjusting boots and bindings in the cold and dark for four hours in the face of sometimes impatient skiers.
For the record, I was interested primarily in "lift-served" skis. To me, that means the biggest ski in my quiver, probably mounted with Fritchi Freerides, which I'll use mostly for lift skiing in varied conditions - mostly powder and heavy fresh snow at Alpental and Whistler, as well as some fast groomer skiing on the way back to the lift line. They need to float the mank, be stable at speed, carve well and turn predictably. I consider it a bonus if a big stick like this can turn reasonably quickly, especially when negotiating the lower half of the Alpental frontcountry. For comparison purposes, I weigh around 170 pounds and ski fairly fast, but rarely on hard snow. I'll seldom tour on these skis unless I'm planning on going out with someone who only owns equally big skis. My current ski for this purpose is a 183 Black Diamond Havoc.
What did I like? Here's my top three, in descending order:
# 1. Black Diamond Verdict, 180 cm. This ski was effortless in untracked, ran like a truck through the the tracked up stuff, and carved big GS turns quite well for a non-race plank. Response to turn input was smooth and predictable, and short radius turns were possible as well. My favorite ski of the night.
# 2. Atomic Kailas 185. Not as damp as the Verdicts in the bumpy stuff, but handled all of the conditions thrown at it with ease. They floated well in the soft snow and turned surprisingly quickly for such a big ski, but didn't have the confidence-inspiring stability of the Verdicts at speed. Probably slightly too long for me for tree skiing, but the next size down is 174 . . .
# 3. Black Diamond Zealot 180. Mammoth plank that handles surprising well for its size. As with the Verdict, they skied the untracked stuff effortlessly, and carved GS turns fairly well. The extra bulk makes them slightly harder to bring around, and they don't respond to shorter radius turns too well. This ski wants huge, wide open bowls and < 10% water content pow. If I lived in Utah, I'd be sorely tempted.
I quit after about 3 hours, when my softshell pants (the ones I'd left in the car from the day before) became too waterlogged to stand any longer, but Lock Miller and crew were still going strong when I retired to the Timberwolf for beer and pasta. Thanks for a great evening, guys!
---
I talked with Oyvind Henningson today, a super-strong skier and avalanche educator who's also an Everett-based SAR volunteer. He was one of the first rescuers on the scene at last week's fatal accident near Lake Twentytwo, and filled me in on some of the details of the incident.
The actual site of the 13 year-old girl's fatal burial was about 2/3 of the way up the Lake Twentytwo trail, rather than near the trailhead as some people had suggested, near the last big switchback before reaching the lake. A natural slide from a chute over the trail released just as the group passed by, burying the victim and partially burying two survivors. Oyvind's take on the situation was that the group simply had very, very bad luck to be in that place at that particular time.
---
January 7, 2008:
One More Avy Death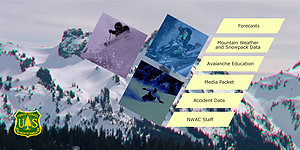 The morning after I posted the Washington avalanche toll for the 2007-2008 season, I read the news of the latest fatality - a thirteen year old girl who was playing in the snow with some other kids on or near the Lake 22 trail on Mt. Pilchuck was buried by a slide and died (the other two were partially buried and survived). This is particularly sad; just a normal person out enjoying the winter, looking at the pretty snow, and BAM! hit by a slide from above.
That said, it's a good reminder for those of us who take our winter recreation seriously to help support the Northwest Weather and Avalanche Center, a critical resource for backcountry skiers and snowboarders which is perpetually underfunded and anticipates a $58,000 shortage of funds for the 2007-2008 season. They make up the difference each year (barely) by relying on contributions from people like you and me, as well as fundraisers like the Avalanche Summit and events at the Tractor Tavern and Feathered Friends. If you read their forecasts nearly every day like I do, it should be a no brainer to throw them a $20 or $30 bone once a year by going here. You can PayPal them your contribution with a few keystrokes.
---
January 5, 2008:
Happy New Year
2008 is here for real, and I celebrated with old friends by skiing some tasty powder at Yodelin, a former lift-served ski area just east of Stevens Pass that's now overgrown with trees and brush.
If you're wondering why we spent a couple of fine touring days whacking our way through forests when I really prefer wide-open bowls and steep chutes, just spend a few minutes reading the mainstream media's take on the current avy conditions around the Northwest. The Seattle Times article on our "Deadly Avalanche Season" is pretty good, quoting local avy forecaster Kenny Kramer and Crystal Patrol chief Paul Baugher, but it's the statistics that are the grabber.
It's rare that we get more than one or two avalanche deaths a year in the PNW - the snowpack is normally that stable, and we can count on regular rain events during most winters to saturate the snow and obliterate any buried faceted layers. That hasn't happened this year, and most of the backcountry skiers in my circle of friends have been worried about the possibility of very large avalanches stepping down to the rain crust from December 2-3. The fact that there have already been 8 (9,if you count Whistler) deaths locally this season (the national total is 13 so far) is kind of sobering.
Many of us have been gradually getting out into lower angled BC, digging more than the usual number of pits, and sticking to runs with natural vegetable anchors for the past few weeks, but visions of steep north-facing couloirs have inevitably begun dancing in our heads. Then we hear about the natural slide that occurred Tuesday above Sharon Bowl at Alpental, which apparently had a 100" crown and slid without warning between reconnaisance runs by the Alpy patrol. Hmmmm. Makes you stop and think a bit, no?
On a lighter and more acquisitive note, your likely only chance to try out a wide variety of this year's best rando and tele gear without buying it will be next Thursday, January 10th, at Summit West ski area. Hosted by Marmot Mountain Works, this annual event will be held from 5 PM to 9 PM, and features gear from Black Diamond, Atomic, G3, Ski Trab, Dynafit, K2, Scarpa, and Garmont - many reps from the companies will be there to answer questions and help you get the most from the equipment.
Finally, for those of you who are never satisfied with the weight of your gear, check out this link sent by my friend Jonathan Shefftz for an Italian company called ATK Race. Really beautiful and super-light Dynafit-compatible toes and heels used by the likes of Patrick Blanc, Manfred Reichegger, Gloriana Pellissier and Laetitia Roux.
---
February 19, 2008:
Ski Builder's Demo Day at Whistler
After a record-setting 12 hour trip from Seattle to Whistler, owing to a backup at the border, rush hour traffic in Vancouver, and a monster fatal accident on the Whistler highway north of Squamish which necessitated a five hour stay at the Squamish Starbucks . . . we, along with half of Washington State, finally arrived in Whistler for our annual family President's Day ski trip.
To top things off, we had to stop for a freight train just before coming into Creekside, and the elevator was broken at the hotel! After finally getting settled in our room and downing a round of Captain & Cokes to calm our nerves, we slept in until NOON and missed out on an entire day of skiing!
Oh well, on Sunday I hooked up with the SkiBuilders.com group, with members flying in from as far away as VIRGINIA and VERMONT for the weekend. Almost everyone was rocking hand-made skis in all sorts of wild configurations except me, but I faked it pretty well with my ash-top Trabs!
Kelvin Wu had brought up a carload of skis from the Crown Hill factory, and people had a chance to test some of the product. Most of the skis were mounted tele, and I'd neglected to bring either duckbills or tele-skilz, so I didn't partake, but there were skis in most any flavor from mid-fat to humongous being enjoyed by most in the group.
---
February 13, 2008:
Fresh Talent
My buddy Luca Trommsdorff is two and a half years old and lives in Zürich. He started skiing last month within eyeshot of the old family home in Niederthai, Austria. He seems to take after his relatives and has a natural tendency to seek the fall line and let 'em run!
---
February 12, 2008:
The Mad Grinders
A few days ago I mentioned that my old Scarpa F1's had gone east to become a rando race project for my friend Jonathan Shefftz.
Only hours after the boots arrived at his doorstep, Jonathan was hard at work with scissors and grinder lopping grams off of the shells. He sent this description of his efforts:
"So far my modifications have been designed to lose some weight while still preserving all ski performance, as I'm not sure whether these will be a competitor for my 5lb 15.8oz Dynafit TLT4 Evo (tucking away the rear spoilers & velcro straps in a pack saves 3oz/pair off the feet for long ascents) or instead undergo far more modifications to become a competitor to my heavily modified 4lb 6.5oz Dynafit MLT4 (both weights are sz 27, no footbeds for purposes of comparison), or something in between. As is, the F1 seems to be stiffer than the TLT Evo, although that's just flexing inside, not skiing. The F1 also seems to have the edge in range of motion in tour mode (even setting aside the bellows issue), but then again, both boots have a huge range. To lose about 4 oz per pair (about split between the two sets of mods), getting the weight down to 5lb 11.2oz, so far I have: -- removed entire section of the rear lever that's for the release trigger; perhaps because they're used, but also because the profile of the lever is much easier to grab onto, I can release it (at least indoors) just by grabbing it; and, -- shaved away lots of extraneous material, including the plastic mount/flap for the instep buckle, the toe and heel lugs (since they need only Dynafit compatibility), the red sole rubber in the instep area, and those extraneous raised "Scarpa" letters. Removing the power strap is another easy move, since it just screws in and out. A more bold move would be removing the Dynafit heel interface, grinding away a few mm, then reinstalling. Drilling holes in the upper cuff could save some more ounces, but I'm concerned about skiing performance. Ditto for trimming the tongue, although that can also be swapped in and out easily with something more like a seal instead of a performance aid. And the list goes on..."
Here's a link to the pictures.
Meanwhile, closer to home, Rick Knowles has gone even further, chopping off most of the top buckle system and grinding much of the excess plastic away from around the bellows of his boots, as well as using the power strap to replace the lower buckle and removing the stock tongue and replacing it with vinyl. Here's some pictures of his handiwork:
---
February 2, 2008:
2 Close 4 Comfort
Even those of you who don't live in the Pacific Northwest have probably heard about our weather the past week. In a word, SNOW.
Lots of it. Two or three feet per day, day after day, and continued cold temperatures, have combined to both spike the avalanche danger and keep the skiers away from the mountains by closing the major roadways. Snoqualmie Pass, I-90's highpoint as it passes through Washington State and one of our favorite recreation spots, was closed from early Tuesday morning until early Saturday morning with only brief attempts to open the roadway.
When I heard that vehicles had been hit by slides on both Tuesday and Wednesday at or near the Pass, it seemed pretty sketchy but remote. Then I heard that the passengers in one of the cars were none other than Alex and Marg Walker, Alpental residents whose living room I had been enjoying coffee and chips in the weekend before last! Whew, it was a relief to hear that everyone was OK.
Here's part of the text of Marg's e-mail:
"We had a great ski day and decided to go home for one night since we had been at Alpental for a week . First , could not leave our place because an avalanche had closed the Alpental road. Finally cleared it out and we started down I 90. About a mile down I could see some snow coming off the cliffs on the right and all of a sudden we are engulfed in this white out, car swerving and spun around. When we came to a stop we could not tell if we were buried because we could not see out any window. Then I thought for sure someone would be crashing into us.They did not. I rolled the window down a couple inches and poked my fingers out...not buried. The car was sideways across the road and we were the only car around. A hundred yards up the road was a huge wall of snow. All I thought was the last car we passed is probably buried. We called 911, then called my daughter. State patrol showed up about a half hour later, drove up the west bound lane. We got in the 'perp' seats and he had to drive backwards down the road for about a mile. We sat there an hour, then Chris Williams (state patrol) said he could take us back to our condo and then come get us later when our car was dug and it was safe for us to drive it home. He called an hour of so later, sent a car to get us. By now I am wrung out and decided to stay at the condo ... so Alex went..when he got to our car there were several TV stations wanting an interview. Then at 3:00 this morning he had an interview with the Today Show. So, now I am stuck in the mountains because the pass is closesd...again! This has been quite a winter, which I love... but I am so thankful I am alive to enjoy it".
---
F1 Mods for Rando Race Peeps
My friend Jonathan Shefftz, the rando race king of the Northeast, is always on the lookout for the lightest and fastest. I just sent him my old Scarpa F1's, and he sent me this link as a hint to what he has planned for them.
Serious business, indeed! Those Scarpa ballistic nylon tongues look sweet, though the ghetto duct tape treatment might be just as effective.
---
March 31, 2008:
VertFest Alpental 2008 has come and gone, and once again I wasn't a part of it. My new job is cutting into my ability to ski on the weekends, but it should leave me with a bigger block of time to ski midweek, so I'm stoked. As usual, my ski friends who I can't keep up with did very well, Seth Davis finishing third in Men's Race just behind the Traslin brothers from Vancouver, BC, and Monika Johnson stomping most of the men to win Women's Race, with Holly Walker-Davis in second.
Here's Kevin's brief description via e-mail:
"Well, I made the top 15. Guess I need to work on my aerobic capacity, or desire to induce pain. Was pretty maxed out on first lap, but eased back slightly on second lap. I was heading up under Sessel, and was even with Monika. Probably should have tried to hang with her. Pretty solid crowd. 96 people. Managed to win $200 dollar coat in the raffle. All in all a pretty good scene."
Seth passed national team rando racer Scott Coldiron of Spokane on the final hill to take third, not a small achievement. Kevin Curd came home in 15th, but would have made top 10 if he'd used my F1/Trab Duo Sint Aero setup like I suggested :)!
Here's a link to the results
---
March 27, 2008:
Spring has sprung, and with it comes snow. We spent Wednesday at Alpental doing a combination of lift-served and self-powered skiing, and managed to get in so me very worthy powder turns. Word has it that the same thing is happening in the Alps, with Chamonix getting about 2 meters of fresh last week. Since I'm headed to Europe on Tuesday ski the Haute Route, I'm hoping that the weather and snowpack will stabilize over the next week or so for our tour.
If you have any interest in having a bunch of fun with some other backcountry skiers while getting a really good workout (and probably coming home with some nice schwag as well), consider doing the Alpental VertFest Randonnée Race this Saturday. Martin Völken and crew will once again set the course and run the proceedings. Day-of registration begins at 8:00 AM at the lodge, with the mandatory race meeting at 9:00 and the race set to start at 10:00. I won't be racing, but my skis and boots might be.
---
March 24, 2008:
Pimp yer F1's
Backcountry skiers are notorious do-it-yourselfers, but some of my friends just can't keep from modifiying their gear. In this case, Rick Knowles is obsessed with having the lightest pair of Scarpa F1's in this part of the country, going to great lengths to shave grams (lots of grams) off his race boots while maintaining a high level of skiability. He's replaced the upper cuff with carbon fiber, replaced the instep buckle with a power strap and the OEM tongue with vinyl, and machined out the rear lever on this particular pair, getting the weight down to 867 grams per boot (they started out at 1350 grams). Check it out.
---
March 14, 2008:
Give It Up For . . .
. . . your 2008 World Cup Alpine Overall Champions, Lindsey Vonn and Bode Miller, as well as Giant Slalom Champ Ted Ligety! This unprecedented success in a world usually dominated by European über-skiers breathes a breath of fresh air into the alpine scene. For Lindsey Vonn (ne: Kildow), it's a case of both the reigning queens of the FIS like Renate Goetschel and Anja Paerson slowing down a bit and Lindsey's natural skills evolution fulfilling its potential - she's taken over as the most powerful speed event female skier on the circuit, winning the downhill title for 2008 and finishing 6th in the Super G, as well as 2nd in the Super Kombi (combined).
As for Ted Ligety, his natural ability in the technical events, that once seemed to be concentrated primarily on slalom, has translated to a spate of GS results over the season. The guy is just lightning fast, and seems able to run a straighter line at the gates than almost anyone else on tour.
Bode? Probably everyone knows something of Bode's story - how he "fired" the US Ski Team and went off on his own, hiring his own batch of coaches and continuing to stay in his motorhome while on the European circuit. Party animal or not, he has the most incredible innate talent of probably any athlete on tour, and simply got the job done this season, coming on strong in the second half of the season with a first and second in the Kvitfell downhills, an amazing second at the Hahnenkahm while skiing off the fence at the Steilhang, and convincing Super Kombi wins at Kitzbühl, Chamonix, and Val d'Isere. Here's a old video of Bode losing a ski and skiing most of the rest of the course on one ski - to the delight of the crowd and consternation of his coaches!
---
March 2, 2008:
Rando Race Season Underway!
The World Ski Mountaineering Championships just finished up in Switzerland a few days ago, and while it's always cool to see elite caliber athletes at their max, it can be a little demoralizing when you realize that these rail-thin super-athletes are basically running up the hill for hours on their skis. I tend to watch the videos for clues that will help me speed up my own transitions on my own little touring expeditions . . . Interesting to note is that most of the racers seem to be using the new ATK toepieces that don't require you to pull up on the lever to lock the toe. After you watch the one Italian guy fall out of his ski three times in about 100 feet, though, you begin to wonder if the old-school Dynafit toe might not be more reliable? Florent Perrier, who pretty much ruled the event now that his bud Stéphane Brosse has retired, appears to think this to be the case, as his skis are mounted with regular toes. I guess if you're consistently 30 seconds ahead of everyone else at the transitions, you have time to pull up on your toepiece.
Closer to home, the Crystal Mountain OR Vertfest was held yesterday, with many of the usual local suspects entering (but not me, due to early afternoon work commitments). Seth Davis, Lowell Skoog, and Monika Johnson, who all rode in one car, held down fifth, sixth, and seventh overall in the race division, and Paul Russell come home in 13th. Winner Benedikt Boehm is a German national team member who is also a Dynafit factory tester. Nice work, team! Here's a link to the results.
---
April 16, 2008:
Europe 2008
I'm back, and EuroTour 2008 is history.
Our plan for the last several months had been to hit Chamonix the first week of April, join forces with the Trommsdorff clan, and head out for the Haute Route, ending up in Zermatt, Switzerland after six or seven days of ski touring.
With several weeks of intensive map study, GPS programming, and equipment decisions, our group of four Seattle-based skiers - Lowell Skoog, Paul Russell, David Perez and myself - found ourselves Europe-bound. David was perhaps the lucky one in the group, going over early to spend time with his parents in Spain. Lowell, Paul and I took a British Airways flight that stopped over in London enroute to Geneva, and that's where our problems began.
The BA flight and crew were smooth, on time, and exemplary. The flight attendants were extremely apologetic when they couldn't get the in-flight entertainment system to work properly, which to me wasn't that big a deal. What we hadn't anticipated, though, was the turmoil British Air was experiencing with connections involving the new Heathrow Terminal 5, which had opened just the week previous.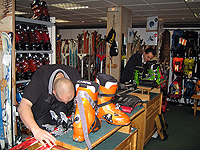 In what eventually evolved into something of a fiasco, our ski bags slipped into the black hole that is T5 (sounds like a tele boot, eh?) and never emerged until 2 days before our return to the US, leaving us to rent skis, skins and poles and borrow ropes, harnesses, hardware and axes. With Michael and Christian's help, we managed to come up with three sets of more-or-less tourable skis and glacier gear for the group, so all was not lost. I was ready to rock with some 170cm Dynastar Altitrails with Fritschis, not a terrible setup but narrower and heavier than my Trab/Dynafit rig. If you know how picky I am about my gear and consider that Lowell and Paul are equally finicky, you get an idea of how we felt. Oh well.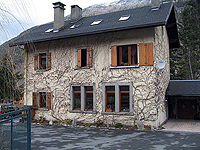 Our base of operations was once again the estimable Chez Cauchy, the refurbished École de Taconnaz owned by Manu and Cécile Cauchy, where I had stayed two years ago. The Cauchys are truly gracious hosts and remarkable people - Emmanuel "Manu" Cauchy, an MD by trade, works at two local clinics and supervises the helicopter rescue operation for the Chamonix valley, while Cécile works part time as a nurse, climbs, and raises her two children, Pierrot and Alix. Manu is also a certified UIAGM guide, though these days he seldom has time to get out with clients other than his kids. He'll cheerfully explain that his specialty is high-altitude amputation for treatment of frostbite. These days, unfortunately, you have to either know them or be a friend of a friend to rent one of the rooms.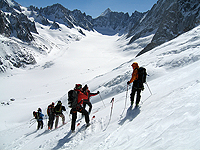 The next obstacle was the weather. Christian had been checking constantly, and the lastest forecast called for a two-day window of high pressure, followed by a day or two of heavy winds with storms. We decided immediately to bag the plan to do the Haute Route, and instead do a two-day loop through Switzerland and then re-assess. Or group, which included Bruno and Daniel from France and old Trommsdorff friends Pierre and Elena who live and work in New York but hail from Grenoble and Milano originally, started the trip by taking the lift up Grands Montets (the Euros don't hesitate to take the lift when it serves their purposes), though the top was closed by wind so we got off at the 2nd station and started skinning around the mountain to access the Glacier d'Argentiere. As soon as we rounded the corner we were rewarded with an awesome view of the valley, flanked by famous peaks such as the Aiguille Verte, Les Droites, and Les Courtes. We skied down onto the glacier, crossed it, and began the skin up to the Col du Chardonnay.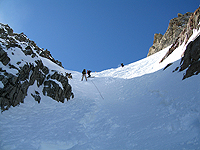 Ah yes, the Col du Chardonnay. We'd all read about the crowds that formed when competing groups of guides and their clients accumulated at this tight spot on the route and someone had problems belaying one of their group down. We stopped for a sandwich just before the col to let some people get down, and met a couple from Crystal Mountain who were in France for month. Then we skinned up to the top and took a look. Lowell and I both felt it looked skiable, and started down, but a few hundred feet into the descent it steepened and the snow morphed to re-frozen ugly boot track! It wasn't the place to fall, and Lowell somehow got his crampons on and walked down, while I continued side-stepping until Christian threw a rope down and I could rappel to the moat. Not the best use of judgement on our part, but fortunately it ended well. Most guides seemed to favor belaying their charges down backward in a reverse snowplow.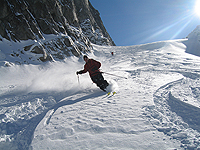 We finished off the first day with some bitchin' powder turns down the skier's right side of the Glacier Saleina, and rolled into the town of Revers, caught a taxi to somewhere on the outskirts of Champex, then skinned up the closed ski area to the Relais d'Arpette, a cool Swiss hut that we had all to ourselves. Pretty nice introduction to the fine Euro tradition of hut skiing. You knew you were in Switzerland because of the hot showers and the automatic self-sanitizing toilet seat that revolved when you pushed a button! The next day was more of the same, with a stop for lunch at the Trient Hut and some 3,000 vertical feet of non-stop powder turns on the Glacier des Grands, then a taxi ride back to Chamonix. I could get used to this. Most of the competition for tracks seemed to come from heli skiing operations, which are legal in Switzerland and Italy, but not in France. Don't ask Christian what he thinks of heli skiers.
With the weather along the Haute Route looking bad the next two days, we loaded up the cars the next morning and headed an hour or so into Italy. Our destination was a very popular ski and climbing spot called Gran Paradiso, where we geared up with a number of other fun-seekers and began the half-hour hike to skinnable snow in ski boots.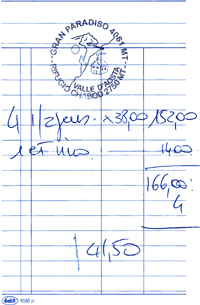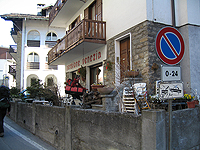 We stayed overnight at the Rifugio Chabod, a wonderful hut situated halfway up the mountain at 2,750 meters. The food was great, the hut keepers congenial, and even the triple-decker bunk beds pretty comfortable. Next day's climb was cold and windy, we made an attempt at the 4,000 meter summit but bailed in 70 mph winds when we discovered everyone was getting frostbite on their faces! On the way down we stopped for lunch at a diferent hut, the Rifugio Vittorio Emanuele, which looked like something out of Star Wars from a distance but in fact was a very old-school structure with classic hole-in-the-floor toilet facilities. If you are looking for modern and sanitary toilets, try Switzerland, but for good old cappucino and fruit tarts, nothing beats Italy.
On the way back, we could see that the weather was starting to close in, and we decided to return to Courmeyeur rather than go all the way throught the Mt. Blanc tunnel to Chamonix. Christian made a few calls (mountain guides live and die by their cell phones; coverage is universal, and they use the phones to make and cancel hut reservations, check the weather, and get reports from fellow guides constantly) and announced that we were booked into "the cheapest hotel in Courmayeur." I was wondering what "cheap" meant in this quaint little town full of beautiful shops, but was pleasantly suprised to find that the Pensione Venezia was a mere 23 € a night including breakfast.
A couple of day trips out of Courmayeur followed, in very Northwest fog/wet snow/rain. We skied the Testa Bernardo, which originates out of the Courmayeur cross-country ski center, and found some decent turns in VERY questionable visibility, though the coffee and pastries at the bar afterward made up for the skiing. The following day we drove up some tiny road out of Morgex until the cars began to get stuck in the snow, parked and started skinning up the road. Shades of the North Cascades. After arriving at a deserted village, I began to feel really bad (the beginning of a 30 hour flu that had struck Lowell a few hours previous), so Bruno graciously agreed to turn around with me and drive me back to town. I embraced the toilet vigorously in the Bar des Guides a couple of times until the rest of the crew returned and we started back through the tunnel to Cham. Unfortunately, a truck had broken down in the tunnel, and we sat in traffic for an hour or so until they got one lane running. The tunnel is a constant source of irritation to the locals - two days later, it was closed for 2 days for a demonstration by French farmers!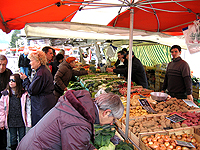 I spent the next couple of days lying on my mattress and recovering the will to eat - Cécile made me tea and helped me with my French, and the rest of our crew took a rest day in the rain. Paul, Michael and Lowell rented fat skis and skied the lifts on Friday and Saturday, where they found some great powder high on the mountain. One night Pierre took us out to the best restaurant in Chamonix, the Guide Michelin 2-star Albert 1er, where we enjoyed a fabulous ten-course meal that featured totally fresh local ingredients. The lake-caught fish from "small boat fishermen" and the huge array of local Chèvres were truly impressive.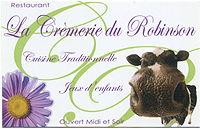 On a more affordable note, we ate simple Savoyarde fare most nights, hanging out at some of Christian's favorite spots like the Bar des Sports on Rue Paccard a couple of doors down from the big sausage shop, and "Le Robinson," a local hangout just off the main road out of town going toward Martigny. Ask a guide if you can't find it, it's in the woods just past the gravel pit, and not easy to find. We chanced upon Christian's main climbing partner Yannick Graziani there one night, who had just returned from an Haute Route trip the week before where he said he had to navigate by GPS in a whiteout for two days with about 40 people following him!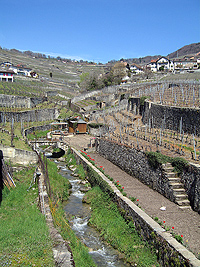 On Friday, my in-laws Jeremy and Teresa, along with their 4 year old daughter Sophia, arrived in Chamonix to pick me up, and hoping to catch a glimpse of Mt. Blanc. Unfortunately, the weather wasn't fabulous, so they didn't take the gondola up the Aiguille du Midi, but we spent the better part of the day eating pastry and checking out the Chamonix farmer's market, which was excellent. The next day they drove me to their home in Savigny, about two hours away, where we did a winery walk on Sunday through the terraced vineyards of AOC Epesse (only a few minutes from their home, and overlooking Lac LeMan). Saturday morning Cécile Cauchy had managed to talk to an actual person at British Airways, who gave us the news that our skis had finally been located and would be shipped home to Seattle a day in advance of us . . .
A great end to a great trip, which only served to whet our appetites for more. Next time, I might be inclined to follow the advice of Yannick and other guides, who can't understand people's obsession with skiing the Haute Route - they all agree it would be better from a ski standpoint to pick a couple of really nice huts and stay in each for several days, doing day trips in the area. Bruno complimented my French, saying that if I stayed another two or three weeks I'd have the language down (I think two or three years is more like it), but I experienced a breakthrough of sorts in USUALLY understanding what people were talking ABOUT and sometimes exactly what they meant. I meant it when I said it two years ago, but even more so now - I will be back!
---
May 18, 2008:
End of the Line (maybe) for Lift Skiing 2008
Today was widely thought to be closing day for Alpental for the 2008 season (unless they have a change of heart after counting the profits for the weekend and open next week). A low-key but not huge crowd was on hand to enjoy the sunny day, and I was among them.
Skiing turned out to be great. I was expecting the mostly unconsolidated snowpack to turn to watery mush in the 70 degree heat, but surprisingly two days of hot weather had shrunk the snow without the huge climax slides many had predicted, and the near-corn was for the most part smooth and reasonably fast. Big rolling bumps on International were fun, as was shaded terrain like Breakover Trees. We started working the near BC, with Kevin and I skiing Trashcan for the first time this year, and finding it well filled-in and suited to smooth GS turns. What a treat! We finished off the day by hooking up with Matt Karaus and Crystal-regular Joe Schaff and his friend Barry, who I hadn't skied with all year, and skied most of the rest of the terrain we could access without hiking, and it was all excellent. Tailgating was in full swing in lot 4 as I pulled out around 3:15, a fitting end to great season at Alpy.
---
May 16, 2008:
Second Season
I've been accused of having a one track mind.
When I tell people about skiing through the summer months, some of them think the scope of my interests is somewhat one-dimensional. Skiing. Skiing. Skiing.
That's not altogether true. There's also cycling.
Good friend Mike O'Brien, my longtime personal framebuilder, recently saw fit to hook me up with a new commuter frameset. The bike combines the best of old-school brazed steel esthetics and modern efficient geometry. He built the frame to my specs, with a slightly smaller 52 centimeter seat tube and my standard 53.5 centimeter top tube. It has a slightly negative slope to the top tube, about 1 degree, which is barely noticeable to the eye. I went with a steel fork with a 4.75 centimeter rake, and both fork and rear dropouts have braze-on fittings for full-time fenders.
The bike is fully lugged, and low-temperature silver soldered, but the tubes are larger diameter than you would expect as well as lighter. Done in a beautiful metallic silver that matches my SKS fenders and Specialized grilamid bottle cage, and equipped with a new FSA compact Energy crankset and other black or carbon bits, this bike comes close to being my ideal commuter rig. Add a set of Chris King Classic wheels with Mavic Open Pro Ceramics and Continental GP4000's, and take it to work. Check out the pics:
---
June 29, 2008:
Heatwave
Yesterday was the real start of summer in the PNW, with a record-tying 91 degree day in Seattle on the books. Seemed like the perfect day for me and about 300 close friends to make the hike to Camp Muir and get above the heat for a few hours, which turned out to be a great plan. Temps were in the 70's at Muir, skinning starts right from the parking lot, and the visibility was incredible. On the upper snowfield, suncup season is starting, but there's great corn from about 8,500 ft. down. If you stick to the main route, there are currently three "dismounts" mid-mountain, including a fairly long walk across the Pan Point traverse, but clear sailing from there down to the newly refurbished Paradise Inn.
Turns-All-Year in the News
The lead story in Tuesday's edition of the Seattle Post Intelligencer (yes, more important even than Bill Gates' pending retirement) was a piece about the successful search for the bodies of missing snowboarders Kevin Carter, Devlin Williams, and Phillip Hollins, who had failed to return from a backcountry snowboarding trip near Crystal Mountain in December and were presumed dead.
The article detailed the efforts of Chris "Scotsman" Willis, who had spearheaded the search party "organization" by posting on http://www.turns-all-year.com, and had quickly gathered a group of willing volunteers and set a time and place to meet. The author was impressed with how efficiently the search effort was able to operate with seemingly no clear leader or supervising entity.
Local BC skiers Joe "Joedabaker" Schaaf, who had been among the last people to see the three alive, and Lowell Skoog, who had intimate knowledge of the intended search area, were quick to lend their expertise, and the group was able to locate a corner of a tent (actually a bivy sack) almost immediately upon arriving at the search site. This lead to uncovering the bodies of all three men, who had apparently been camped at the site when an avalanche hit them.
Joe later offered to go live on KIRO 710's "The Ron and Don Show" with his account of the search operation, which you can listen to here. Joe does a great job of representing the backcountry sliding community and helping make the "code" of the BC understandable to newcomers. As we all know, anyone willing to hike for hours to enjoy a few minutes of sliding on snow is not exactly a stranger, even if we've never met them. They're just an introduction away from being a best friend. And all of us who ski in the backcountry know in our hearts that our friends would come out to look for us if we were the ones to perish.
---
June 23, 2008:
Milestones
Not much time for skiing this month, with graduations, parties, and bike races to attend.
My son Nicholas finished his undergraduate studies at Seattle University, and we all attended the ceremonies at Qwest Field. The commencement was quite enjoyable, as we actually saw Nick walk out on the field and heard them read his name. This in contrast with the previous day's commencement at the University of Washington (yes, we sat through both, this one for Nick's girlfriend Andrea), where the process seemed to go on forever, and they only read the names of the doctoral candidates. Keynote speaker Quincy Jones was cool, though.
We do a lot of cycling in our family, too.
As I like to point out, all the skiers bike and almost all of the bikers ski. Seth Davis' 31st birthday ride was a lot of fun - we cruised south through Maple Valley with an assortment of skiers and retired bike racers, and I threw in an extra 30 miles to bump the total over 100 for the day. I've also been helping my son Jordan with his equipment and race strategy in his first year of bike racing; he's had solid results in the Northwest Collegiate Cycling Conference, racing for the University of Washington, and lots of top-ten finishes in Cat. 5 before moving up to Cat. 4. Unfortunately, he and his teammate were involved in a huge crash at the finish of the state championship criterium in Olympia last Sunday, resulting in lots of road rash and a trashed frameset.
---
August 17, 2008:
Slush Cup 2008
You know the dog days of summer are here when the temperature climbs into the 90's in the Northwest. Seattleites, who don't know any better, complain bitterly about the oppressive heat. Ice machines break down in restaurants, but no service people are available for days because everyone else's ice machine is also down. Sweat rolls down your face every time you stop your bike at an intersection. And the cry goes out on Turns-All-Year.com for the annual Slush Cup event at the Pinnacle Glacier pond.
This year's event took place under mostly cloudy skies and ocassional showers, with a warm wet wind blowing through the Tatoosh. Despite the lack of full sun and scorching heat, many of the revelers donned festive and/or revealing water skimming garb and made the most of the day.
Heavy snow from the epic '07-'08 winter left some large icebergs in the pond, which required a bit of wrangling to clear ample water space, but the result was a clear shot of some 80 to 100 ft. depending on your entry angle. Speed was definitely your friend at this event, as several people with not enough of it soon found out - a number of early runs involved some brain-numbing cold water immersion, and the life ring was thrown into action repeatedly. One lucky participant was even forced to make two dives of around 7 feet into the pond after losing both skis in the deep end.
After a few beers and lunch, the afternoon session ramped up with the addition of a kicker. Excellent air and some nice style points ensued before the group packed it in and retired to the Reflection Lake parking strip for the post-event BBQ. Good times with good people, and month # 48 in the books.
---
September 7, 2008:
Multi-toolin'
With 6" of fresh snow this week at Camp Muir, my thoughts turned to ski touring. I picked up a nice new Arc'teryx Silo 30 on sale from e-OMC, and with a bit of snipping and sewing altered the diagonal carrying system to fit my own (narrower) skis - seems they think anyone buying this pack is either going to carry a snowboard or some huge-ass 105mm underfoot skis. The reinforcing synthetic pads had to be removed and the straps reattached to allow them to cinch tight on my 73mm Trabs, but it was a pretty straightforward process. Helps to have an industrial sewing machine, of course. I had done the same sort of mod on my well-worn Arc'teryx M30 years ago, and it's held up well, so I'm not too worried about longevity.
Then there was the multi-tool question.
For the past few years, I've been carrying a Leatherman Juice S2, a "mini" tool with a decent knife, some pliers, three widths of standard screwdrivers and a #2 Phillips, as well as a can opener and scissors. I filed down the tip of the Phillips head to better fit the ski binding standard #3 PoziDriv screws universally used by binding manufacturers, but the fit is still pretty loose. I pretty much prayed that I would never have to remove an epoxied binding screw in the field.
I went so far as to e-mail Leatherman (a nice Portland company) and express my view that they should offer a tool around the size of the Juice series that included a PoziDriv #3 head and a Torx T10 driver (what you need when your Dynafit heel plates start to come loose, since they are all that hold down the heel pins). They replied politely that this was the first time they had ever heard this request and that even though I swore that all my backcountry ski friends would stand in line to buy such a tool, they had no plans to make it.
Recently the new Terminator-esque Skeletool caught my eye. Though heavier than the S2 by 20 grams (139 to be exact), the Skeletool knife and pliers are significantly burlier than those of the Juice (the Juice plier handles flex quite a bit when you grip them hard). Thanks to my friend Jonathan, I had several loose PoziDriv #3 heads lying around with a standard hex bit end, and I ground one down to fit the mini-width Skeletool bit driver. It seems pretty bomber and the fit with a binding screw is, of course, perfect. Time will tell (maybe) if it will generate enough torque to remove a glued-in binding screw in a snowstorm. The Torx T10 bit is on order from Leatherman - unfortunately the only way you can get this is to order the 21 piece "Bit Kit" from them.
---
October 26, 2008:
First Turns on New Snow
It's how I define the start of a new ski season; the first time I ski on fresh snow, rather than on something that fell last winter or spring. Yesterday on the Muir Snowfield was a treat, with Michael T. (in from Zürich for the week) and Kevin, we headed up through the drizzle and emerged above Paradise in sunny weather. A few inches of fresh from Monday had transformed into nice corn and shielded our skis from the glacial sand that had coated the snowfield until recently, and almost no one but perhaps a dozen skiers and three climbers made it up to Camp Muir. We took advantage of the sunny afternoon to take a nap behind one of the 10,000 ft. outhouses before skiing down to just above Pebble Creek.
Backcountry Fundraisers
Here's a few things to jot down on your mental calendar:
Snowbash, the annual party at the Tractor Tavern in Ballard to benefit the Nortwest Weather and Avalanche Center, goes down on Saturday, November 8th from 8:00 PM 'til midnight, right after the Avalanche Summit. Attend one or both, and get your tickets here for $20 ($25 at the door). Price usually includes two beers and all the music and companionship you can stomach.
Turns-All-Year.com, the Seattle-based nerve center of backcountry skiing in the NW, is holding an auction for a pair of Trab Freerando Light skis (171 guaranteed to be available, other sizes may be as well if you win and really want another length). I've skied this ski, and it's incredible - almost as light as a rando race ski, and it rips in marginal conditions like something way bigger. It would be the next Trab I'd add to the quiver if I had the $$$$. Watch this space for more info.
---
October 15, 2008:
It's Coming
The first day of fall was a sign. A cold front combined with moisture laid down several inches of fresh snow in the Cascades, temporarily closing the Artist Point road at Baker and bringing out the skiers to sample the first offering of the new season. The road closed for the year on October 6th, with a fresh blanket of white over much of the Cascades, including a good 4 inches at Stevens Pass.
For many skiers, the first snow of the season brings with it a sharp realization, "Wow, I need to get back in shape!"
It doesn't seem to matter how much hiking, climbing, cycling or whatever you do through the summer. Skiing works the body in ways that no other activity is able to match. It's common to see very fit people brought to their knees (literally) by aching lower backs and quads after the first hard day of sliding. Unless you're one of the few who spend their summers training in Chile you probably are familiar with the feeling, so it's long been a struggle to find activities that simulate the physical stress of skiing and don't actually require snow.
These days the preferred method of preseason training is increasingly becoming CYCLOCROSS.
If you're not familiar with the sport, it's a combination of equal parts single track mountain biking, road biking, running on the beach and carrying your groceries into the house, all done at speed and often in the rain and mud. Once considered the exclusive province of Belgians who lived on frites and Trappist ale and never put on leg warmers if it was above freezing, 'cross is spreading like wildfire in the States (well, at least the NE, Colorado and Northwest). It also gets the nod from the tat and nosering crowd, at least until they find out how frickin' hard it is.
Look carefully at the results on the Seattle Cyclocross page, and you'll see plenty of famous backcountry skiers in the mix. Along with XC skiing and of course rando racing, it's one of the most strenuous sports you can find and, like skiing, works your body in unexpected ways. Here's some pictures of Russell Stevenson, who helped drag me out of the woods when I ruptured my achilles tendon in the Alpental BC a few years ago and is arguably one of the best people in the Northwest to watch if you want to improve your 'cross technique.
Northwest Snow and Avalanche Summit
The second annual Northwest Snow and Avalanche Summit is set for this November 8th at the Epiphany School, 3710 E. Howell in Seattle. Last year's event was a huge success, stimulated much thought and some spirited debate, and was a great chance to catch up with what some of your ski friends had been doing over the summer. Buy your tickets in advance at http://www.brownpapertickets.com
---
November 23, 2008:
Thankful!
. . . that I'm not planning on touring much, if at all, on these skis.
Maybe this doesn't really qualify as "randonnée" fodder, but there are people who tour on rigs like this all the time. I was looking for an effortless ski for lift-served days in deep and/or crappy snow, something with 100mm or more underfoot and with a smooth and not-too-stiff flex.
I had skied and liked Kevin's first generation Black Diamond Verdicts (the orange and black ones), but waited a bit too long and wasn't able to find a pair after Telemark Pyrenees sold out of 180's in the spring. The new blue Verdicts were a little too stiff and plank-like for my tastes, while the Gotamas were a little too long at 183cm (I was looking to stay around 180).
I settled on the Head Supermojo 105, actually 104mm wide in my size (181) with an abstract brown and orange topsheet and a "friendly" flex. Forum reports of the ski being super stiff seem untrue; it's right in the ballpark with the Gotama with less stiffness in the forebody and perhaps a little more in the tail. Other dimensions bear much similarity to other wide skis I had been considering - 129mm at the tip and 119mm at the tail (measured).
The scary thing about these boards is the weight - I chose Marker Dukes for bindings, since the brakes went to 110mm wide and the toe had ample adjustment for AT boots (which I wear all the time), but the combination of huge ski and heavy binding add up to a total of 3575 grams per ski. I might have to start on a weight program to carry these things from the car. Compare this to one of my normal light skis, my Trab Duo Sint Aeros with Dynafit TLT's at 1419 grams per ski, and you get the picture.
The Markers look (and feel) bombproof. They are probably a good choice for people who only plan to tour a few times a year, and only for a short time when they do. The wide footprint of the binding, the burly toe that completely surrounds the boot toe, and a really smooth AFD that should work flawlessly with a rubber AT boot sole should provide a measure of control that goes a ways beyond a Fritschi or Naxo. Plus you can dial the DIN up to 16 if you so choose. On the minus side, the things weigh a ton, the tour/ski lever is really clunky to work (though foolproof - you won't accidentally find yourself in skinning mode with these babies), and the touring lift is a basic wire thingy that has only one level and looks like it may be prone to flipping out of position easily if hooked by a branch or something. Like I said earlier, if you're planning on skinning for more than an hour or so, you'll probably want to look for another binding.
Needless to say, I'm not planning to go uphill much with these, and don't even plan on buying a set of skins for them, but I'm looking forward to blowing through some of that ugly-wet Alpental "pow" on them soon . . .
---
December 27, 2008:
Happy New Year!
It's been a strange two weeks in Seattle, with sub-freezing temps and snow on the ground for the past 14 days. My wife, Lindsay, and I skied around our neighborhood a bit on pretty decent snow, while the mountains continued to be hit by sporadic storms. It's been a late-developing season, but it's starting to look like winter. Various reports around the state indicate some faceted layers near ground level and mid-snowpack, not surprising considering the multiple days of near zero weather at most of the mountain passes last week, so exercise due caution when quantities of heavier fresh start piling on top later this week. Seth, Holly, Eric and company skipped opening day at Alpental and found good stability and epic snow conditions at Kendall . . .
---
December 18, 2008:
Finally,
It's here! I'm talking about winter.
After several fits and starts, and a few days of worrisome sub-zero weather earlier in the week, the snow has hit with a vengeance. There's no base to speak of, but about 30 inches of new blankets most of the Washington passes, with more in the forecast for the weekend. 'Bout time!
---
Other Years