gear
Randonnée skiing is a gear intensive endeavor; without the proper tools the ski mountaineer would not be able to advance far beyond the parking lot.

Skis allow the randonnée skier to float over the surface of soft snow and descend with speed and grace,

skins enable one to ascend a slope without sliding backward, and randonnée

bindings allow a natural uphill stride but lock down for skiing.

Poles are typically sectional and adjust in length to fit different needs, and

boots are lighter than their alpine counterparts, with lugged soles and a hinging "tour" mode. In addition, various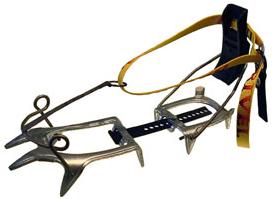 climbing tools such as ropes, crampons, ice axes, and snow protection devices may come into play in specialized situations.

Avalanche tools, including a shovel, probe, and transceiver, should be carried by each member of a backcountry ski party.

Backpacks capable of carrying all of this gear comfortably are essential, and

clothing for ski touring must not only protect against the elements but breathe well during extreme aerobic activity.
Note: I've illustrated most of these sections with pieces of gear that I or friends of mine have had positive experience with; this should by no means be construed to mean that these items are the best options available in a particular category or that other models produced by other manufacturers might not be better suited to your needs or budget.