incoming
November 25, 2007:
Retailer Shout-out
Yesterday Kevin and I went up to Crystal to get some quick turns in before the Apple Cup, skinning into Campbell Basin and to the top of Silver King. The most direct line off the top looked a little boney, so we headed for the next one to the south, which had better coverage even though the top was sun-crusted and the middle had some obvious avy debris. Three turns into the chute I threw a shoe, skiing out of my right ski with very little effort, and then having to chase it a few feet down the hill. It wasn't until we stopped in the sun at the bottom for lunch that I noticed the press-fit retaining washer that keeps the Dynafit heel from moving in a fore-aft direction was gone, and the heel had moved backward about 4 or 5 millimeters, so that it just BARELY engaged the fitting on the back of my boot! I tapped it back into place with my hand, and gently skied back down to the base area without incident.
On the way home, I decided to stop off at Marmot Mountain Works in Bellevue to see if they might have some spare parts. Since the assembly is pressed together at the factory, it required replacing the whole baseplate with the pivot post and adjusting screw. Eric at Marmot was concerned enough to cannibalize a new set of TLT heels and we swapped my modified body/top plate on, so I was free to use the skis Tuesday or Wednesday on my days off. Thanks, Eric, that was beyond the call of duty!
---
November 18, 2007:
Avy Summit
What do you get when a couple hundred hard-core backcountry skiers put their cleanest pair of Carhartts on and drive into the city on a November weekend when they normally would be skiing?
In this case you got the first annual Northwest Snow and Avalanche Summit, a day-long seminar put on by ASAP to benefit the Friends of the Avalanche Center. The program, which featured such diverse speakers as the NWAC's Mark Moore, well-known local avalanche educator Gary Brill, and ski mountaineer Sky Sjue, was supposed to be limited to the first 250 people to register, but people came out of the woodwork for this one and every nook and cranny in the Tahoma room was filled. Backcountry historian Lowell Skoog and forecaster Garth Ferber spent the entire time in the side entryway, though they at least had chairs.
Topics ran the gamut, from Craig Wilbour's presentation on the WSDOT's constant battle to keep I-90 safe and clear to Patty Morrison's study on winds around Steven's Pass. One of the more interesting discussions was AMGA/UIAGM guide Margaret Wheeler's talk on "Hormones and Decision-Making in Avalanche Terrain," in which she showed statistics indicating that mixed-gender groups consistently exposed themselves to higher levels of risk than all-male or all-female ones. The inference was that male members of said groups put the parties into greater danger in order to impress the females.
Ski mountaineer Sky Sjue's talk was a highpoint of levity in the afternoon. Sky's theme of "I've never taken an avalanche course in my life, but this is what's worked for me on these burly trips" brought down the house on several occasions. Of course, it helps to be innately intelligent and observant, and have the strength to hike an extra ten hours to get home when something doesn't work out.
Chris Brixey, who was scheduled to speak on the new Ortovox S1 transceiver, was an unfortunate no-show, and I missed the panel discussion at day's end, which was probably interesting as well. In all, the program was worthwhile and interesting across-the-board, but the format tested the patience of some of the audience, mostly people who are used to skinning for six to eight hours a day rather than sitting in a chair. They might consider alternating the lectures with smaller discussion group sessions or hands-on demos next year.
mehr Schokolade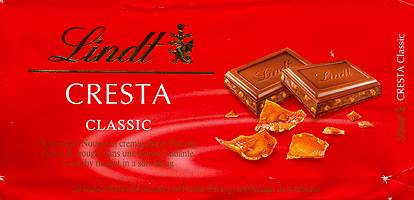 Wow. The Trommsdorffs read last month's blog and decided I needed reinforcements for my chocolate stash, so last week they sent a Swiss colleague to my wife's office with a nice assortment of treats from Michael and Corinne . . . more of the exquisite Crème Brûlée of course, a bit of the classic Lindor (milk chocolate filled with mousse) and another winner, the Cresta. Think Heath Bar with really good chocolate and some hazelnuts and the toffee broken up into small bits. Thanks, guys.
---
Previous Incoming Pages:
"Incoming" covers developments that have personal interest to me (ie. gear I might consider acquiring, or events I feel may impact the sport of skiing) - it is by no means meant to be a comprehensive enumeration of gear or events in the ski world at large. Feel free to contact me via the randosaigai.com link below with news or images that may be of interest . . .