incoming
September 14, 2007:
It's getting to that time of year. . .
The nights are getting chilly, the leaves are starting to turn, and backcountry skiers' thoughts are being drawn inexorably to . . . NEW GEAR!
Not all manufacturers are equally speedy in getting their new product lines/websites up, but some of the gear on those that are available is really interesting. Quick out of the gate are Black Diamond and Dynafit, the first having nearly completely re-designed their ski line and the second featuring a brand new AT boot series.
BD got a head start on the '07-'08 season by introducing the 95mm-waisted Kilowatt last spring - the ski broke with Black Diamond tradition by having a wood core and NOT being produced by Atomic in Austria, but rather in their own new facility in China. How many of the new breed of skis are being produced in Asia is not something they seem to be making a big point of shouting out to the buying public, but as long as you have no political objections to patronizing Chinese made-products, and no one in your household is going to be licking or chewing on the skis, I guess it may be a non-issue.
With so many people moving to 88mm waists and above as their "go to" rigs for winter backcountry skiing, and the trend toward fatter and shorter not seeming to have slowed, the Kilowatt
seems like one of the more interesting skis in the new lineup. Word on the street from people who have skied it, however, is that the forebody is stiffer than it should be, making the ski hard to turn for many people in just the sort of conditions it should excel in. I haven't skied it myself, so it may just be that the Kilo just likes to go faster than some people are used to. That's proven to be the case with my 183 Havocs, which are happiest hauling ass all of the time. The Havoc,

which I've enjoyed primarily as a lift-served ski for the past two seasons, undergoes some subtle changes, keeping the 88mm waist but with slightly more angular contours on the topsheet and some sizing changes (it now comes in 165, 175 and 185). I'm not a big fan of these 10 (or more) centimeter gaps in sizing - typically the ski I REALLY want is somewhere in the middle (I'd like a 180 Havoc or a 181 Kailas, for example). Sales figures seem to indicate the rest of the world agrees - there are tons of 185 and 165 Kailas left over from last year, but no 174's. 174 would be great for pure touring, but if I were using the ski for lift-served/slackcountry (a far larger market), that would be too short. With any ski, I'd suggest not listening to me or anyone else, and taking the ones you're really interested in for a test ride before plunking down real money.
Most of the buzz around the new Black Diamond skis centers on the new Verdict,

which is slightly bigger than last year at 134-102-120 in a 180, and the truly humongous (at least for the present) Zealot at 136-110-126 in a 182. Several testers seemed to feel the Verdict was very manageable in all conditions, even on hardpack, and perhaps the most versatile ski in the line. The Zealot

still seems like a huge plank to me, but if I lived in Utah like the Black Diamond guys, I probably would be lining up to buy them for those special days in the Wasatch. It'll be interesting to see how many people actually mount these big boys up with touring bindings and attempt to skin with them - I've always kind of lagged behind on the width issue, rationalizing that if you know HOW to ski you can get by with LESS ski, but I'm constantly surprised by the number of excellent skiers I see sporting 90-plus mm skis WAY out in the woods.
BD also offers womens' versions of the Kilowatt and the Havoc called the Joule and Velvet respectively, and "efficient" skis with 88mm, 79mm and 70mm waists (the 88mm waisted ski has the same footprint as the Havoc) - essentially lighter incarnations of the Havoc and Machine except for the 70mm Cult, which was designed as a light ski mountaineering/rando race ski and therefore isn't available in a "non-efficient" version.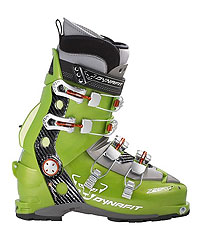 Dynafit, long-time staple of fast-and-light skiers worldwide, has some interesting new product as well. Foremost is their new line of boots, all bearing the rather awkward "Zzero" moniker. The boots are rumored to be designed by the Garmont design team and bear some visual and fit resemblances. Most interesting of these may well be the top-of-line Zzero 4 C-TF (the TF stands for "thermo-form" or full thermo liners). This boot utilizes carbon fiber stringers that run under the arch and up the sides of the boot to add lateral stiffness while allowing the use of less pebax in the shell. The net result is a relatively stiff boot that weighs in at 1585 grams per boot in a 27.5 mondo, or about 230 grams less per pair than the MegaRide (a fairly light but still supportive boot) in the same size. The same shell is also available in an "MF" or "multi-form" version, with a hybrid conventional/thermo liner, and a substantial weight penalty. I've heard some reports of the Zzero 4 boots offering somewhat limited cuff articulation in tour mode but delivering the goods for skiability, particularly with big skis. Projected retail is a bit of a hit, however, at $695 US.
Dynafit bindings continue to evolve slowly without changing the basic concept of the pincer-like toe and dual-pin heel. This is a good thing, in my opinion - why mess with something as elegant and reliable as the Tourlight Tech? For '07-'08, they have dropped the Comfort name and the screw-on volcano lifter from the lineup, and gone with the Vertical series of heels with the one-piece plastic top plates. I've heard of a few of these exploding under the torque of people trying to twist the heels with ski poles, but with no more frequency than the old volcano ones, so it may not be anything to worry about. On the other hand, the pictures I've seen of the destroyed new-style Vertical heels involve some shearing of the top plate, which if severe enough could allow the heels pins to jump out (ever take your heels apart without first reducing the vertical release DIN to 0?) - Which might make it difficult to get back to the car. When the old-style volcanoes break, the metal top plate remains intact, so you have full skiability and use of the first two climbing modes.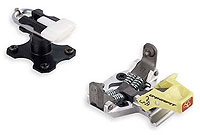 My personal preference has always been for the regular TLT/Speed/Classic series of bindings. While I do wish they would come out with a DIN 12 forward release at the heel and longer pins for this model, they've always worked well for me. If you grind the bump off the TLT body, the travel approaches the Comfort/Vertical heel. Pay more to weigh more? No thanks. The '07-'08 lineup remains the same as last year with one addition: A new race binding called the Low Tech Race. This binding appears to use the same heel as the race bindings I purchased a couple of years ago from Switzerland, and there is some confusion as to whether it offers a lateral release. If it's indeed the same heel as mine, it doesn't. The toe has titanium arms affixed to a CNC'd alloy plate that takes the place of the steel base/plastic baseplate combo they have always used and has no slot for ski crampons.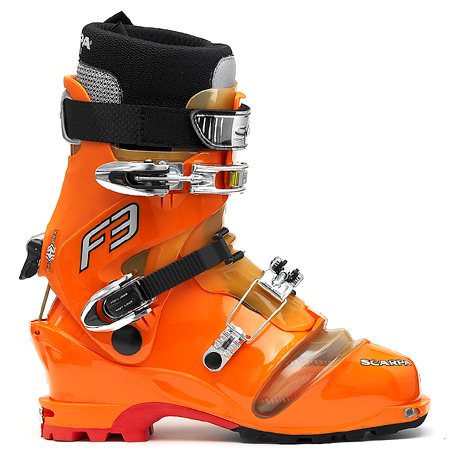 Scarpa has some new entries as well, including a boot I'm really interested in, the F3. It's a slightly beefier version of the racer's standby F1 including the toe bellows, but with a little more support and a conventional ski/walk mechanism. Just what I've been wishing for the past couple of years! Also new is the Terminator X, a dual-purpose tele/AT boot, also in orange, with both Dynafit and New Tele Norm fittings molded in - I'd be interested in this boot, too, if not for the weight penalty - it weighs 1740 grams per boot in a 27.0 mondo, as opposed to the F3's 1470 grams. Another first for Scarpa is liners manufactured by Vancouver's Intuition for all of the boots (at least those with a wrap-style liner). The interior of the liners reportedly has a rough, "no slip" surface, which so far has not proven to be a problem blister-wise and could increase durability as well as prevent up/down movement at the heel.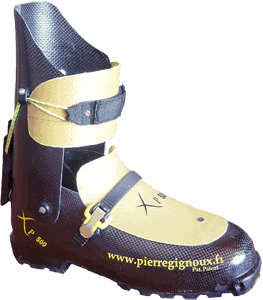 Really obsessed with weight and have plenty of discretionary income? Check out the Pierre Gignoux website. You too can have the custom carbon fiber boots that world champion Stephane Brosse sports, for a mere 1200 € (that projects to about $1661.88 US at today's rate). They also make a cool race heel that does appear to offer a lateral release of about 6 DIN, perfectly adequate if you're a 135 lb. Euro rando racer!
Speaking of light-makes-might gear, my favorite boutique ski builder, Trab, has a couple of new models for this year. The 765 gram World Cup Duo Race Aero ski sounds a little specialized to me, but the new Duo Freerando Light is a winner. I had an opportunity to ski on a 171 prototype of this model last spring, and it ripped. Almost as light as the Sint Aero (it's got the same aramide honeycomb core and construction of the race skis, and will retail for a relatively cheap $749), but with the same profile as the Duo Freerando, this ski ruled on ugly frozen corn with chicken heads - I can only imagine how it skis on decent snow! I don't have any stand-alone jpegs of the Trabs, but I do have the PDF of the new catalog if you care to look it over.
---
Previous Incoming Pages:
"Incoming" covers developments that have personal interest to me (ie. gear I might consider acquiring, or events I feel may impact the sport of skiing) - it is by no means meant to be a comprehensive enumeration of gear or events in the ski world at large. Feel free to contact me via the randosaigai.com link below with news or images that may be of interest . . .