incoming
January 29, 2008:
"It's not funny until someone gets hurt"
This choice Andrew McLean quote came to mind as I watched this interview with Stephen Colbert on Comedy Central last week. If that's indeed the case, this one came very close to hilarity.
Colbert, who I normally find pretty funny, tries lamely to dissect the ski mountaineers' mindset, but it soon becomes apparent that there's no explainable rationale driving the people who appear in the movie "Steep" - and Colbert never quite grasps the fact that the stars of the film are at a skill level that makes the stunts that appear insane to most normal people quite doable. Nevertheless, the footage of the slide in Iceland that Andrew and his partners are caught in is knuckle-gripping stuff.
---
January 22, 2008:
Steep, the Movie
Maybe the opening shots of people shambling along on the flats in full alpine gear with all the buckles on their boots undone are a little hokey to rando purists. Maybe the emphasis on the "ultimate thrill" angle is a little overdone. Maybe you're just one of those people who think the joy of skiing has nothing to do with cameras and movie theaters, and should remain a private experience.
Still, it's rare that we get a chance to watch a ski movie in a mainstream theater venue, and Steep is a monumental achievement for that reason alone. Though the movie blurs the distinction between hardcore adrenaline junkies like Shane McConkey and meticulous ski mountaineers like Lou Dawson, there's a majesty to the action photography that transcends these distinctions and simply draws you in. I was surprised to find that the footage of McConkey combining steep ski lines with base jumping techniques was some of the most exhilarating stuff in the film for me. The action is tied together with thoughtful commentary from ski luminaries like Mike Hattrup, Glen Plake, Andrew McLean and our own Tim Petrick.
Though a series of vignettes, the core of Steep is really the Doug Coombs story, probably familiar to anyone who has ever aspired to ski a big line anywhere. The film follows Doug's career from his childhood through his extreme skiing phase and finally to the creation of the steep camps in Alaska and La Grave. Many of the best sequences in the film are follow-footage of Doug done with an elaborate camera setup in Alaska.
The movie is probably the perfect Coombs memorial - There's Doug, twenty feet tall on the wall of the theater, ripping a beautiful line into eternity. Check it out this week at the Varsity Theater on University Way (Seattle). Now through Thursday, January 24th.
---
January 20, 2008:
Jibbin' at 70
OK, so his bindings don't hinge, and there's not a climbing skin in sight. Maybe you don't care for his 'tude, or think he should just toe the line and live in the hotel with all the other US Teamers . . . or he parties too hard . . . or whatever. Personally I buy his claim that he skis first for the "feel" of skiing fast, and thinks that results will follow if and when he attains that. There's a purity to that approach that flies in the face of all the multimillionaire hardguy skiers that used to dominate the circuit.
Regardless of whether you like Bode Miller or not, no one can argue with his skill set, or with the fact that he embodies a style that no one else quite matches on the World Cup Circuit. If you love skiing, you won't want to miss this video of Miller's run at this year's Hahnenkamm downhill in Kitzbühel, Austria - the Super Bowl of World Cup skiing. Though he tied for second on this run, the Euro announcers went as crazy as if he'd won going away - I like the Italian version the best. "Mamma mia, mamma mia . . ."
Speaking of the Hahnenkamm, vibes go out to Scott MacCartney from Redmond, WA. I don't know Scott, but I've skied with his brother and I came up through the same Crystal Mt. junior program, so he seems like a bro. His horrific crash on the final jump into the finish at Kitzbühel with his helmet falling off and his unconscious body spasming in front of the crowd is hard to get out of your mind. I won't imbed it, but it's pretty easy to find on YouTube if you're so inclined.
---
January 11, 2008:
Marmot Demo Day
I attended the Marmot Mountain Works Demo Day (actually, night) at Summit West along with over 100 other avid randonnée and telemark skiers yesterday, and got a chance to take a bunch of this year's crop of skis for a free test ride. The conditions were pretty dismal - it was puking wet snow all night (at least, after it stopped raining) which demanded a minimum of two goggle wipes per run to see where you were going, but there was about 10" of heavy fresh in 360 bowl and some semi-groomed with islands of glop near the chair for your testing pleasure. The Marmot crew plus reps from a number of the brands represented deserved high praise for cheerfully adjusting boots and bindings in the cold and dark for four hours in the face of sometimes impatient skiers.
For the record, I was interested primarily in "lift-served" skis. To me, that means the biggest ski in my quiver, probably mounted with Fritchi Freerides, which I'll use mostly for lift skiing in varied conditions - mostly powder and heavy fresh snow at Alpental and Whistler, as well as some fast groomer skiing on the way back to the lift line. They need to float the mank, be stable at speed, carve well and turn predictably. I consider it a bonus if a big stick like this can turn reasonably quickly, especially when negotiating the lower half of the Alpental frontcountry. For comparison purposes, I weigh around 170 pounds and ski fairly fast, but rarely on hard snow. I'll seldom tour on these skis unless I'm planning on going out with someone who only owns equally big skis. My current ski for this purpose is a 183 Black Diamond Havoc.
What did I like? Here's my top three, in descending order:
# 1. Black Diamond Verdict, 180 cm. This ski was effortless in untracked, ran like a truck through the the tracked up stuff, and carved big GS turns quite well for a non-race plank. Response to turn input was smooth and predictable, and short radius turns were possible as well. My favorite ski of the night.
# 2. Atomic Kailas 185. Not as damp as the Verdicts in the bumpy stuff, but handled all of the conditions thrown at it with ease. They floated well in the soft snow and turned surprisingly quickly for such a big ski, but didn't have the confidence-inspiring stability of the Verdicts at speed. Probably slightly too long for me for tree skiing, but the next size down is 174 . . .
# 3. Black Diamond Zealot 180. Mammoth plank that handles surprising well for its size. As with the Verdict, they skied the untracked stuff effortlessly, and carved GS turns fairly well. The extra bulk makes them slightly harder to bring around, and they don't respond to shorter radius turns too well. This ski wants huge, wide open bowls and < 10% water content pow. If I lived in Utah, I'd be sorely tempted.
I quit after about 3 hours, when my softshell pants (the ones I'd left in the car from the day before) became too waterlogged to stand any longer, but Lock Miller and crew were still going strong when I retired to the Timberwolf for beer and pasta. Thanks for a great evening, guys!
---
I talked with Oyvind Henningson today, a super-strong skier and avalanche educator who's also an Everett-based SAR volunteer. He was one of the first rescuers on the scene at last week's fatal accident near Lake Twentytwo, and filled me in on some of the details of the incident.
The actual site of the 13 year-old girl's fatal burial was about 2/3 of the way up the Lake Twentytwo trail, rather than near the trailhead as some people had suggested, near the last big switchback before reaching the lake. A natural slide from a chute over the trail released just as the group passed by, burying the victim and partially burying two survivors. Oyvind's take on the situation was that the group simply had very, very bad luck to be in that place at that particular time.
---
January 7, 2008:
One More Avy Death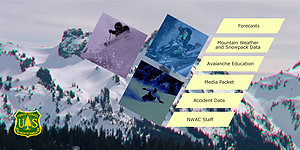 The morning after I posted the Washington avalanche toll for the 2007-2008 season, I read the news of the latest fatality - a thirteen year old girl who was playing in the snow with some other kids on or near the Lake 22 trail on Mt. Pilchuck was buried by a slide and died (the other two were partially buried and survived). This is particularly sad; just a normal person out enjoying the winter, looking at the pretty snow, and BAM! hit by a slide from above.
That said, it's a good reminder for those of us who take our winter recreation seriously to help support the Northwest Weather and Avalanche Center, a critical resource for backcountry skiers and snowboarders which is perpetually underfunded and anticipates a $58,000 shortage of funds for the 2007-2008 season. They make up the difference each year (barely) by relying on contributions from people like you and me, as well as fundraisers like the Avalanche Summit and events at the Tractor Tavern and Feathered Friends. If you read their forecasts nearly every day like I do, it should be a no brainer to throw them a $20 or $30 bone once a year by going here. You can PayPal them your contribution with a few keystrokes.
---
January 5, 2008:
Happy New Year
2008 is here for real, and I celebrated with old friends by skiing some tasty powder at Yodelin, a former lift-served ski area just east of Stevens Pass that's now overgrown with trees and brush.
If you're wondering why we spent a couple of fine touring days whacking our way through forests when I really prefer wide-open bowls and steep chutes, just spend a few minutes reading the mainstream media's take on the current avy conditions around the Northwest. The Seattle Times article on our "Deadly Avalanche Season" is pretty good, quoting local avy forecaster Kenny Kramer and Crystal Patrol chief Paul Baugher, but it's the statistics that are the grabber.
It's rare that we get more than one or two avalanche deaths a year in the PNW - the snowpack is normally that stable, and we can count on regular rain events during most winters to saturate the snow and obliterate any buried faceted layers. That hasn't happened this year, and most of the backcountry skiers in my circle of friends have been worried about the possibility of very large avalanches stepping down to the rain crust from December 2-3. The fact that there have already been 8 (9,if you count Whistler) deaths locally this season (the national total is 13 so far) is kind of sobering.
Many of us have been gradually getting out into lower angled BC, digging more than the usual number of pits, and sticking to runs with natural vegetable anchors for the past few weeks, but visions of steep north-facing couloirs have inevitably begun dancing in our heads. Then we hear about the natural slide that occurred Tuesday above Sharon Bowl at Alpental, which apparently had a 100" crown and slid without warning between reconnaisance runs by the Alpy patrol. Hmmmm. Makes you stop and think a bit, no?
On a lighter and more acquisitive note, your likely only chance to try out a wide variety of this year's best rando and tele gear without buying it will be next Thursday, January 10th, at Summit West ski area. Hosted by Marmot Mountain Works, this annual event will be held from 5 PM to 9 PM, and features gear from Black Diamond, Atomic, G3, Ski Trab, Dynafit, K2, Scarpa, and Garmont - many reps from the companies will be there to answer questions and help you get the most from the equipment.
Finally, for those of you who are never satisfied with the weight of your gear, check out this link sent by my friend Jonathan Shefftz for an Italian company called ATK Race. Really beautiful and super-light Dynafit-compatible toes and heels used by the likes of Patrick Blanc, Manfred Reichegger, Gloriana Pellissier and Laetitia Roux.
---
Previous Incoming Pages:
"Incoming" covers developments that have personal interest to me (ie. gear I might consider acquiring, or events I feel may impact the sport of skiing) - it is by no means meant to be a comprehensive enumeration of gear or events in the ski world at large. Feel free to contact me via the randosaigai.com link below with news or images that may be of interest . . .