incoming
April 16, 2008:
Europe 2008
I'm back, and EuroTour 2008 is history.
Our plan for the last several months had been to hit Chamonix the first week of April, join forces with the Trommsdorff clan, and head out for the Haute Route, ending up in Zermatt, Switzerland after six or seven days of ski touring.
With several weeks of intensive map study, GPS programming, and equipment decisions, our group of four Seattle-based skiers - Lowell Skoog, Paul Russell, David Perez and myself - found ourselves Europe-bound. David was perhaps the lucky one in the group, going over early to spend time with his parents in Spain. Lowell, Paul and I took a British Airways flight that stopped over in London enroute to Geneva, and that's where our problems began.
The BA flight and crew were smooth, on time, and exemplary. The flight attendants were extremely apologetic when they couldn't get the in-flight entertainment system to work properly, which to me wasn't that big a deal. What we hadn't anticipated, though, was the turmoil British Air was experiencing with connections involving the new Heathrow Terminal 5, which had opened just the week previous.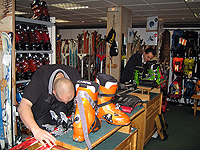 In what eventually evolved into something of a fiasco, our ski bags slipped into the black hole that is T5 (sounds like a tele boot, eh?) and never emerged until 2 days before our return to the US, leaving us to rent skis, skins and poles and borrow ropes, harnesses, hardware and axes. With Michael and Christian's help, we managed to come up with three sets of more-or-less tourable skis and glacier gear for the group, so all was not lost. I was ready to rock with some 170cm Dynastar Altitrails with Fritschis, not a terrible setup but narrower and heavier than my Trab/Dynafit rig. If you know how picky I am about my gear and consider that Lowell and Paul are equally finicky, you get an idea of how we felt. Oh well.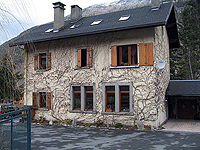 Our base of operations was once again the estimable Chez Cauchy, the refurbished École de Taconnaz owned by Manu and Cécile Cauchy, where I had stayed two years ago. The Cauchys are truly gracious hosts and remarkable people - Emmanuel "Manu" Cauchy, an MD by trade, works at two local clinics and supervises the helicopter rescue operation for the Chamonix valley, while Cécile works part time as a nurse, climbs, and raises her two children, Pierrot and Alix. Manu is also a certified UIAGM guide, though these days he seldom has time to get out with clients other than his kids. He'll cheerfully explain that his specialty is high-altitude amputation for treatment of frostbite. These days, unfortunately, you have to either know them or be a friend of a friend to rent one of the rooms.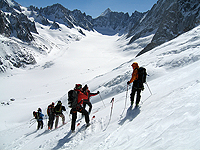 The next obstacle was the weather. Christian had been checking constantly, and the lastest forecast called for a two-day window of high pressure, followed by a day or two of heavy winds with storms. We decided immediately to bag the plan to do the Haute Route, and instead do a two-day loop through Switzerland and then re-assess. Or group, which included Bruno and Daniel from France and old Trommsdorff friends Pierre and Elena who live and work in New York but hail from Grenoble and Milano originally, started the trip by taking the lift up Grands Montets (the Euros don't hesitate to take the lift when it serves their purposes), though the top was closed by wind so we got off at the 2nd station and started skinning around the mountain to access the Glacier d'Argentiere. As soon as we rounded the corner we were rewarded with an awesome view of the valley, flanked by famous peaks such as the Aiguille Verte, Les Droites, and Les Courtes. We skied down onto the glacier, crossed it, and began the skin up to the Col du Chardonnay.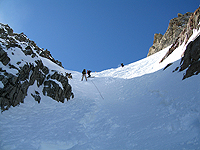 Ah yes, the Col du Chardonnay. We'd all read about the crowds that formed when competing groups of guides and their clients accumulated at this tight spot on the route and someone had problems belaying one of their group down. We stopped for a sandwich just before the col to let some people get down, and met a couple from Crystal Mountain who were in France for month. Then we skinned up to the top and took a look. Lowell and I both felt it looked skiable, and started down, but a few hundred feet into the descent it steepened and the snow morphed to re-frozen ugly boot track! It wasn't the place to fall, and Lowell somehow got his crampons on and walked down, while I continued side-stepping until Christian threw a rope down and I could rappel to the moat. Not the best use of judgement on our part, but fortunately it ended well. Most guides seemed to favor belaying their charges down backward in a reverse snowplow.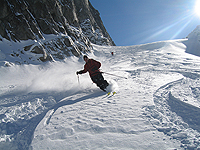 We finished off the first day with some bitchin' powder turns down the skier's right side of the Glacier Saleina, and rolled into the town of Revers, caught a taxi to somewhere on the outskirts of Champex, then skinned up the closed ski area to the Relais d'Arpette, a cool Swiss hut that we had all to ourselves. Pretty nice introduction to the fine Euro tradition of hut skiing. You knew you were in Switzerland because of the hot showers and the automatic self-sanitizing toilet seat that revolved when you pushed a button! The next day was more of the same, with a stop for lunch at the Trient Hut and some 3,000 vertical feet of non-stop powder turns on the Glacier des Grands, then a taxi ride back to Chamonix. I could get used to this. Most of the competition for tracks seemed to come from heli skiing operations, which are legal in Switzerland and Italy, but not in France. Don't ask Christian what he thinks of heli skiers.
With the weather along the Haute Route looking bad the next two days, we loaded up the cars the next morning and headed an hour or so into Italy. Our destination was a very popular ski and climbing spot called Gran Paradiso, where we geared up with a number of other fun-seekers and began the half-hour hike to skinnable snow in ski boots.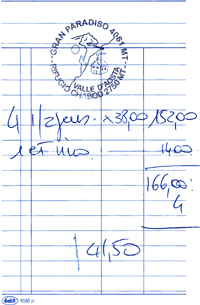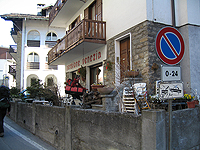 We stayed overnight at the Rifugio Chabod, a wonderful hut situated halfway up the mountain at 2,750 meters. The food was great, the hut keepers congenial, and even the triple-decker bunk beds pretty comfortable. Next day's climb was cold and windy, we made an attempt at the 4,000 meter summit but bailed in 70 mph winds when we discovered everyone was getting frostbite on their faces! On the way down we stopped for lunch at a diferent hut, the Rifugio Vittorio Emanuele, which looked like something out of Star Wars from a distance but in fact was a very old-school structure with classic hole-in-the-floor toilet facilities. If you are looking for modern and sanitary toilets, try Switzerland, but for good old cappucino and fruit tarts, nothing beats Italy.
On the way back, we could see that the weather was starting to close in, and we decided to return to Courmeyeur rather than go all the way throught the Mt. Blanc tunnel to Chamonix. Christian made a few calls (mountain guides live and die by their cell phones; coverage is universal, and they use the phones to make and cancel hut reservations, check the weather, and get reports from fellow guides constantly) and announced that we were booked into "the cheapest hotel in Courmayeur." I was wondering what "cheap" meant in this quaint little town full of beautiful shops, but was pleasantly suprised to find that the Pensione Venezia was a mere 23 € a night including breakfast.
A couple of day trips out of Courmayeur followed, in very Northwest fog/wet snow/rain. We skied the Testa Bernardo, which originates out of the Courmayeur cross-country ski center, and found some decent turns in VERY questionable visibility, though the coffee and pastries at the bar afterward made up for the skiing. The following day we drove up some tiny road out of Morgex until the cars began to get stuck in the snow, parked and started skinning up the road. Shades of the North Cascades. After arriving at a deserted village, I began to feel really bad (the beginning of a 30 hour flu that had struck Lowell a few hours previous), so Bruno graciously agreed to turn around with me and drive me back to town. I embraced the toilet vigorously in the Bar des Guides a couple of times until the rest of the crew returned and we started back through the tunnel to Cham. Unfortunately, a truck had broken down in the tunnel, and we sat in traffic for an hour or so until they got one lane running. The tunnel is a constant source of irritation to the locals - two days later, it was closed for 2 days for a demonstration by French farmers!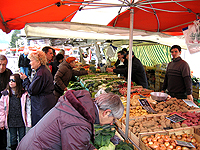 I spent the next couple of days lying on my mattress and recovering the will to eat - Cécile made me tea and helped me with my French, and the rest of our crew took a rest day in the rain. Paul, Michael and Lowell rented fat skis and skied the lifts on Friday and Saturday, where they found some great powder high on the mountain. One night Pierre took us out to the best restaurant in Chamonix, the Guide Michelin 2-star Albert 1er, where we enjoyed a fabulous ten-course meal that featured totally fresh local ingredients. The lake-caught fish from "small boat fishermen" and the huge array of local Chèvres were truly impressive.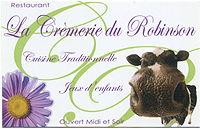 On a more affordable note, we ate simple Savoyarde fare most nights, hanging out at some of Christian's favorite spots like the Bar des Sports on Rue Paccard a couple of doors down from the big sausage shop, and "Le Robinson," a local hangout just off the main road out of town going toward Martigny. Ask a guide if you can't find it, it's in the woods just past the gravel pit, and not easy to find. We chanced upon Christian's main climbing partner Yannick Graziani there one night, who had just returned from an Haute Route trip the week before where he said he had to navigate by GPS in a whiteout for two days with about 40 people following him!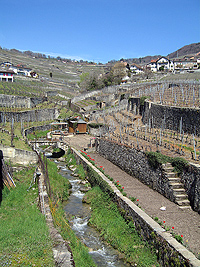 On Friday, my in-laws Jeremy and Teresa, along with their 4 year old daughter Sophia, arrived in Chamonix to pick me up, and hoping to catch a glimpse of Mt. Blanc. Unfortunately, the weather wasn't fabulous, so they didn't take the gondola up the Aiguille du Midi, but we spent the better part of the day eating pastry and checking out the Chamonix farmer's market, which was excellent. The next day they drove me to their home in Savigny, about two hours away, where we did a winery walk on Sunday through the terraced vineyards of AOC Epesse (only a few minutes from their home, and overlooking Lac LeMan). Saturday morning Cécile Cauchy had managed to talk to an actual person at British Airways, who gave us the news that our skis had finally been located and would be shipped home to Seattle a day in advance of us . . .
A great end to a great trip, which only served to whet our appetites for more. Next time, I might be inclined to follow the advice of Yannick and other guides, who can't understand people's obsession with skiing the Haute Route - they all agree it would be better from a ski standpoint to pick a couple of really nice huts and stay in each for several days, doing day trips in the area. Bruno complimented my French, saying that if I stayed another two or three weeks I'd have the language down (I think two or three years is more like it), but I experienced a breakthrough of sorts in USUALLY understanding what people were talking ABOUT and sometimes exactly what they meant. I meant it when I said it two years ago, but even more so now - I will be back!
---
Previous Incoming Pages:
"Incoming" covers developments that have personal interest to me (ie. gear I might consider acquiring, or events I feel may impact the sport of skiing) - it is by no means meant to be a comprehensive enumeration of gear or events in the ski world at large. Feel free to contact me via the randosaigai.com link below with news or images that may be of interest . . .