incoming
November 30, 2010
Season in Full Swing!
It's here. If you haven't done so already, it's time to scrape the storage wax off the skis and get 'em ready. If you're one of those who worries about the paucity of the snowpack and the resultant unintentional base grinds, this week should just about take care of that. It's snowing hard in the passes around Washington State as we speak, with the DOT struggling to keep up, and there's more cool weather with precip anticipated in the next few days. Word is that Alpental will open for business this Friday, December 3, though how many lifts will be running is a question. They plan to open Friday, Saturday and Sunday this week, and Thursday through Sunday next week, with daily operation beginning Christmas week (Monday excepted, of course). Still no cable or chairs on either of the new lifts at Hyak (that would be Summit East to you young kids) as of today, but crews were on the job and grumbling about the miserable weather. I don't blame them, but you did have all summer . . . Stevens Pass will also be running the lifts starting tomorrow, December 1.
If you're heading for the backcountry, the top 12 inches or so of fresh snow today at Hyak was very dense and quite windloaded, slabbing and propagating nicely on anything over about 25 degrees, so keep your eyes open and your thinking caps on.
---
November 23, 2010
Seattle in the Grip of "Arctic Blast"
Jeez, if you paid attention to the local news media you'd think this was Buffalo. Actually the 3 inches of snow and 16 degree temps that shut Seattle down today hardly slowed me on the way to the pass for a few quick laps at Summit West - maybe because half the city watched the news and took their advice to stay home and off the roads!
Even the University of Washington closed for the day, something that almost never happens. Seattle's snow response program, which was a major point in bringing about the last mayor's downfall, had been revised and called for the use of brine solution and less plowing of "non-arterial" routes (ie. around council members' homes), with an emphasis on keeping transit lines open. Unfortunately, the "new" response plan seems already to have failed miserably, as the temps were too cold for the salt solution (it froze anyway) and the buses couldn't make it on a large percentage of the routes. Maybe King 5 had it right, and everyone should just stay home!
Once out of town, there wasn't any problem getting up to the mountains, where Summit West was getting ready for their Thanksgiving Day opening. Met up with Kevin and Francine, and skinned up a few times for exercise. Trevor K. was on the job with the patrol, setting pads on the lift towers and making sure the groomers had at least the area around the Pacific Crest and Dodge Ridge lifts packed down. Skiing was about as good as it gets at Summit West, as long as you stuck to the area that had been groomed yesterday, about 14" of fresh snow and 9 degrees F., though if you strayed off the beaten path the snow was too thick for the low angle terrain.
---
November 19, 2010
Crystal Mountain Season Opener
I was quite surprised last night when Kevin e-mailed and said he and Francine were headed up to Crystal today for their opening - surprised because when we had stopped by there on Tuesday, there hadn't been more than a dusting of snow at the base area there, and only slightly more coverage up high.
We kept checking the website, and sure enough, Crystal management verified the opening, gradually expanding the operational schedule from 2 chairs to 4, but keeping the ticket price a very reasonable $20! Twist our arms, John Kircher! (But don't expect to see much of me when the regular season price of $73.00 per day kicks in!) We joined a moderate sized and very stoked crowd shortly after 9:00 AM and headed up - still no cable or cars on the gondola, but they continue with a December 15th target date for the new lift.
Skiing was surprisingly good, with excellent packed powder conditions and not all that many rocks. We worked it from 9:30 until about 1:50 when we returned to the cars to enjoy the lunch Kevin had left in my car on Tuesday!
---
November 17, 2010:
Dynafit Tip Fix
A couple of people have asked me about adapting Ascension skins to fit the proprietary Dynafit tip slots that come with all of their new touring skis (the skis also come with inserts that make drilling binding holes unnecessary for almost any boot). Here's how I set up a pair of Ascension Mohair Mix skins to work with my trusty Manaslus . . .
I took some 1.5 inch Velcro (I have a lot; if anyone needs some shoot me an e-mail) and sewed a 2.5 inch piece of "fuzz" to the glue side of the skin. Then I sewed a 6.5 inch piece of "hook" with a 7/16 inch hole in it to the other (plush) side, stuck the Dynafit rubber pull in the hole, and connected the Velcro. The result is much like the second-generation version Dynafit produced prior to the current plastic end, and works great. If you ever need to replace the rubber thingy you can just undo the Velcro and slip a new one in; the Dynafit system is super clean and not having tip loops hanging on the sides of your tips to get slashed by ski edges is nice - not to mention not getting stabbed by the cable strands that such slashing produces.
Jonathan Shefftz adds (by e-mail) that "for the Dynaskin fix, sewing is (relatively) easy by hand with a Speedy Stitcher Sewing Awl." Here's the link he provided - he does a "racer" style shockcord loop with a nylon washer, which will work fine with the Dynafit tip. Jonathan also informed me that the Dynafit ski inserts, which I had mistakenly thought were metal, are actually nylon. There is a sheet of Titanal (aluminum alloy) covering the area, but the inserts themselves are plastic, so treat them with care . . .
---
November 16, 2010:
Bring It!
The snow, that is.
For the past few weeks, winter has been playing with us. A foot or two of snow, then a melt phase. A little more snow, then warm temps again. Finally it looks like we're in for the REAL thing - they shut down Chinook and Cayuse Passes for the season today, with a storm event coming in this PM and two to three feet of snow forecast in the passes in the next two days. The Washington DOT and State Patrol waited patiently for us to score 2010's last laps at Chinook before chasing us off the pass at about 11:55 AM; they were a little perturbed by our report of two fresh snowshoe tracks we saw near the Crest Trail while skinning, but whoever it was hadn't parked a car at Chinook so I guess they were going to shut it down anyway. The gate was closed but the padlock still not in place as we drove out past the Crystal Mountain road and waved to the DOT guy . . .
---
November 10, 2010:
Gondola Towers Go Up At Crystal Mountain
Just a couple of days ago my dad asked about the new gondola at Crystal Mountain, and I replied that I didn't think it was in yet.
As it turns out, I was wrong.
While it may be true that it's not up and running yet, it's likely to be only a matter of days, as this video from November 2, 2010 will attest - a crew of highly skilled installers/engineers/pilots came in and put up the gondola towers despite high winds at the top on that day. The video is quite impressive both for the precision of the flying and the sheer courage of the guys guiding the towers and head frames into place - it would be pretty easy to lose a hand or head in an instant doing this job!
---
November 9, 2010:
I Hate It When They Do This
It looks like Arc'teryx is at it again.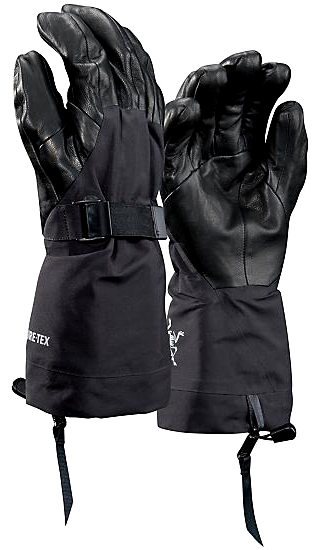 Remember the days when any old jacket would do for a ski jacket? As a youth I spent soggy years skiing in coats from the Sportcaster Bargain Basement. For a few formative seasons I did most of my skiing in a jean jacket, for that matter. Then for several years I labored on home-made Gore-Tex and Ultrex coats in my living room (labored is the operative word; a jacket typically took around 25 hours to complete) - and then, suddenly, Arc'teryx came on the scene.
Hours spent sewing tiny stitches and painting seams by hand made me something of an authority, and I was in awe when I inspected my first Arc'teryx hardshell coat at Whistler in 1998 (a few early production garments had shown up at Escape Route), quickly realizing that I'd never equal the quality achieved by these people. I ordered my first Arc'teryx coat the next year, a now extinct model called the Minuteman, and wore it for about 4 seasons. I then gave it to my son, who wore it until the zipper finally gave out two months ago. In the years that followed, that absurdly expensive article of clothing ($450 retail at the time) became a "must have" piece of GEAR among the notoriously thrifty hard-core ski and mountaineering crowd.
Flash forward to 2010. Arc'teryx rolls out the Alpha SV glove. Retail price, $275. Even as I winced at seeing the pricetag, I marveled at the butter-smooth leather with almost imperceptible seams and how the glove clung to every curve of my hand with the fingers slightly bent. They've managed to cut Gore-Tex fabric in the perfect shape and weld it with their trademark tiny seams to get this glove to conform perfectly to your relaxed hand. Pretty amazing considering that Pro-Shell doesn't really give at all. What remains to be seen is whether they really are waterproof as advertised, and whether the beautiful leather inners will hold up over time. If you can get away with carrying only one set of gloves instead of several, or if it will make it unnecessary to stop by your car three times during a wet powder day to switch out soaked gloves, they just might be worth it.
I looked at the price again, then the glove, and wondered if perhaps Arc'teryx hasn't done it again, upping the ante in a market that's been more or less stagnant for years. In five years, will every dirtbag backcountry skier and climber be sporting these gloves?
Here's the Arc'teryx propaganda video if you're so inclined.
---
November 3, 2010:
Dynafit Night @ Marmot
I usually steer away from pre-season promotional hype, but Dynafit Night at Marmot Mt. Works was one event I felt compelled to attend. The event coincided with Marmot's being named one of four US "Dynafit Competence Centers" which is something of an honor, and staff from the Boulder, Colorado sales office made the trip to Seattle for the night, along with Dynafit-sponsored athlete Jamie Laidlaw. The Dynafit guys didn't have to engage in much heavy-handed sales talk, as it would have seriously been a case of the clergy preaching to the choir - this group didn't look like the kind of people who were trying to decide which binding to buy, and I knew that several of those in attendance had garages full of Dynafit setups dating back years.
Dynafit and Marmot pulled out all the stops, with free appetizers, wine and beer before Jamie's slide presentation, after which Lock Miller recounted the chain of events that precipitated his becoming the first US importer of Dynafit bindings "back in the day." After Keith from Salewa USA (the Dynafit parent company) gave a brief introduction, Jamie Laidlaw stepped up to give his slideshow.
Jamie turned out to be a low key and humble guy from McCall, Idaho who's paid his dues through years of guiding, climbing, skiing and until recently, paying his own way on his expeditions. With the support of The North Face and Dynafit, this trip to ski in the far Northwest reaches of Nepal took on a whole different scale - a team of thirty porters ended up transporting the gear for four guys to ski in this remote corner of the Himalayas. Jamie's tale was as different from the usual triumphant mountaineering saga as Dynafit bindings are different from other companies' offerings; the team spent 42 days enduring weather and sparse rations and only put their ski boots on for two of those days, but they did get in one nice descent. The bigger story lay in Laidlaw's description of the difficulties of navigating this barren land as well as dealing with the native people (he did business in Nepali, as he was once an exchange student in Katmandu). It was less a case of "conquering the mighty Himalaya" than getting their butts kicked and nearly wiped clean by them. Jamie was brutally honest in describing how their team became "desperate to ski anything" once they got down to three or four days worth of food in the middle of nowhere, and equally honest about what went south on his solo attempt at skiing Lhotse. Very refreshing stuff.
"I was climbing with oxygen, and my breathing apparatus failed. Since I was climbing alone, I decided to turn around (about 200 ft. from the summit). You can't really describe it as skiing, it's more like you make two or three turns, then plunge in your ice axe, then wrap your arms around it and recover for forty seconds or however long it takes . . . "
This stuff is not for everyone, and definitely not for those who want guaranteed pretty powder turns or a start-to-finish scenic tour with nice meals in a hut every night (he talked about scenes in remote Nepalese villages where their team of porters and skiers would literally eat all the food in town and the locals would have to walk down valley to buy more rice to feed their families), but it made for quite a story. Thanks to Marmot and Dynafit for an entertaining evening!
---
November 1, 2010:
Standing In
The 2010-2011 gear is beginning to filter into local shops, and as usual I can't seem to resist the temptation to stop in and check out the stuff in person. There's something about actually handling the gear that gives you insight into how it will fit or not fit into one's quiver. The heft, the texture, the look, how the hardware works, how the material flexes and moves with your body - all of these factor into any buyer's decision and can't be adequately quantified by a number or described by a jpeg on a website.
While I am one of those who believe that a good bootfitter can make almost any boot work on any foot, the hands-on (or feet-in) examination is doubly important for prospective buyers of ski boots. For starters, they are made of hard and often stubborn plastic, which resists attempts to change its original shape - it makes sense to start with a basic shape that comes as close as possible to fitting the skier's foot out of the box. Details are important. Small "hot spots" or pain caused by shell or tongue deforming in unpredictable ways under stress can become sources of agony after a day of touring. Thin spots or hard plastic in the wrong place in a liner can mean career-threatening blisters out on the trail.
I like to pick out a few boots each year that seem interesting and put them on in a relaxed setting, hanging out with shop personnel and shooting the breeze for 20 minutes or so in each boot to get a feel for it. During this time I usually walk around and flex the boot in both ski and walk modes, stand on one foot a bunch, and generally get a feel for how the basic shell and liner design work for my foot. I've got a flat, wide, fairly high volume foot (10 D in street shoes, 43 in a SIDI bike shoe), so I generally look for a shell in the 26.5 to 27 Mondopoint range. I also have several pair of skis already mounted with Dynafit bindings for a 300 BSL (boot sole length) boot, so I like to keep the BSL withing 6mm either way of that figure.
The boots that I (and, it seems, many of my friends) had zeroed in on this season are the Scarpa Maestrale, the Black Diamond Quadrant, and the Dynafit TLT 5 Mountain/Performance. All are mid-stiff boots suitable for long tours and all-conditions skiing. All three are true touring boots, with an emphasis on light weight, a functional walk/skin mode, and Dynafit (or "Tech") fittings in toe and heel; none are boots I'd consider if I planned on using them for much in-bounds skiing. All are new designs, with the Dynafit boots sporting what I consider several revolutionary innovations.
The Scarpa Maestrale is an all-new design, meant to replace (eventually) both the Spirit 3 and Spirit 4. It has a cool skeletal look, and both the shell and sole have been minimally designed to shave weight. It worked, and the boot comes in at 1516 grams in my size (27.0 mondo). It feels pretty damn light for such a substantial boot. It has a lower tongue support that hinges out of the way to facilitate getting your foot into the boot, then flips back into place when you buckle up, plus a clever retaining clip to keep the top buckle bail in place while you're skinning. I worry about the rear hinge for the tongue flap, which is almost directly in line for a ski edge hit and only connected by a zip-tie width plastic hinge; I have a feeling these things are going to get popped off by the dozen. The boot is very comfortable for me even without my custom footbeds (Scarpa traditionally has been known for a high arch last) save for the tongue, which gave me pain on the outer shin on both legs (never a problem for me with the Scarpa/Intuition wrap liners). Though the Maestrale is the stiffest in forward flex of all three boots, it isn't very stiff compared to other four buckle "burly" boots you might be familiar with like the Typhoon or Endorphin or Zzeus - part of this might be due to the power strap, which though very wide is elastic and stretches easily when you flex forward. Substituting a normal nylon webbing strap from another boot would probably stiffen it up substantially. The range of motion when the Maestrale is in "walk" mode is incredible, and sets a new standard for a more-or-less conventional design. One interesting note: the 27.0 shell is a relatively long 306mm - by comparision the Dynafit 27.0 shell comes in at 297mm. Might be a deal-breaker if you've got TLT Speeds mounted "short" and they are already maxed out to the back . . .
The Black Diamond Quadrant is a softer, more tour-oriented version of the top-end Factor. It's done in dual-density plastic in outrageous green-and-yellow Oregon Duck colors, which may not be to everyone's taste but they will certainly be easy to spot on the mountain. The Boa closure system, which I used to consider snowboard culture hype, actually does a really nice job of snugging up the liner around your foot, but whether this actually helps prevent movement within the liner and thus blisters remains to be seen. If not, it's a questionable weight addition. The Quadrant is a slightly higher volume and very cushy boot that fits my wide foot very well right out of the box - in fact all three of these boots would be skiable with no shell work (at least for a few runs), something that never used to be the case for me. The Quadrant is easily the softest flexing of the three boots and very comfortable and "anatomic" looking when on your foot, but the walk/skin mode is only average and doesn't hold a candle to either the Maestrale or the Dynafit in terms of range-of-motion. The minimalist buckles are cool but the weight is not especially light at 1700 grams per boot in a 27.0.
The boot that I've been dreaming about since last spring, of course, is the carbon fiber-cuffed Dynafit TLT 5 Performance. No one in town has one in stock yet, but there are a few pairs of the Pebax/Polyurethane TLT 5 Mountain at Marmot Mountain Works. I put on the 27.0 with the non-thermo liner and wore it around for some time while I caught up with Lock, Eric and Steve. The Dynafit "narrow" fit has been relaxed somewhat in the TLT 5 compared to the Zzero 4C; it was still snug in the arch area but I wore it without real pain for around 20 minutes. Flex in the TLT 5 Mountain is medium, somewhat softer than the carbon-cuffed Performance I tried on this summer in Whistler, and the range of motion available for skinning or walking is astounding. The innovative top buckle that doubles as the locking mechanism makes for a super clean look on the rear of this boot, and the only reservation I have is due to the thin plastic of the lower and sole - I have a feeling that some of the more hardcore volcano skiers may blow through these while rambling through the moraines this spring and summer . . . super light at 1225 grams per boot in this non-carbon version, and the TLT 5 Performance will weigh only 1050 grams per boot. To put this number into perspective, my Salomon XA Pro 3D trail runners with mini-gaiters weigh 450 grams per shoe. The TF-X liner is nicely finished with a grey wool interior and without the cutout that the thermoform liner has in the Achilles area; it has loops in both the tongue and calf areas to help pull the boot on and seems quite comfortable. Potential warning: The easily (perhaps too easily) removeable "skiing" tongue barely locks onto the peg that's supposed to hold it in place - if this falls out while you are skinning, or slips out of your pack while you've got them out of the boots, you'll be looking for a replacement.
All of this neglects to mention one important factor, of course - how the boots ski. No one really offers a comprehensive testing venue that's open to the public for randonnée boots (though some reps offer demos of some of their wares at Marmot's annual demo night). I welcome comments from anyone who's actually purchased any of these boots and skied them - I need to make a decision and buy at least one of them. In the meantime, thanks to the staff at Second Ascent in Ballard and Marmot Mt. Works in Bellevue for the warm welcome and the opportunity to spend time in these shoes!
---
---
Previous Incoming Pages:
China: Wandering in the Middle Kingdom
"Incoming" covers developments that have personal interest to me (ie. gear I might consider acquiring, or events I feel may impact the sport of skiing) - it is by no means meant to be a comprehensive enumeration of gear or events in the ski world at large. Feel free to contact me via the randosaigai.com link below with news or images that may be of interest . . .